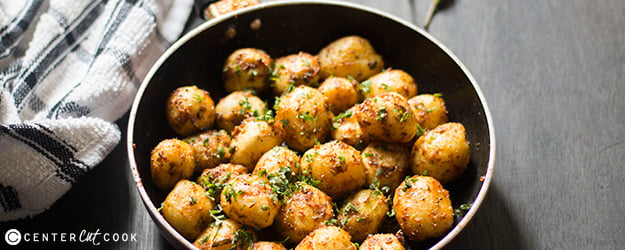 Potatoes are our carb of choice when it comes to side dishes at home, and we are always looking to spice them up with interesting flavours. This recipe uses Indian flavours to take potatoes up a notch or two. Boiled baby potatoes are tossed in a hot pan with chilies, cumin and other ground spices for a few minutes till they form a crisp golden crust.
While this recipe asks you to peel the potatoes, you could just as easily keep the skin on if that's how you like them. These spices can be easily found at your local Asian grocery store, and stay fresh for a long time in air tight containers.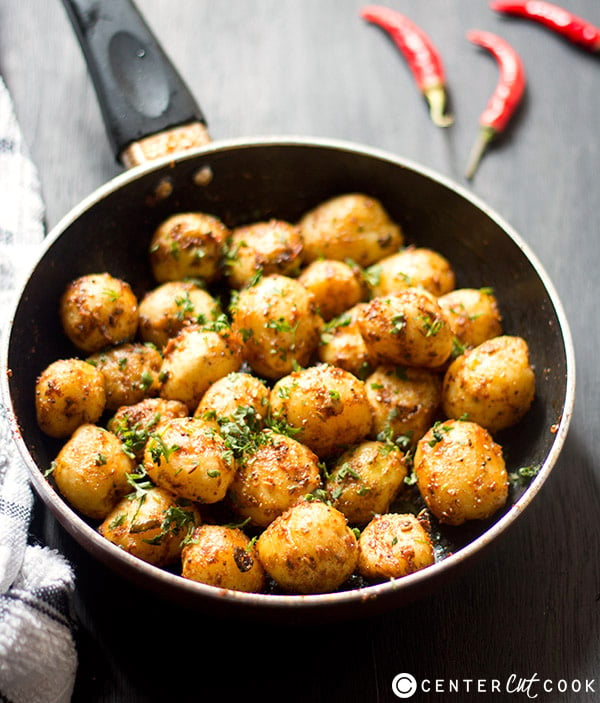 It's important to drain all the water after boiling the potatoes, and towel them dry before using. This helps the spices to coat the potatoes better. Have them as a side for dinner with your favourite meat of choice, or snack on them with a glass of beer.
INGREDIENTS
0.88 lbs. Baby Potatoes, Boiled and Peeled
1 tablespoon Olive Oil
1 teaspoon Cumin Seeds
1/4 teaspoon Turmeric Powder
1 teaspoon Cumin Powder
1/2 teaspoon Chili Powder or Red Pepper Flakes
1 teaspoon Coriander Powder
1 teaspoon chopped Parsley
Salt to taste
DIRECTIONS
Heat oil in a skillet, and add cumin seeds. Once they start to splutter, add turmeric powder, cumin powder, chill powder (or red pepper flakes if using) and coriander powder. Stir fry for 30 seconds on medium flame.
Add salt and potatoes, and stir fry for 5-8 minutes till the potatoes are coated with spices and are slightly crisp on the outside.
Sprinkle with chopped parsley just before serving.
Note: Boil the potatoes, just until a fork can be inserted easily into them. Over boiling the potatoes will turn them mushy during cooking.
Serves: 4