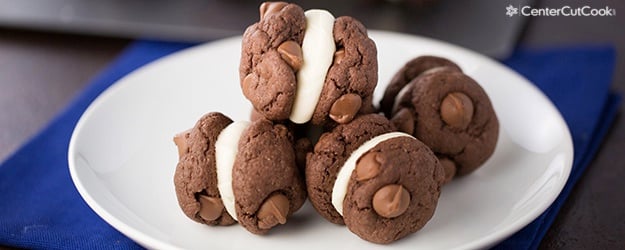 Happy Day after Labor Day guys! It's hard to believe that summer is coming to an end, but I'm excited for fall because there are few things I love more than pumpkins, apples, and hoodies! Oh, and boots too!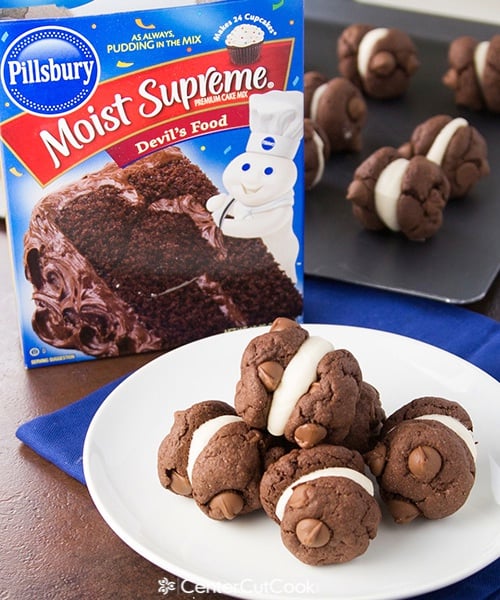 I feel like with Labor Day behind us, that somehow I have permission to start bombarding you with all of my favorite pumpkin recipes. Are you cool with that?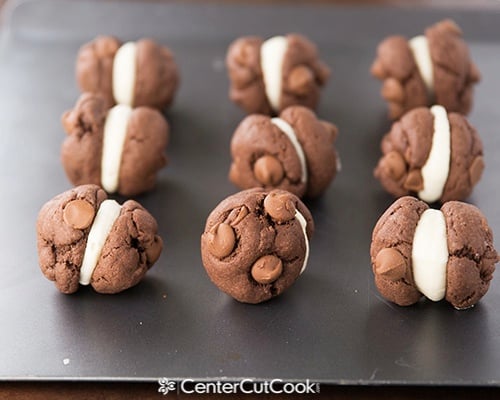 Before I do, I wanted to share this incredibly delicious recipe for Devil's Food Cake Mix Cookies. I've gotten messages from some of you, asking me for more easy recipe ideas. We all live busy lives, and sometimes a little help from the store is welcomed!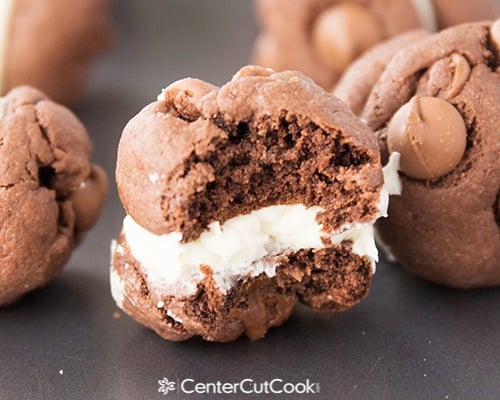 With that in mind, I came up with these… Two mini double chocolate chip cookies get sandwiched together with creamy vanilla frosting in the center to create Devil's Food Cake Mix Cookies! Almost like mini whoopie pies with two soft cookies, and creamy vanilla-y frosting in the middle! I'm sure some of you have had cake mix cookies before, right? I took them to a whole different level with the addition of chocolate chips, and some homemade vanilla frosting!
The idea is simple. Start with a box of Devil's Food cake mix, some oil, water, and an egg. Fold in chocolate chips. Drop tablespoons full of batter onto parchment paper, bake then cool the cookies. When the cookies are completely cool, add a dollop of vanilla frosting on the flat side of one cookie. Top with the remaining cookie, flat side facing in and press lightly so that the filling spreads out to the edges. Ta-da! Devil's Food Cake Mix Cookies.
I'll include my homemade vanilla frosting recipe that worked lovely, but feel free to use a jar of vanilla frosting from the grocery store if you're trying to speed things up.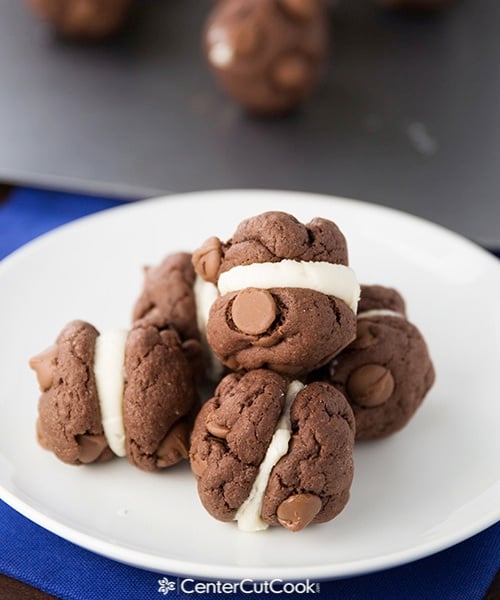 Before I give ya the recipe deets, it's story time.
Those of you that follow me on Facebook or Instagram already saw this picture. This is a photo of my very favorite purple measuring cup. As you can see, it is no longer a measuring cup after it was chopped, literally in half by my new KitchenAid Stand mixer. How on earth did this happen, you ask?
So for the last 7 or so years, I've used a little stand mixer that I always thought was a powerful beast, but as it turns out, it wasn't. Any time I made frosting, I'd use my measuring cup to slowly add in a bit more powdered sugar as the beater (beater? Paddle attachment? What do you call that?) was moving around because it moved slow enough where the measuring cup never interfered with the movement of the attachment.
As it turns out, that's not such a bright idea with my new beast of a stand mixer! I finally caved in and bought myself the 6 Quart KitchenAid Professional Series stand mixer. I tried the same method of tapping a little more powdered sugar into the mixer as it was moving, as I've always done with my old mixer, and it came around so fast that the paddle attachment hit the cup and very quickly and precisely chopped it in half. Powdered sugar went flying EVERYTHWERE, but mostly all over my shirt. I literally stood there in disbelief for a good minute!
Lesson learned: My new KitchenAid is an absolute work-horse, and I'll be sure to keep my precious fingers far, far away from the moving attachment. If it cut my measuring up in half, what would it do to my fingers?! ;)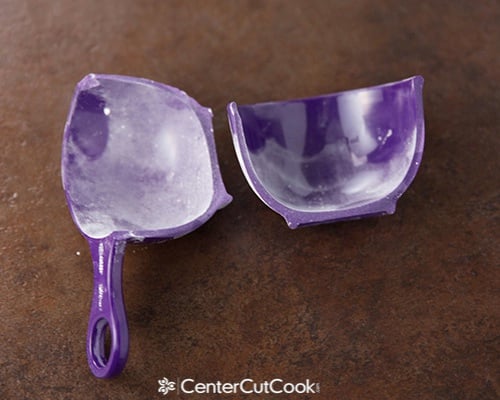 Now back to these cookies. It'll make about 36 individual cookies, which means you'll get about 18 cookie sandwiches from this recipe. I used my favorite 1 tablespoon cookie scoop to create cookies that were all about equal in size. Enjoy!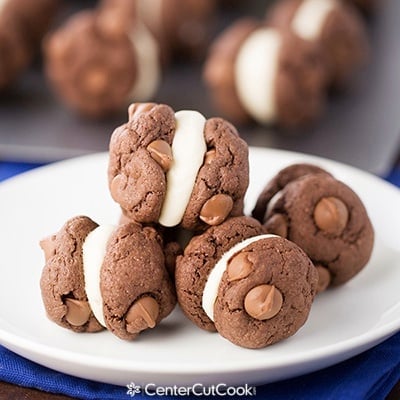 COOKIE INGREDIENTS
FROSTING INGREDIENTS
1 1/2 cups powdered sugar
1/2 cup unsalted butter, softened to room temperature
1/2 teaspoon vanilla extract
1 tablespoon milk, heavy cream, or half and half
DIRECTIONS
Pre-heat your oven to 350 degrees.
Mix together cake mix, 1 egg, 1/4 cup canola oil, and 1/4 cup water until well combined. Fold in milk chocolate chips.
Line baking sheets with parchment paper. Measure 1 tablespoon of cookie batter for each cookie. Use your hands to form the dough into round balls. Press additional chocolate chips onto each dough ball if you wish.
Bake for 8-10 minutes.
Transfer the cookies from the baking sheet to a wire rack to cool completely.
If you are making your own frosting (versus just buying a jar of frosting), use a mixer to combine the butter with the powdered sugar. Add in 1/2 cup of powdered sugar at a time until you've added 1 and 1/2 cups.
Add in vanilla and about 1 tablespoons of milk. Beat for several minutes, until the frosting is light and creamy.
When the cookies have cooled, place a dollop of vanilla frosting on the flat side of one cookie. Top with the remaining cookie, flat side facing in. Gently press the cookies together so that the frosting spreads to the edges.
You should get about 36 individual cookies, or 18 cookie sandwiches.
Enjoy!
Recipe from
CenterCutCook