Although burritos are often quite meaty affairs, I've made this burrito bowl a veggie version, as I find it's filling and satisfying enough without the meat.
If you feel your burrito bowl just isn't the same without meat, you can easily add in some cooked chicken, or maybe some leftover pulled pork.
One of the things I love about burrito bowls, is that they almost feel like a mini buffet.
A selection of all of your favorites – you get to pick and choose whatever you feel like.
Today I was in the mood for some tangy feta cheese – I love the feta-avocado-roasted pepper combination!
Sometimes I'll swap out the feta for shredded cheddar (works great with some added bacon bits!).
Keep a big bowl of it on standby in the refrigerator to work as a quick lunch, side salad for dinner or just something to graze on during the day.
If you're short on time, use ready-cooked rice (I used a mixture of short grain and wild rice), then it's just a case of chopping and arranging!
The chipotle drizzle is a simple mix of mayo, chipotle sauce and just a touch of water to make it more pour-able.
Super simple and super tasty!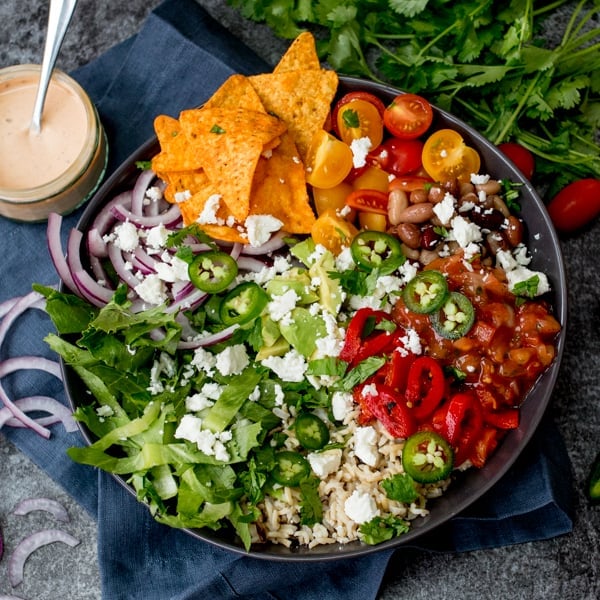 BURRITO INGREDIENTS
2 roasted red peppers (from a jar)
Half of a Kos lettuce
1/2 red onion, peeled
1 jalapeno pepper
8-10 mixed grape tomatoes
1 avocado
2 cups cooked short grain and wild rice (or your favorite rice)
3/4 cup cooked mixed beans from a can, drained and rinsed
1/2 cup crumbled feta cheese
Small bunch cilantro
CHIPOTLE DRIZZLE INGREDIENTS
4 tbsp mayonnaise
1 tsp chipotle sauce
1 tsp cold water
DIRECTIONS
Slice the roasted red peppers, Kos lettuce, red onion, jalepeno pepper and tomatoes.
Chop the avocado in half, remove the stone and scoop out the flesh using a spoon. Chop into small chunks.
Arrange the rice, peppers, lettuce, red onion, jalapeno slices, tomatoes, avocado and mixed beans in a large serving bowl.
Sprinkle on the crumbled feta, then roughly tear or chop the cilantro and sprinkle on.
Mix together the mayonnaise, chipotle sauce and water in a small bowl. Drizzle over the burrito bowl before serving.
Servings: 2-3