There is something about chocolate pudding that brings out the kid in everyone. Perhaps it's because we all have this memory of getting a chocolate pudding in our school lunches if we were lucky, or at least trying to beg that cool kid to trade theirs in exchange for your potato chips (and of course the smartest kids kept some spare chips to dip into the pudding – yum!). Going back to it as an adult, however, it seems a little lackluster. The chocolate flavor just isn't as pronounced as we thought it was when we had simpler palates, And then, of course, there is the issue of questionable ingredients….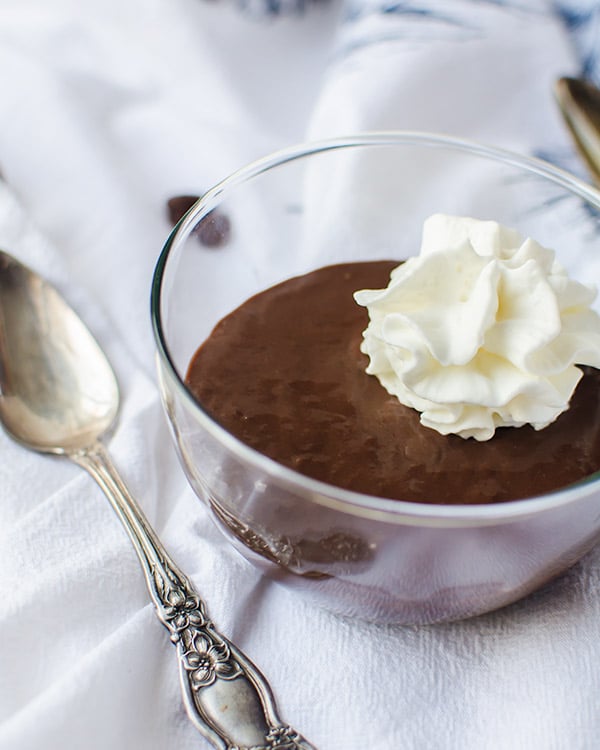 Luckily, making homemade chocolate pudding is just as easy as getting in a car and driving to the store to buy premade chocolate pudding packs or boxed chocolate pudding. In fact, it's even easier because you probably already have the ingredients in the pantry and refrigerator which means you don't even have to put clothes on or deal with potential crowds at the store. This easy chocolate pudding has a fairly short ingredient list, and you can easily substitute most of the ingredients to use what you have in the house.
For sweetness and a chocolate flavor that is closer to what we had as kids, we use milk chocolate, plus a touch of semi-sweet chocolate for just a bit more depth. You can always use just milk chocolate throughout. The recipe calls for chocolate chips, but you can use any form of chocolate you have available, such as whole chocolate bars that you chop. If you don't have Dutch processed cocoa powder, you can use natural cocoa powder, but I do recommend adding a couple more tablespoons of sugar as natural cocoa powder tends to be a little more bitter,
My biggest tip for making homemade chocolate pudding is to not skip straining the pudding before chilling. This ensures you get the smoothest texture because no matter how careful you are, there is always a chance of a lump or two making it into the pudding. If you don't mind that, then certainly go ahead without straining, but take it from me – you are really missing out!
The finished pudding is amazing on its own. I love having it with a bit of whipped cream and maybe even some graham cracker crumbs. You can also use it as an ingredient in other recipes, or even freezing it for pudding pops. The possibilities are endless.
INGREDIENTS
DIRECTIONS
In a saucepan (heat off), add the brown sugar, cocoa, cornstarch, and salt together. Quickly stir to combine.
Slowly add about 1/2 a cup of the cold milk and whisk until completely combined and lump-free. Add the remaining milk and cream and stir well to combined.
Turn on the heat to medium and occasionally stir as it reaches a quick simmer.
Add the chocolate and stir until the chocolate is melted. Turn down the heat to a medium-low and whisk constantly until the mixture is thickened and begins to boil.
Strain the pudding through a fine mesh strainer into a container.
Cover the pudding with plastic wrap by placing the wrap directly onto the pudding. Chill for about 4 – 5 hours.
Servings: 4
Recipe adapted from
Cook's Country