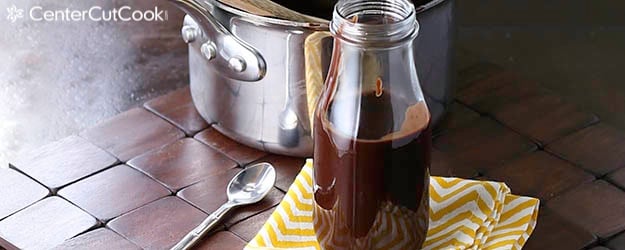 I don't know about you, but I grew up with the kind of hot fudge that came in a little glass jar from the grocery store. It was good, no doubt, but you know what's even better? The kind of hot fudge that you make on your very own stovetop, the kind that is ready in under 10 minutes… the kind that is so irresistible, you'll be eating it by the spoonful!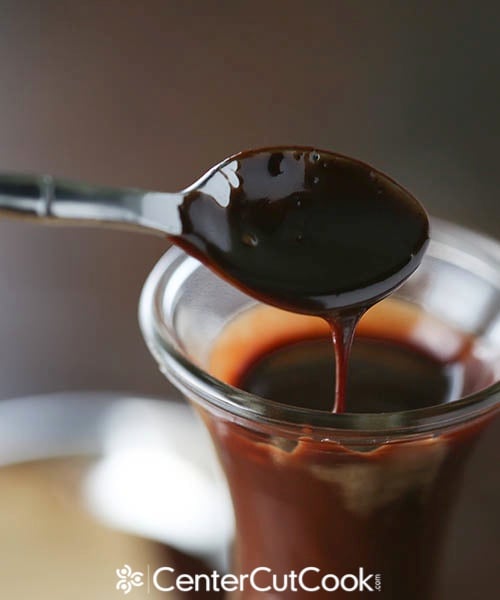 Ohmygosh is this good stuff. When I said it's ready in under 10 minutes, that was not an exaggeration. In the time it would take me to try and open one of those little store-bought jars with stubborn lids, I can make me a batch of fresh, chocolatey, rich hot fudge that is perfect for drizzling over an ice cream sundae, eating by the spoonful, or stuffing into chocolate chip cookies (recipe coming soon!).
A hot fudge sundae is one of those things that can bring me back to my childhood, and I start reminiscing about the good ole' days when we'd get out the vanilla ice cream, hot fudge, whipped cream, and cherries to create ice cream sundaes at home.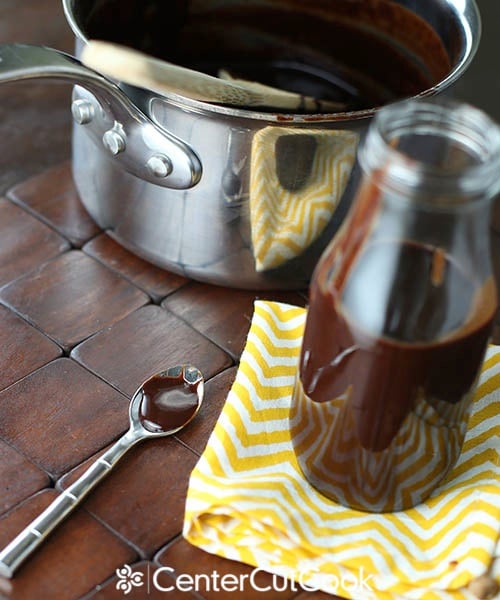 I originally discovered this recipe over at Averie Cooks and when I saw how easy it was to make, I knew I had to give it a try. The ingredient list is 100% non-intimidating – heavy cream, corn syrup, brown sugar, cocoa powder, bittersweet chocolate, butter, vanilla extract. All of the ingredients, you likely already have in your pantry. I had a bag of Ghirardelli 60% cacao bittersweet chocolate chips on hand that I used with great success, but feel free to use any bittersweet or dark chocolate you'd like.
While hot fudge and ice cream go hand in hand, the recipe coming up next will prove to you that homemade fudge and chocolate chip cookies also go hand in hand perfectly. A simple homemade hot fudge recipe is a must-have! This will keep in the fridge for about a week, but let me tell you, it did NOT make it that long in this house!
Thick, gooey, rich hot fudge at home. It's hard to beat.
Now, grab a spoon and dig in!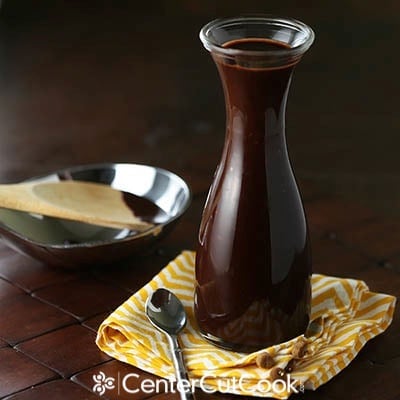 INGREDIENTS
DIRECTIONS
In a large saucepan combine cream, corn syrup, brown sugar, cocoa powder, salt, and half of the chocolate and bring to a gentle boil over medium heat. Stir continuously until the chocolate is melted. Reduce heat to low and cook at gentle boil for 5 minutes, stirring frequently.
Remove the saucepan from the heat and stir in butter, vanilla, and remaining chocolate. Continue to stir until you're left with a smooth mixture. Cool slightly before serving. The sauce with thicken is it sits.
Store leftover sauce in a microwave safe glass container for up to a week. Reheat sauce for 15-20 seconds in the microwave before serving again.
Recipe slightly adapted from
Averie Cooks