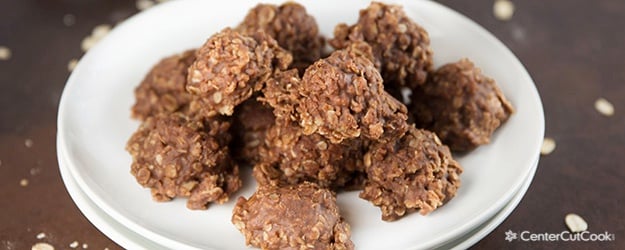 Easy, no-bake, chocolate, AND peanut butter?!?! What's not to love about these tasty little treats? When Ryan hinted that it's been a while since I've made a dessert in this house (side note: I've REALLY been slacking lately in the cooking and baking department, hence the lack of new recipes here!) I decided it probably was time for try a new recipe. My only problem? My oven has decided not to work properly, and I've been slacking off calling someone to take a look.
I'd heard of no-bake cookies before, but for some reason, no-bake cookies just didn't sound like something that would be good. When I think of fresh baked cookies, I think warm and tasty. Not cold and… well…. not baked! But because my oven is on the fritz, I decided to take a risk and try these no-bake cookies. Guess what? They did not disappoint!
The method is simple, you combine sugar, cocoa powder (dutch process if you have it!), butter, and milk in a sauce pan. Once it comes to a boil, and I mean a real good rolling boil, you take it off the heat and add in peanut butter, vanilla, a little salt and some oatmeal. Spoonfuls of the mixture get plopped onto waxed paper and put in the fridge until they're set (about 30 minutes). Before you know it, you've got super easy, and delicious no-bake treats just waiting to be eaten!
When I shared some of these delicious no-bake cookies with my friends, I was blown away that most of them didn't know such a thing existed! I figured everybody knew about them, but as it turns out, that's not the case. Everybody needs no-bake cookies in their repertoire!
* Note: You'll get about 3-4 dozen cookies from one batch.
INGREDIENTS
2 cups sugar
4 tablespoons dutch process cocoa powder (or regular unsweetened cocoa powder if you can't find dutch process)
1 stick unsalted butter
1/2 cup milk (I used 1%)
1 cup peanut butter
1 tablespoon vanilla
1/4 teaspoon salt
3 cups quick oats
DIRECTIONS
In a saucepan, bring sugar, cocoa powder, butter and milk to a full rolling boil.
Remove the mixture from the heat and stir in peanut butter, vanilla, salt, and oats. Stir well.
Line cookie sheets with wax paper. Drop spoonfuls of mixture onto cookie sheets. Place in the fridge for about 30 minutes, or until the cookies are firm. Remove from fridge and store in an air-tight container.
Recipe adapted from
Food Network