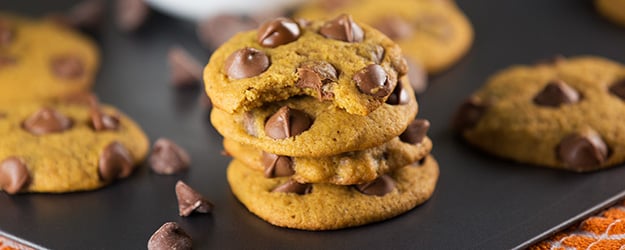 When the thought first popped into my head that I was going to attempt to alter an already perfected recipe for Ghirardelli Milk Chocolate Chip Cookies, I immediately thought to myself, "who are you to change something that doesn't need changed?" I quickly resolved the conflict (with myself…haha) with a simple reminder that there's definitely a time and place for traditional chocolate chip cookies, but guess what? There's definitely a place for these easy and delicious Pumpkin Chocolate Chip Cookies too, especially around Halloween and Thanksgiving when it's impossible to get sick of all things pumpkin!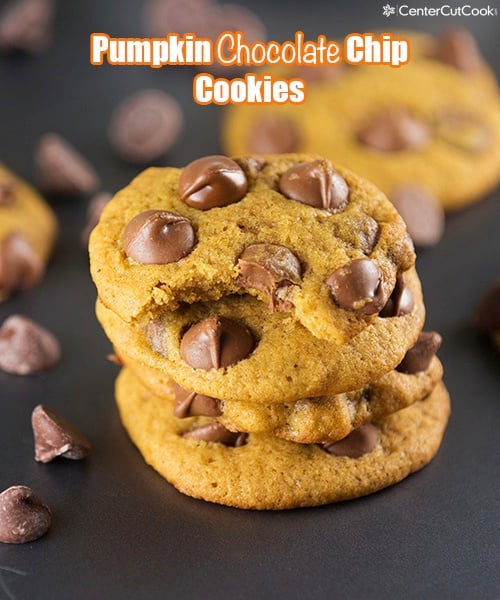 I started these cookies with what I consider an already perfected recipe for chocolate chip cookies. My friend Chloe (thanks Chloe!) introduced me to some super yummy chocolate chip cookies made from Ghirardelli chocolate chips (far superior than the competition, if you ask me!). The recipe she used was actually the recipe that you find on the back of the chocolate chips bag. Does it get much easier than that? I decided to use that recipe as my base, and then add in pumpkin, cinnamon and a little nutmeg. Have you noticed that if there's pumpkin in a recipe, most often there's cinnamon too? It's sort of the obligatory ingredient that you must include if you add pumpkin to a recipe.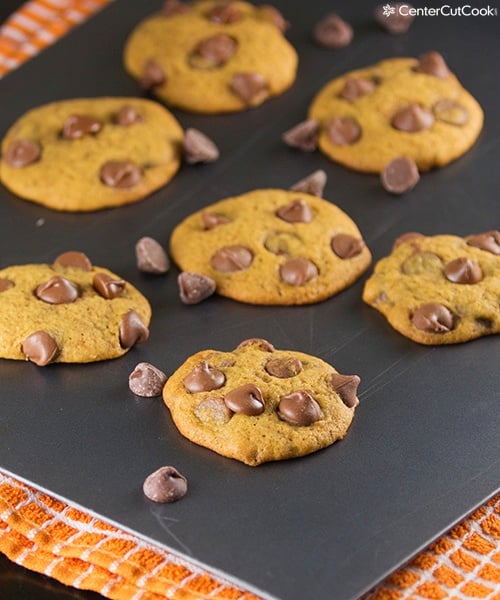 Skeptical is a good word to describe how I felt as the first batch of these pumpkin chocolate chip cookies were baking. I was a little nervous that they wouldn't turn out after I went and altered an already good recipe! Thankfully, the cookies turned out just fine. In fact, they were better than 'just fine' – they were down right delicious! These Pumpkin Chocolate Chip Cookies are probably some of the softest cookies I've made! If you like soft cookies, and you like pumpkin, you're going to love these guys, there's no doubt about that!
Here are a few suggestions on how you could change these up a bit:
Top the cookies with cream cheese icing
Top the cookies with maple frosting
Top the cookies with caramel icing
Swap out the chocolate chips and make these with white chocolate chips
Are you following me on Pinterest yet? If not, click here to follow along! I share all kinds of recipes including these Pumpkin Chocolate Chip Cookies and a super scrumptious Pumpkin Apple Spice Cake that is made with a box of spice cake mix.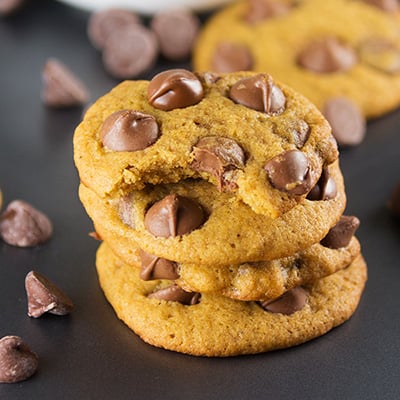 INGREDIENTS
DIRECTIONS
Pre-heat your oven to 375 degrees.
In a large bowl, sift together flour, baking soda, and salt. Set aside.
In a large mixing bowl, combine butter, sugar, and brown sugar. Beat on medium speed until smooth and creamy.
Add in vanilla and eggs and mix well.
Slowly mix the dry ingredients in with the wet, then add in pumpkin, cinnamon and nutmeg.
Stir in milk chocolate chips until incorporated.
Begin dropping tablespoons of batter on ungreased cookie sheets, about two inches apart.
Bake for 10-12 minutes, or until the cookies start turning brown.
Allow the cookies to cool for a few minutes before carefully transferring them to a cooling rack. These cookies are going to be soft! Very soft! A good spatula will help you transfer the cookies without ruining the soft cookie.
Allow the cookies to cool completely before eating.
Store in an air-tight container.
Yields 4 dozen cookies.
Recipe adapted from
Bag of Ghirardelli Milk Chocolate Chip Cookies