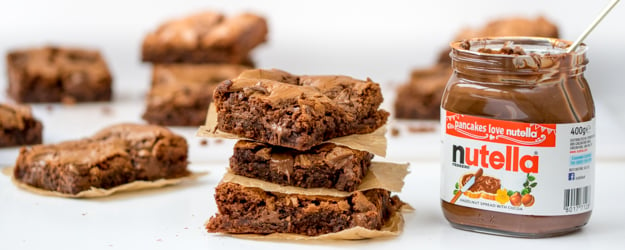 It's hard to beat a chocolate brownie. Loved by the dessert eaters for their rich and fudgy, indulgent taste, and loved by the dessert makers for the simple process and lack of washing up.
I am, of course, both dessert eater and dessert maker. There's no way I'm going to let my kids eat all of these bad boys to themselves!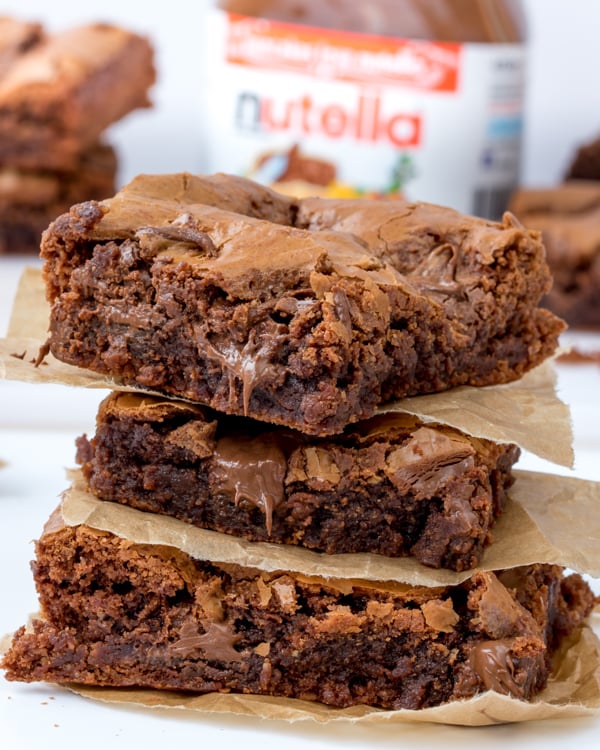 These brownies are beautifully rich and fudgy. This is partly due to the addition of ground almonds, and only using a small amount of flour. It's also due to the insane amount of chocolate in there – both semi-sweet chocolate and Nutella.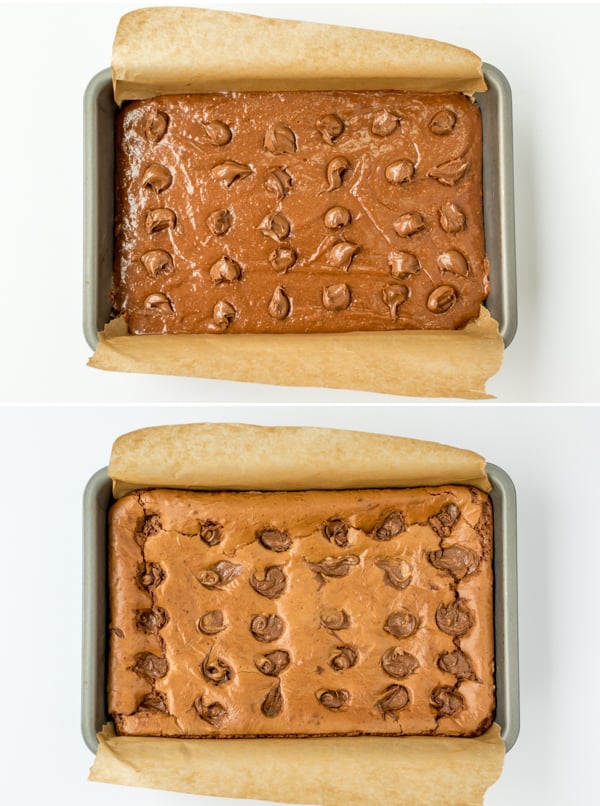 I often make these gluten free too. Since there's only a small amount of flour in the mixture, if can be swapped out for gluten-free, all-purpose flour blend, on a like-for-like basis.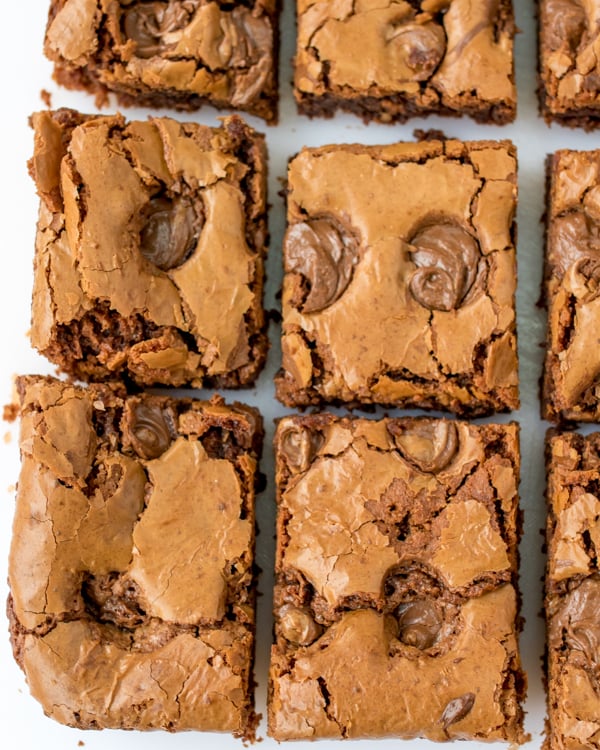 I find they're indulgent enough to eat as they are, but if you wanted to go way over the top (is that even possible with chocolate?), you could drizzle on some warm Nutella and sprinkle with chopped, toasted hazelnuts.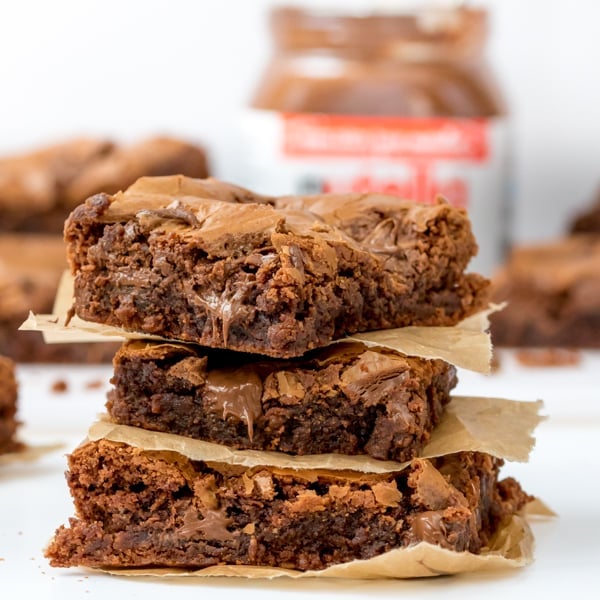 INGREDIENTS
3 1/2 oz good quality semi-sweet chocolate, chopped (or 1/2 cup minus 1 tsp semi-sweet chocolate chips) – check for gluten free if required!
3/4 cup unsalted butter, chopped into chunks
3 medium eggs
1 + ⅓ cup superfine sugar
3/4 cup Nutella – check for gluten free if required – it usually states it is
1 cup minus 1 tbsp all-purpose flour (you can replace for the same amount of gluten-free all-purpose flour blend if required)
1/2 tsp baking powder – make sure it's gluten free if necessary, it often is.
1/2 cup almond meal (the grainy kind, not the flour)
DIRECTIONS
Preheat the oven to 350f and line a deep 12"x8" baking tin with baking parchment. Leave a little of the parchment overhanging the tray to make it easier to get the brownie out later.
Melt the dark chocolate and butter together in a pan on a low heat or in the microwave in 30 second bursts, giving it a stir each 30 seconds. Stir and leave to cool slightly.
Whisk the eggs and sugar in a large bowl using an electric whisk until thick and creamy.
Start the whisk again and pour the melted chocolate and butter into the bowl in a thin stream, whilst whisking. Whisk in 1/4 cup of the Nutella.
Sift the flour and baking powder over the mixture, and then add the almond meal. Fold into the mix gently, in a figure of eight. This will help to keep the air in.
Pour the mixture into your baking tin – ensuring it goes all the way to the edges.
Drop small blobs (about 1/4 tsp each) of the remaining Nutella all over the top of the brownie mixture until all the Nutella is used. Push the Nutella in slightly if you can.
Place in the oven and bake for 25 minutes.
Take out of the oven and leave to cool completely in the tin. When cool, lift the brownie out of the tin using the baking parchment and place on a chopping board. Use a sharp knife to slice the brownie into portions. It will crumble a little when you slice it, but it crumbles less, the longer you leave it to cool.
Servings: 16