One of the meals you guys most often request from me is more one skillet options. So many of you just love my Spicy Skillet Lasagna, made entirely in one skillet so I thought I'd share another one of my favorites with you today, Easy Skillet Baked Ziti!
My version of Easy Skillet Baked Ziti is inspired by a version Cooks Illustrated did. I made a few tweaks to it including the addition of Italian Sausage. You could also make this with chicken or with meatballs, or leave out the meat all together.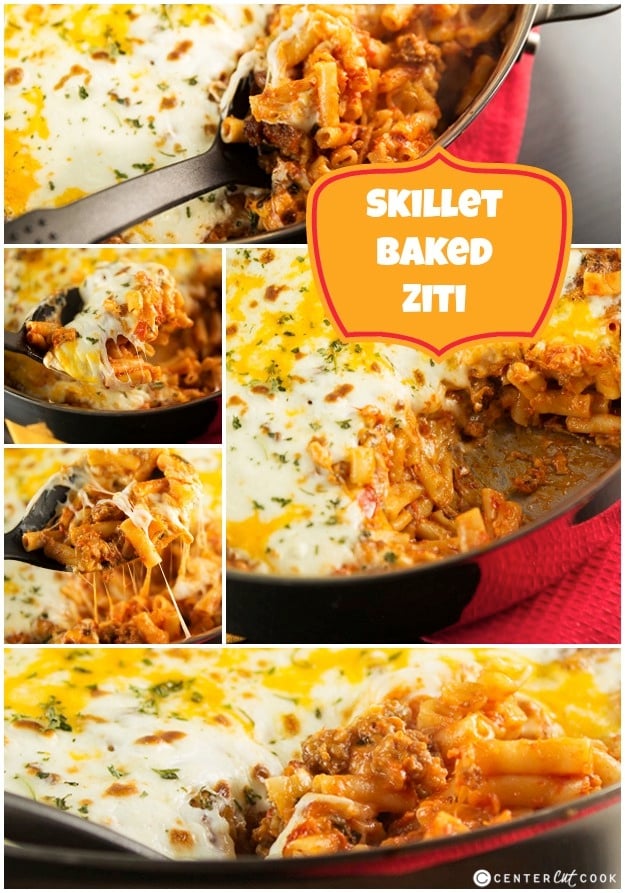 My favorite part about this one skillet meal is that it truly is made entirely in one pan. You don't need to boil a pot of water for the noodles, the noodles cook with the sauce. It's fantastic! To give the cheese that melty, bubbly ooey gooey look, you'll pop the skillet in the oven. If you've got an oven-proof skillet, you'll want to use it. If you don't, no worries, you can always transfer the mixture to a baking dish, but then you lose the convenience of only having one dish to clean.
This Easy Skillet Baked Ziti is cheesy, comforting, and it's the type of meal that the whole family will just love. Leftovers are even better! I made the full recipe for just Ryan and I, and then we munched on leftovers throughout the week for lunch.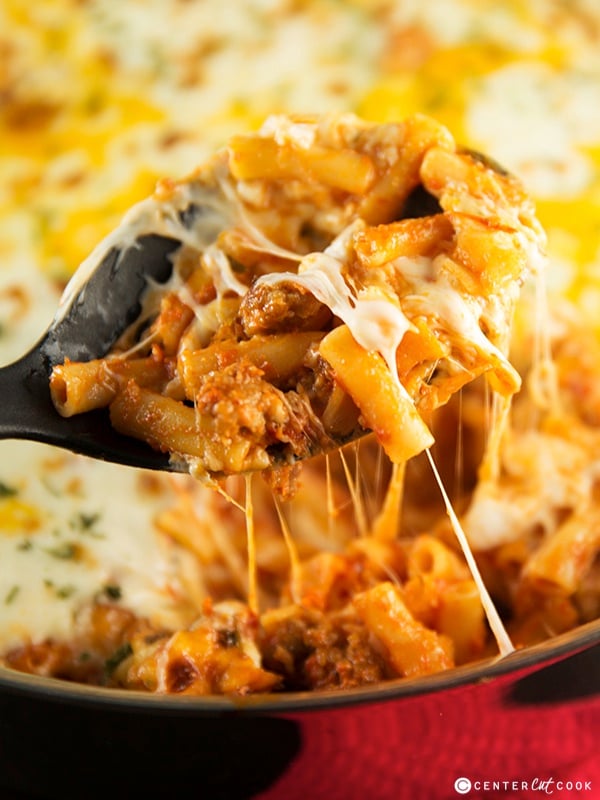 I like to serve this Skillet Baked Ziti with salad and my favorite Perfect Cheesy Garlic Bread. Enjoy!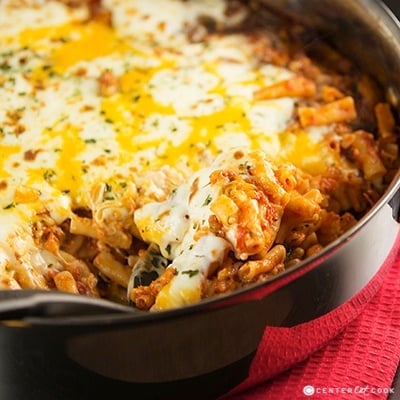 INGREDIENTS
2 tablespoons olive oil, divided
1/2 pound to 1 pound ground Italian Sausage
2 teaspoons minced garlic
1/2 teaspoon red pepper flake
28 ounce can crushed tomatoes
3 cups water
1/2 teaspoon salt
1 teaspoon Italian seasoning
1/2 teaspoon dried basil
12 ounces ziti (I used mini ziti)
1/2 cup heavy cream
1/2 cup finely grated Parmesan cheese (I use my Microplane grater for this)
1/2 cup shredded mozzarella cheese
1/2 cup shredded sharp cheddar cheese
Chopped fresh basil or parsley for garnish
DIRECTIONS
Pre-heat your oven to 475 degrees.
In a very large non-stick oven-safe skillet (if you have one), heat 1 tablespoon olive oil over medium heat. Add in the Italian Sausage and cook. Use a large wooden spoon or spoon to break the meat up into small bite sized pieces. When it is cooked through, use a slotted spoon to remove the meat from the pan, draining any excess fat. Set the meat aside.
Wipe the pan clean.
Heat another tablespoon of olive oil over medium-high heat. Add in the garlic and red pepper flake and cook for about a minute. To the pan add in crushed tomatoes, water, ziti, and season with about 1/2 teaspoon salt, 1 teaspoon Italian seasoning and 1/2 teaspoon dried basil.
Cover the skillet and cook over medium to medium-high heat for about 15-20 minutes. When the ziti is almost tender, it's done. You don't want the ziti entirely tender because it'll continue cooking in the oven.
Stir in the cooked Italian Sausage and heavy cream. Season with additional salt and pepper to taste.
Add in the finely grated parmesan cheese and stir to combine.
If you have an oven-safe skillet, sprinkle mozzarella cheese and sharp cheddar cheese over the top.
If you do not have an oven-safe skillet, transfer the mixture to a large casserole dish, then top with cheese.
Bake for about 10 minutes, or until the cheese is all melted and bubbly. If you want to brown the cheese a bit, broil it for just 2-3 minutes.
Allow the Skillet Baked Ziti to cool for a few minutes before serving.
Enjoy!
Recipe adapted from
Cooks Illustrated