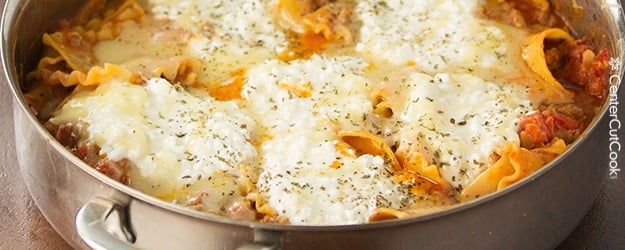 One skillet lasagna. Is there anything else I need to add to that?
I've gotten countless emails from some of you, thanking me for the one-skillet recipes I have shared with you already like the Cheddar, Broccoli and Chicken Pasta Skillet and this Spicy Sausage Skillet. As a result of the demand, I decided I'd try to share more of my one-skillet go-to recipes with you!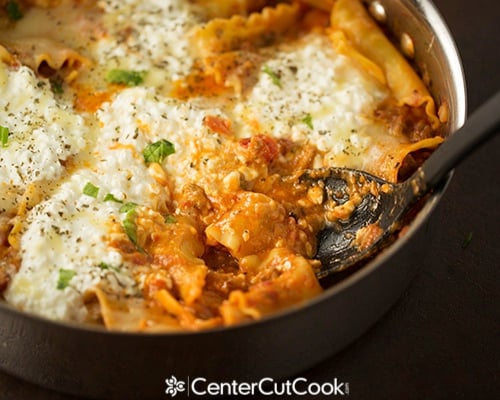 One-pot meals and I, we're pretty much best friends. Those of you that follow me on Facebook probably saw my little rant yesterday about how I DESPISE doing dishes. I like to come up with solutions to my problems. Problem: I hate dishes. Solution: Make recipes that really truly only require one pan, one pot, whatever you want to call it. No separate pot to cook the noodles in, they just cook right in with the sauce. That's my kind of meal!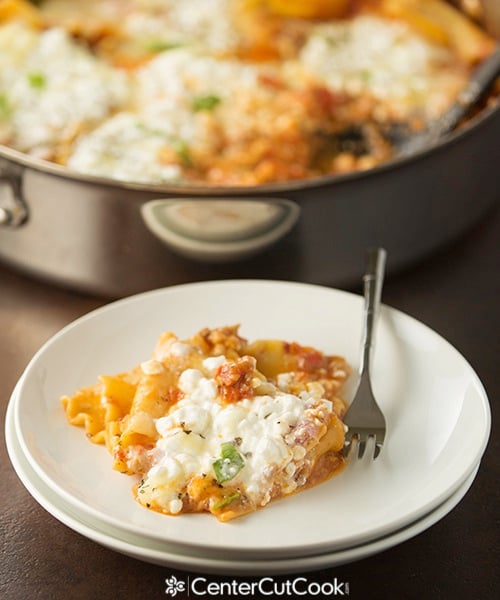 Now, don't get me wrong. I adore lasagna and sometimes I don't mind the effort that goes into making Four Cheese Classic Lasagna , Cheesy Vegetable Lasagna , or The Best Easy Lasagna because they are down-right delightful (delightful? Is that fitting? Maybe I should've said delicious). But other times, it is nice to be able to have dinner on the table in under 30 minutes with only one pot to clean at the end. That's where this Spicy Skillet Lasagna comes in. As long as you follow the directions, you'll end up with a cheesy Spicy Lasagna Skillet that tastes very similar to a pan of layered lasagna. It is gratifying, mouthwatering, and simply divine.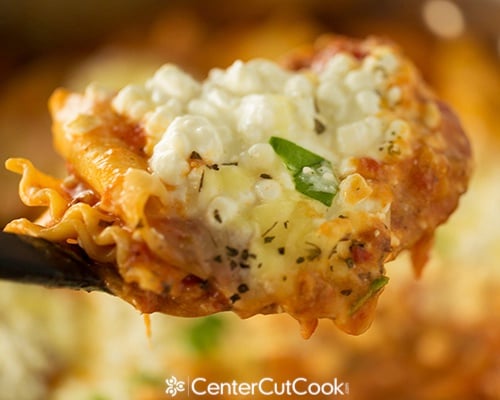 Because we like things spicy around here, I spiced it up with some red pepper flake. You can very easily tone this down by reducing the amount of red pepper flake that you add. If you don't want it spicy at all, just don't' even add any of the red pepper flake.
Some of you are probably used to using ground beef in your lasagna, but I'm a huge fan of Italian Sausage. I just love the flavor that it adds so I always use it in place of ground beef for most Italian recipes that I'm making.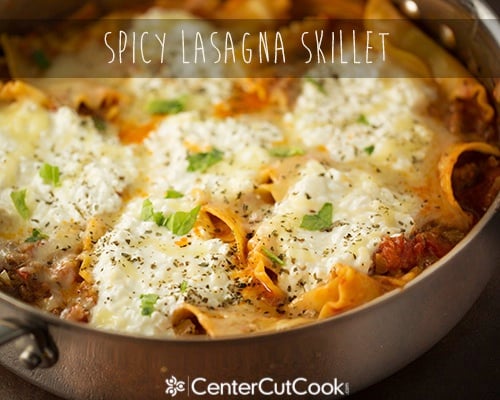 A little note about the cottage cheese. I use cottage cheese in most of my recipes in place of ricotta chesse. It's just a preference. If you don't like cottage cheese, feel free to sub ricotta cheese. The purpose of the cheese is to add a layer of creaminess. You don't necessarily taste the flavor of it.
You'll be able to serve 4-6 people with this Spicy Skillet Lasagna! I like to serve a salad and garlic bread alongside it for a simple, satisfying supper.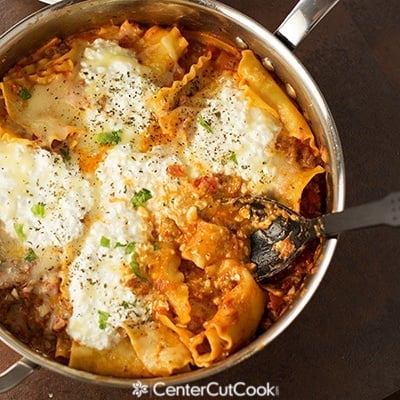 INGREDIENTS
1 teaspoon red pepper flake
2 tablespoons olive oil
1 small yellow onion, diced
5 garlic cloves, minced
1 pound Italian Sausage
1/2 teaspoon salt
1 teaspoon oregano
1/2 teaspoon black pepper
10 lasagna noodles, broken into thirds
1- 28 ounce can diced tomatoes
1- 8 ounce can tomato sauce
1 cup water
1 cup Mozzarella cheese, shredded
1 cup parmesan cheese, finely shredded
1 cup cottage cheese or ricotta cheese
2 tablespoons fresh basil for garnish
DIRECTIONS
Heat 2 tablespoons olive oil over medium heat in a large 12 inch skillet. When the oil is hot, add in the red pepper flake and cook for a minute.
Add in the chopped yellow onion and cook until the onion starts to turn translucent.
Stir in the garlic and cook for a minute, until fragrant.
Add in the Italian Sausage. Use a large wooden spoon to break the meat into bite sized pieces. Season with 1/2 teaspoon salt, 1/2 tsp. black pepper, and 1 teaspoon oregano. When the meat is cooked through, drain any excess fat.
Sprinkle the lasagna noodle pieces over the meat evenly.
Pour 28 onces of diced tomatoes, 8 ounces tomato sauce, and 1 cup of water over the noodles. Do not stir. Bring to a simmer.
When the mixture starts to simmer, reduce the heat to medium-low and cook for 20-25 minutes. About halfway through, stir the mixture.
When the noodles are tender after 20-25 minutes, reduce the heat to low. Stir in 1/2 cup mozzarella cheese and 1/2 cup parmesan cheese.
Place spoonfuls of cottage cheese or ricotta cheese evenly over the pasta mixture.
Sprinkle remaining mozzarella and parmesan cheese over the top.
Make sure the stove is on low, cover the skillet, and allow it to sit on the stove for 5-10 minutes, or until the cottage cheese is heated through and the cheese has melted.
Sprinkle with fresh basil and serve.
Recipe from
CenterCutCook