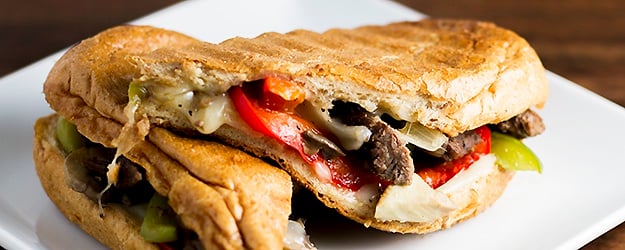 When I say The Pioneer Woman, do ya'll know who I'm talking about? If not, stop what you're doing and go checkout her website right now. I swear, there is nothing this woman can't do! She makes amazing food, entertains like a rock star, appears to be a phenomenal mother and wife, and she's got mad photography skills! You could say I sort of have a girl crush on Ree (that's her name!) and am constantly amazed at her awesomeness, and sort of wish I could hang out with her for an hour or two. I think we'd get along just swell.
With that said, today's recipe comes from her. It's my take on a sandwich she calls "The Marlboro Man Sandwich" (Marlboro Man, in case you'er wondering, is an endearing nickname for her hubby). While it looks super delicious as-is, she calls it a "Rib sticking', man-pleasin', not non-fat sandwich" and cautioned to go get on the Stairmaster after making it! When I decided I wanted to give the recipe a whirl, my main priority was to take some of the guilt out of it! Mainly, I reduced the butter from 2 sticks (2 sticks!!!!!!) to 6 tablespoons.
Another reason I was excited to make this recipe is that it calls for Cube Steak which is simply tenderized Round Steak. I've never bought the stuff before and decided it was about time that I expanded the beef options I use. This sandwich turned out to be a huge hit for several reasons. I loved it because it's a quick and easy weeknight meal, but I also loved the trio of sautéed veggies that i made to go on the sandwich including peppers, onions, and mushrooms. So YUM! Hubby loved it because it's hearty, cheesy, and filling. All around, it was a delicious meal and I'll be revisiting this recipe often! Along with these Everyday French Dip Sandwiches, this Easy Steak Sandwich is definitely a new favorite way to cook with beef.
Notes: Cube Steak can be found at any standard grocery store where beef is sold.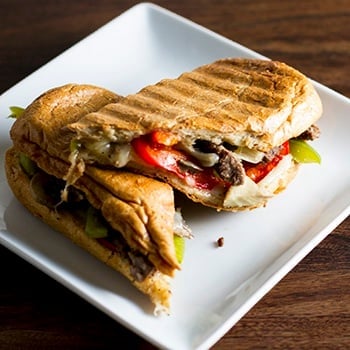 INGREDIENTS
1 1/2 pounds cube steak, cut into strips that are about 1/2 inch thick
6 tablespoons butter, divided
6 ounces mushrooms
1/2 of a large yellow onion, cut into slices
1/2 red bell pepper, seeds and ribs removed, cut into strips
1/2 green bell pepper, seeds and ribs removed, cut into strips
6 ounces white button mushrooms, cleaned and cut into slices
1/4 cup Worcestershire Sauce
1/2 to 1 teaspoon Tabasco Sauce
Provolone cheese slices
1/2 teaspoon salt
1/2 teaspoon black pepper
1/4 teaspoon garlic powder
1 tablespoon Balsamic Vinegar
DIRECTIONS
In a large skillet, heat 1 tablespoon butter over medium-high heat. Cook the peppers, onions, and mushrooms until tender. Remove the veggies from the pan.
Add 2 tablespoons butter to the pan. When the butter has melted, add strips of cube steak to the pan in a single layer. Allow the meat to cook for a few minutes, then when the meat has browned, use a spatula to flip the meat so that the other side can cook. When the meat is almost cooked, season with salt, pepper, and garlic powder.
Stir in 1/4 cup Worcestershire Sauce, 1/2-1 teaspoon Tabasco Sauce, 1 tablespoon Balsamic Vinegar, and 2 additional tablespoons butter. These ingredients combine together for a delicious sauce! Allow the sauce to cook for a few minutes and reduce a bit. Stir back in the veggies, then remove the meat/veggie mixture from the heat.
Using a griddle or a non-stick pan, heat the last tablespoon of butter. Slice the rolls in half and place them face-down on the pan to toast. When one side is toasted, flip the rolls so that the other side can toast.
If desired, place a slice of Provolone Cheese on each bun. Top with meat/veggie mixture, then spoon some of the sauce over the meat. Cut in half, and enjoy!
Recipe adapted from
The Pioneer Woman