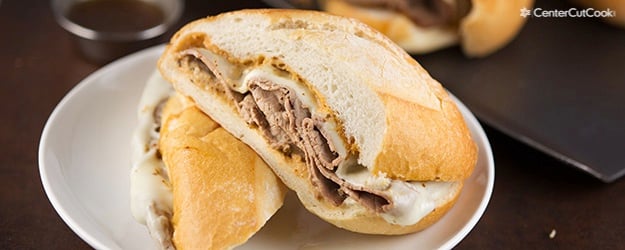 Some days, it's nearly impossible to get dinner on the table. But, it becomes much easier if you have a few go-to recipes that are ready in under 20 minutes. For the longest time my go-to recipes were grilled cheese sandwiches and mac n' cheese out of the box, but it has definitely improved over the years! This Everyday French Dip Sandwich is one of the recipes I use when I just don't feel like spending my evening in the kitchen, or when 20 minutes is all I've got to work with.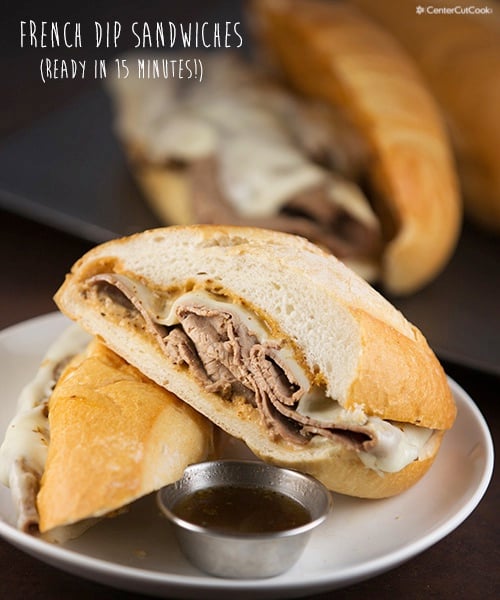 Because this recipe is super simple, it almost seemed too simple to share. However, everyone needs a few quick recipes to turn to. A traditional French Dip sandwich usually includes beef that has slow cooked all day long in the crock pot — super tender and tasty. But, to simplify the recipe, I used shaved beef from the deli which is also delicious, and means this meal can be thrown together at the last minute.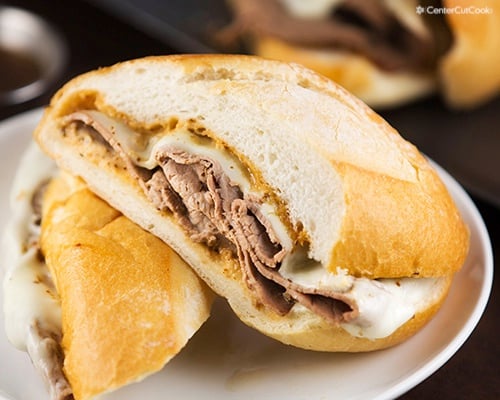 If you're not from Chicago, or you haven't visited, you probably haven't heard of Italian Beef sandwiches. I grew up there, and just assumed that Italian Beef could be found everywhere. Imagine my disappointment when I moved to Iowa for college and found that my grocery store didn't sell it. In fact, I still remember the look I got when I went to the deli for the first time and asked for Italian beef and gravy. Thank goodness I'm back in Chicago now! :) For this recipe, I used Italian beef from the deli up the road, so if you're from Chicago, go ahead and take this route and ask for the gravy that they sell with it. If you're not, just get shaved roast beef.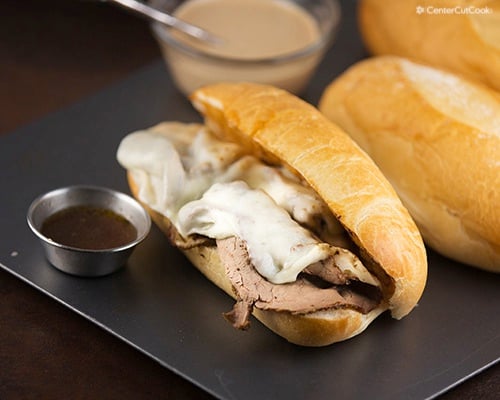 We loved these sandwiches, especially the simple sauce that adds tons of flavor to the otherwise plain sandwich. It simply consists of a little mayo, A1 steak sauce, dijon mustard, and a pinch of garlic powder!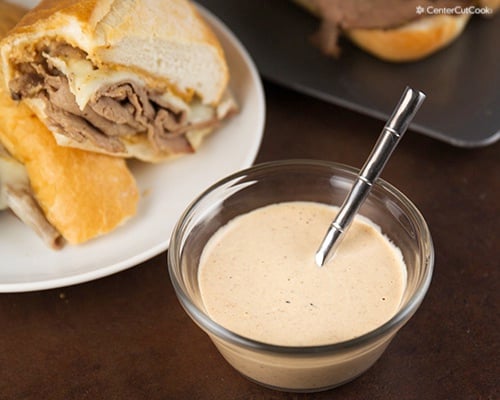 Serve these sandwiches with a green salad and dinner is on the table in under 20 minutes!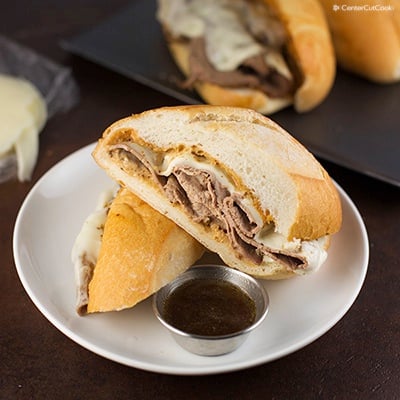 INGREDIENTS
1 pound shaved deli roast beef (or Italian Beef if it's available) sliced thin
4 hoagie or Italian rolls
8 slices provolone cheese
3 cups beef broth/stock
1 teaspoon dried oregano
1 teaspoon dried basil
1/2 teaspoon red pepper flake
1/2 teaspoon black pepper
2 tablespoons mayonnaise
2 tablespoons A1 Steak Sauce
1/4 teaspoon garlic powder
1 teaspoons dijon mustard
1 tablespoon butter
DIRECTIONS
Preheat the oven to 450 degrees (*Optional).
In a large saucepan, combine beef broth with oregano, basil, red pepper flake and black pepper. Heat on medium-low heat for a few minutes. (If you live in Chicago and are able to purchase shaved Italian beef with gravy, omit this step and just pour the gravy in your saucepan and move on to step 2).
To the saucepan, add 1 pound of shaved deli roast beef or Italian Beef. Keep the burner on medium-low heat. You don't want the liquid to boil.
Simmer the meat in the broth/gravy for 10 minutes or so, or until it is heated through.
In a small bowl, combine mayo, A1 steak sauce, dijon mustard, and garlic powder. Set aside.
In a large skillet, melt 1 tablespoon butter, slice the buns open, and toast. Start by toasting the bun with the inside face down. Let it toast for a few minutes, then flip to toast the outside of the bun.
When the buns are done toasting, spread some of the sauce from step 5 on the top and bottom bun. Then place two slices of provolone cheese on the bun, and top with roast beef.
*Optional – Place sandwiches in the oven for 5-10 minutes if you want your cheese to be all ooey gooey and melted. I found that the cheese melted enough on the toasted bun without the need to heat in the oven, so I skipped this step.
If you want a little extra "juice," serve the stock/spices from step 2 on the side.
Enjoy!
Recipe from:
CenterCutCook