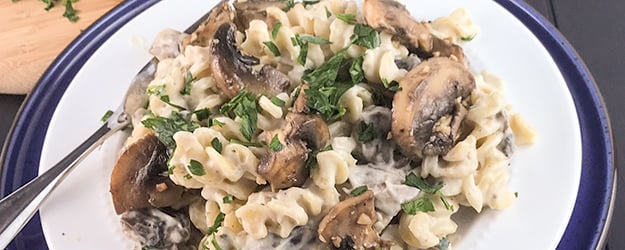 Until you try it, you may have a hard time believing that an alfredo sauce made almost entirely from cauliflower can be as rich and decadent as it is.
Typically a traditional alfredo sauce gets its rich and creamy velvety texture from a combination of heavy cream, butter, and cheese. This particular version gets its creaminess simply from cauliflower and its mind blowing.Don't believe me? Just try it!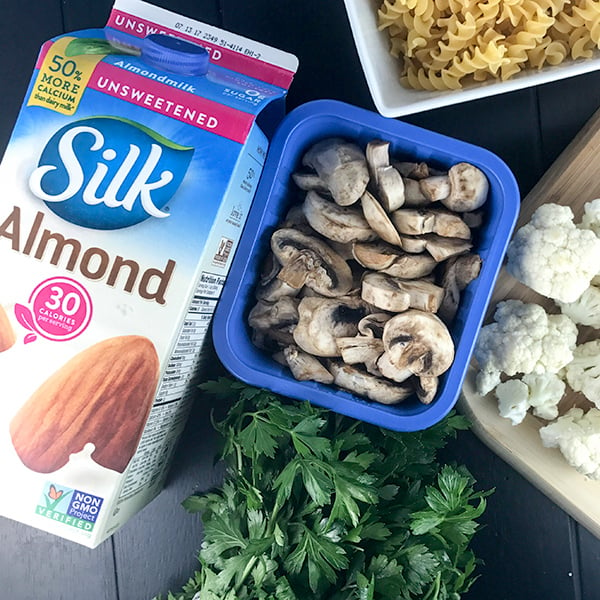 This vegan alfredo sauce is simple and with the help of a high powered blender, cooked cauliflower is combined with unsweetened Silk Almond Milk, seasonings and a squeeze of fresh lemon juice to become a creamy alfredo sauce.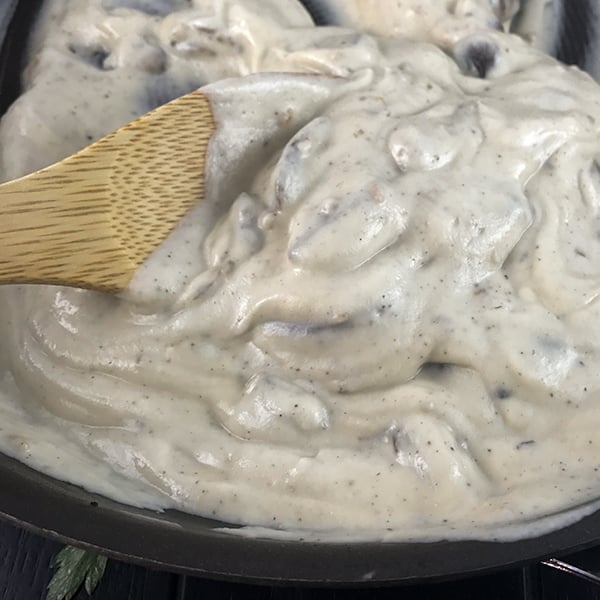 One of my son's favorite vegetables is mushrooms, which happens to be one of my favorite vegetables, so I added in some sautéed mushrooms and garlic to give this recipe an extra layer of flavor.
This Easy Vegan Mushroom Alfredo is perfect served over any noodle of your choice. I used fusilli which I happened to have on hand, but it's also delicious served over spaghetti squash or zoodles which is simply spiralized zucchini for a gluten-free low-carb option.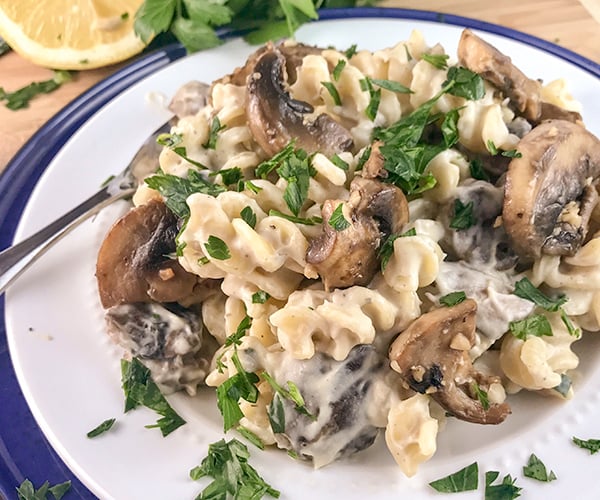 This cauliflower alfredo sauce is versatile and can be used for SO many different things. And ready in under 30 minutes, you'll find yourself making this over and over on those hectic weeknights. It's a flavorful, easy meatless recipe that the whole family will love.
This is a sponsored conversation written by me on behalf of Silk. The opinions and text are all mine.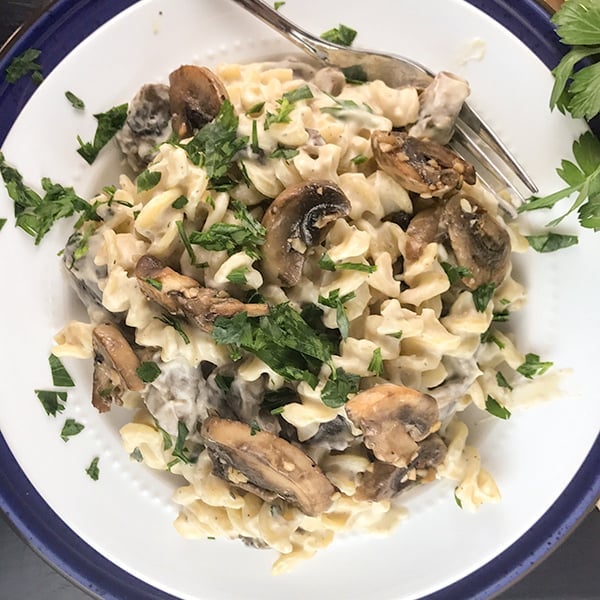 SAUCE INGREDIENTS
1 head of cauliflower, chopped into medium sized florets
2 tablespoons unsweetened Silk Almond Milk
1 tablespoon coconut oil or 1 tablespoon butter
1 teaspoon salt
1/2 teaspoon black pepper
1 tablespoon olive oil
1 tablespoon fresh lemon juice
1/2-3/4 cup unsweetened Silk Almond Milk (more or less depending on desired consistency)
PASTA INGREDIENTS
1 tablespoon olive oil
6 cloves garlic
Pinch of red pepper flake
6-8 ounces sliced mushrooms
Salt and pepper to taste
Fresh chopped parsley
1/2 pound pasta of choice, cooked according to package directions
DIRECTIONS
Place cauliflower florets into microwave safe bowl with 2 tablespoons Silk Unsweetened Almond Milk and 1 tablespoon coconut oil if OR 1 tablespoon butter (non-vegan alternative).
Microwave on high for 10 minutes, uncovered.
While the cauliflower cooks heat 1 tablespoon olive oil over medium high heat. Saute' garlic for about 30 seconds, until fragrant. Add in mushrooms and cook until lightly browned. Set aside.
Stir the cauliflower to coat it with the milk/oil mixture then continue cooking for another 6-8 minutes until cauliflower is fork tender (a little overcooked is preferred).
Dump the cooked cauliflower into a high speed blender. Add in 1 teaspoon salt, 1/2 teaspoon black pepper, 1/2 teaspoon garlic powder, 1 tablespoon olive oil, 1 tablespoon fresh lemon juice, and 1/2 to 3/4 cup unsweetened Silk Almond Milk. Blend until smooth. Add additional almond milk or vegetable stock as needed until you've reached your desired consistency.
Season to taste with additional salt and pepper.
Stir the cauliflower sauce into the mushroom mixture and stir to combine.
Serve over pasta of choice.
Top with chopped parsley.
Servings: 4