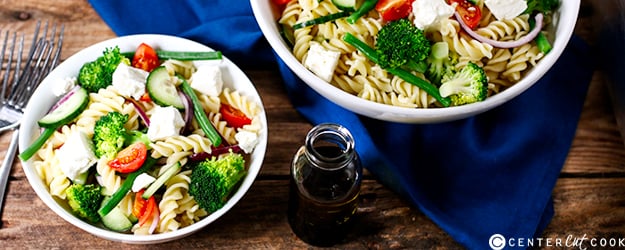 This salad is perfect if you're a bit of an afternoon/evening fridge raider like me. I love to make a huge bowl of it in advance so I know there's something tasty and healthy to snack on rather than those chocolate biscuits!
Let me tell you how it usually works out in my house: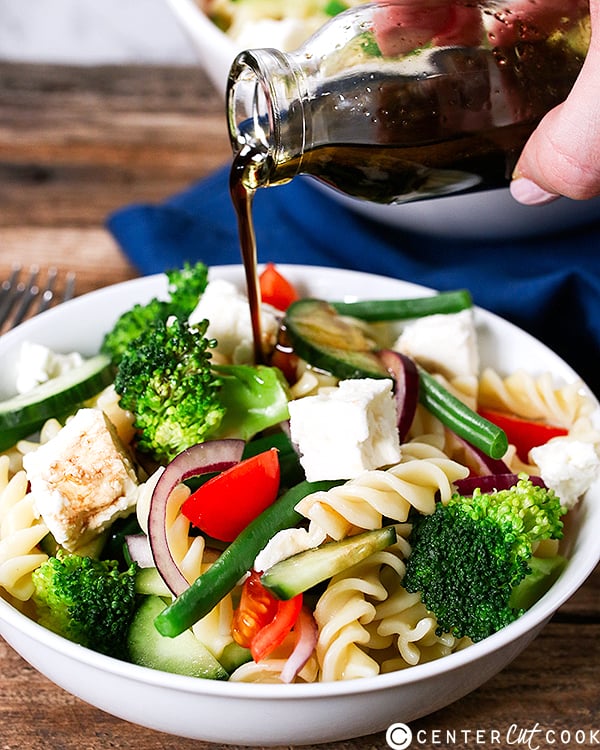 – Prepare huge veggie pasta salad, scoop out 4 servings and box up for tomorrows packed lunches.
– Place the rest in the fridge and have a nibble every time I walk past.
– Open the fridge door about 30 minutes after the kids come home from school to find all the feta, tomatoes and cucumber have been stolen from the salad.
– Get the remaining pasta salad out of the fridge, cover in marinara sauce and cheese, then heat through in the oven for the simplest dinner ever.
– Joyfully eat the boxed up pasta salad for lunch the next day, thankful that I saved some before the kids got to it!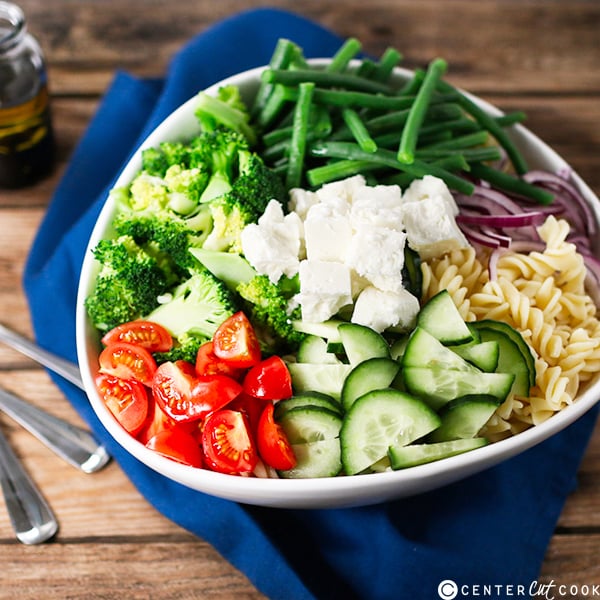 INGREDIENTS
4 cups uncooked fusilli pasta
2 cups small broccoli florets
1/2 lb fresh green beans, trimmed
12 cherry tomatoes, cut into quarters
1/2 cucumber, sliced
1 small red onion, peeled and thinly sliced
7 oz feta cheese, crumbled
BALSAMIC DRESSING:
DIRECTIONS
Bring a large pan of water to the boil, add the pasta and cook according to the pack instructions. Five minutes before the end of the cooking time add the broccoli and green beans to the pan to lightly cook.
Once cooked, drain the pasta and vegetables in a colander and run under cold water until everything is cold. Leave to drain.
Place the pasta, broccoli, green beans, cherry tomatoes, cucumber slices, onion slices and crumbled feta into a large serving bowl and toss together.
Lightly whisk together all of the dressing ingredients and pour into a small jug or bottle. Drizzle a little of the dressing on top of the salad. Serve the salad with the remaining dressing.
**Prep ahead – make this salad up to the point of pouring on the dressing. Cover and refrigerate, then eat within 2 days. The dressing can also be made in advance and stored separately, covered at room temperature.**
Servings: 6-8