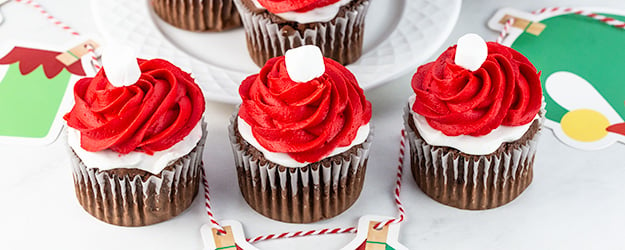 If you're looking for Elf on the Shelf ideas, you've come to the right place because I have the cutest, yummiest idea that your kids will love: Elf on the Shelf Cupcakes. They're the perfect treat for your friendly elf to leave, a little gift hand delivered by your elf from Mrs. Claus herself!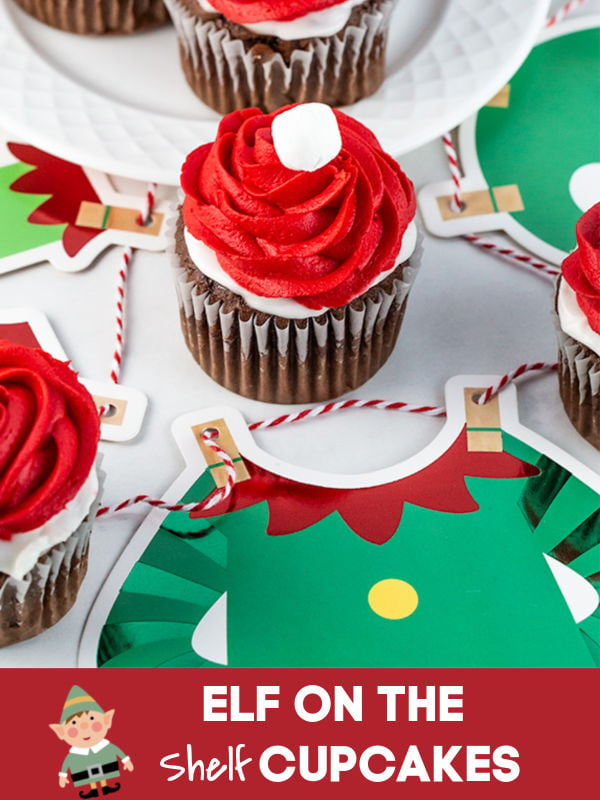 It was just last year in 2018 that I vowed to never start the Elf on the Shelf Tradition. I do not know what happened between then and now, but I caved and bought the elf and if I'm being honest, I think I am having more fun with this cute tradition than my little guy is. Don't get me wrong, he loves it, but I have also had so much fun coming up with ideas. Miles decided to name his Elf "Reddy" and he's so excited every morning to see where Reddy has moved to.
When I was scouring the Internet looking for cute ideas, I saw a suggestion for the Elf to deliver a special treat from Mrs. Claus and I thought it was so cute, so I decided upon Elf on the Shelf inspired cupcakes. Included are instructions to make a tasty Hot Chocolate flavored cupcake using a boxed mix as a base, but to simplify things, please feel free to make the boxed cupcakes according to package directions.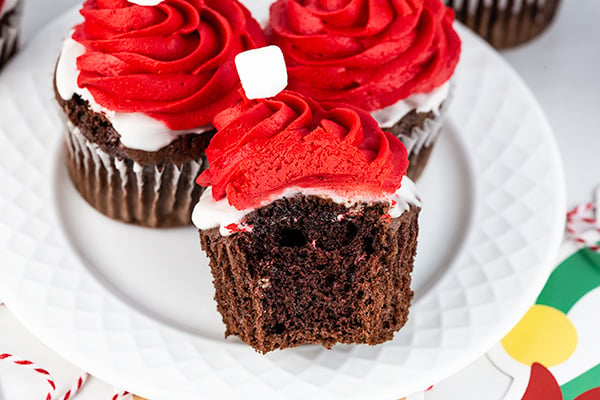 We chose to use a marshmallow flavored frosting from scratch, but you can also use a jar of pre-made frosting and get a similar result. The idea is to frost the cupcake to resemble the Elf's classic red Santa hat. Make sure to have mini marshmallows on hand, as you'll place one of those on the top of the cupcake to be the top of the hat.
On the day that our elf left these cupcakes for Miles, the elf also left a letter explaining that it was a gift from Mrs. Clause and she had worked hard baking him a special treat. :)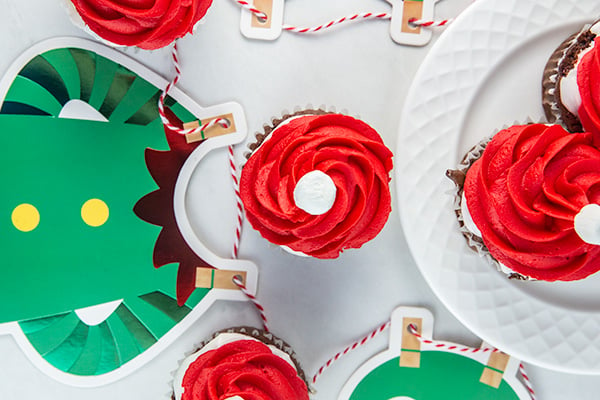 Here are some other easy Elf on the Shelf ideas that I have done so far:
1. Elf on the Shelf takes a bath: I filled the bathroom sink with cotton balls and placed him in the "bubble bath"
2. Elf on the Shelf hangs from a light fixture: I attached the elf to a candy cane and hung it from a pendant light hanging over our kitchen island.
3. Elf on the Shelf goes for a train ride: I placed the elf to be sitting on the train set we have going around the Christmas Tree.
4. Elf on the Shelf warms up by the fire place: I placed the elf in a chair with his feet up, sitting in front of the fire place to warm up.
5. Elf on the Shelf breaks a leg: Last week was a particularly busy week and I kinda wanted a break from moving the elf, so, he broke his leg and had to rest for 3 days (not sorry about this).
6. Elf on the Shelf is hungry: I placed the elf hanging out of the cereal box.
There are hundreds ideas that you can find everywhere, these are just a few of the ideas we have used so far this year.
If you decide to make these cupcakes for your kiddos, please do not forget to take a photo and tag us on Instagram @CenterCutCook.
Wishing you and yours a Merry Christmas and a wonderful holiday season!
Xo,
Ashley
CUPCAKE INGREDIENTS
1 Box chocolate fudge cake mix (or Devil's Food, or classic Chocolate. Any boxed mix will work)
1 1/4 cups 2% milk
2/3 cup vegetable or canola
3 large eggs
1 small packet instant hot cocoa mix
1 – 3.4 ounce box instant chocolate pudding mix
Mini marshmallows for garnish
FROSTING INGREDIENTS
1/4 cup unsalted butter (softened)
1- 7 ounce jar marshmallow fluff
Pinch of salt
4 cups powdered sugar, sifted
1/4 cup heavy whipping cream
Red Food Coloring or Gel
CUPCAKE DIRECTIONS
Preheat oven to 350 degrees F.
Line two regular sized muffin tins with paper liners and set aside.
In a large bowl, mix together cake mix, milk, oil, eggs, hot cocoa mix, and pudding mix. Beat on medium speed for about 2 minutes, or until the batter is smooth.
Fill the paper liners about 3/4 full with the cake batter.
Bake for about 15-18 minutes, or until a toothpick inserted in the center of the cupcake comes out clean.
Move the cupcakes to a cooling rack and let cool completely.
FROSTING DIRECTIONS
To your mixer bowl, add butter, marshmallow fluff, vanilla extract, and salt. Beat on medium-high speed for about 2-3 minutes, or until everything is creamed together and smooth.
Slowly add in the powdered sugar, one cup at a time while alternating with the heavy whipping cream until the frosting is a light and fluffy consistency.
ASSEMBLY DIRECTIONS
Fill a piping bag (without a tip) with frosting. Cut a medium sized slit in the piping bag.
Pipe frosting in a thin layer to cover the top of the cupcake.
Once every cupcake has the white frosting piped on them, add red food coloring or red gel to the remaining frosting until it is red in color.
Fill a second piping bag (you will be using a 1M or Star Tip) with the red frosting. Start from the middle of the cupcake and swirl the frosting around to the outer edges, making sure to pull up a little at the end to make the point of the hat.
Top each cupcake with a mini marshmallow.
Servings: 24