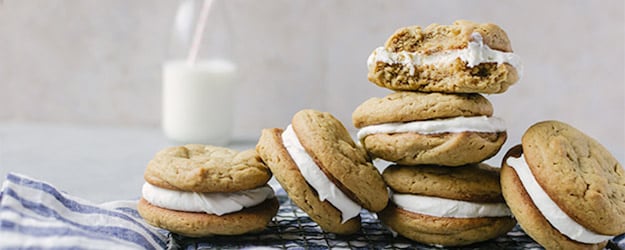 One of the best treats you could ever get from your mom as a child was a sandwich overstuffed with stick-to-the-roof-of-your-mouth thick peanut butter and ooey, gooey marshmallow fluff. That and some cartoons would basically be the best thing after school. Of course it wasn't exactly the best thing in the world to have and indulging in a big fluffernutter sandwich isn't really on the table as a regular treat. But with something like fluffernutter cookies are so easy to make and let you have a bit of fluffernutter tastiness and share with everyone whenever the mood strikes.
A lot of fluffernutter cookies fold in marshmallow fluff directly into the cookie dough, or add extra peanut butter with the fluff in the sandwich. For me, the marshmallow fluff tends to disappear too much when baking, and there is too much peanut butter when you add it in the middle with the marshmallow fluff. Instead, we are going with a soft, chewy peanut butter cookie that packs a lot of peanut butter flavor on its own. We are also creating a marshmallow fluff buttercream which is more substantial than the fluff on its own
The peanut butter cookie was one that my grandmother gave me, except she used corn syrup in hers. I decided to omit it and replace it for maple syrup which adds more depth to the flavor and adds to the softness of the cookies. When they first come out the oven, they are golden brown and super puffy. Then they deflate and as they cool become so nice and chewy in the middle. If you ever want a regular peanut butter cookie, I can't recommend this one enough. I sometimes roll the cookies in crushed peanuts and if you like a bit of texture, I can't recommend it enough.
Marshmallow fluff buttercream is incredibly simple to make and still has all the flavor of the fluff. For me, it is very sweet, so I usually cut mine with a bit of salt which also plays well with the peanut butter cookie. You can also experiment with less powdered sugar, but I found it helped bring everything together and create a nice texture. I never needed to add anything like milk or cream, but if your buttercream comes out thick for any reason, try adding one teaspoon at a time of milk or cream. Do not use water.
My favorite thing to do is store the fluffernutter cookies in an airtight container in the freezer. It lasts longer and it turns it into such a fun, cool treat on warmer days. The fluff keeps the buttercream from getting too stiff which is perfect. Otherwise, you can keep it at room temperature for up to three days.
COOKIE INGREDIENTS
MARSHMALLOW FROSTING INGREDIENTS
DIRECTIONS
In a medium bowl, mix together the flour, baking soda, and salt. Set aside.
In a mixing bowl, beat together the butter and brown sugar until light and creamy.
Beat in the peanut butter and maple syrup until fully incorporated and light and creamy.
Add in the egg and yolk. Beat well for another 1 – 2 minutes.
Pour in the flour and mix until there are no white streaks of flour.
Cover the bowl tightly and chill in the refrigerator for about an hour.
While the cookie dough is chilling, preheat the oven with 350 degrees F. Line two baking sheets with parchment paper.
Portion out balls of dough that are two tablespoons big and place them two inches apart on the baking sheets.
Bake for 10 – 12 minutes, or until puffy and a light golden brown. Allow to cool on a wire rack.
While the cookies are cooling, make the marshmallow frosting.
Beat the butter and marshmallow fluff until smooth and creamy. Add the powdered sugar and salt and beat well. Add the vanilla and beat well.
Dollop the frosting on half the cookies and top with the remaining cookies.
Keep in an airtight container for up to 3 days.