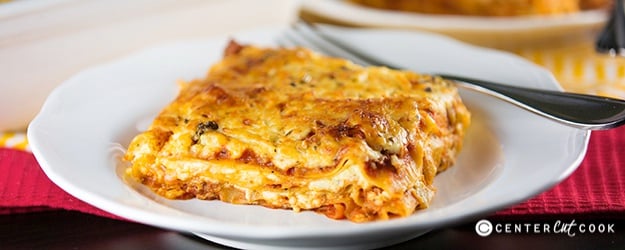 If there's anything I love more than Lasagna Soup, it's good ole classic Lasagna. Everybody needs a recipe for classic lasagna in their repertoire, and this is mine. Cheesy, hearty, comforting, and down-right delicious, my hubby regularly requests this for his birthday dinner! Aside from birthday dinners, lasagna is great for entertaining a crowd because a little goes a long way, and it's super easy to double or triple the recipe.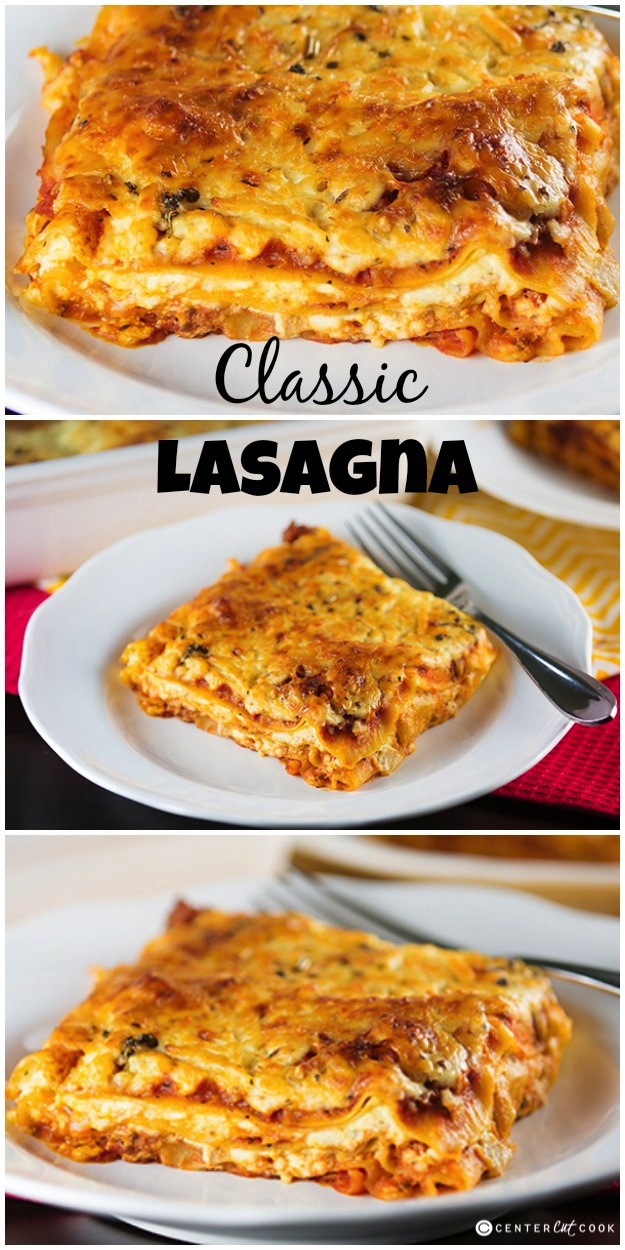 If you've made lasagna before, you know that it can be a bit fussy, and messy. You need a pot to boil the noodles (unless you use the no-boil kind!), one for the meat and/or sauce, a bowl to mix the cheese mixture, and a pan to assemble the lasagna! While lasagna does require a bit more time than I'm typically comfortable with dedicating to weeknight meals, it's worth it.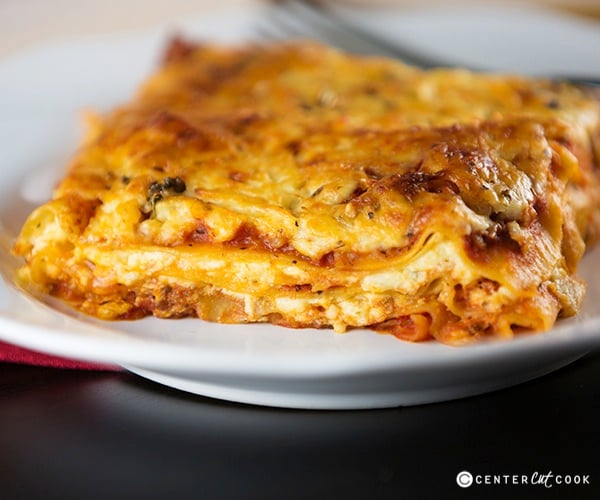 My recipe for lasagna is pretty standard, but with a few changes. I grew up eating lasagna that was made with ground beef, so naturally, that's what I made mine with. Then, one day I decided to experiment with Italian Sausage and I haven't turned back! Another important element to a lasagna is the cheese. In standard lasagna, you'll usually find ricotta cheese (not really a fan of it, unless it's used in these Turkey Ricotta Meatballs), and mozzarella cheese. I changed it up a bit and use a combination of cottage cheese, fresh mozzarella cheese, parmesan cheese, and….. cream cheese! I know it sounds weird, but cream cheese, I discovered, is the perfect addition to classic lasagna!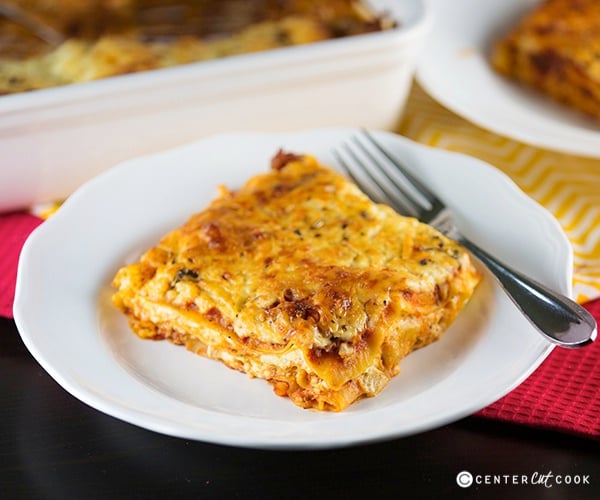 Perfect for entertaining, holidays, birthdays, and really, and ole' night of the week, this Four Cheese Classic Lasagna is definitely a favorite in our house. Enjoy!
Notes: Shred all of your own cheese for the best outcome! The cheese will melt and taste better!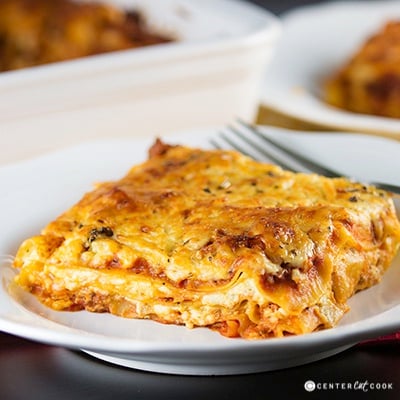 INGREDIENTS
9-12 lasagna noodles, cooked according to package directions (I typically cook a couple extra, just in case), and drained
1 pound mild or medium bulk Italian Sausage
36 ounces pasta sauce of your choice ( 1 1/2 jars if you're not making your own), divided
16 ounces cottage cheese
4 cups shredded mozzarella cheese, divided
8 ounces cream cheese, softened
1/2 cup grated parmesan cheese, divided
1 medium yellow onion, diced
4 cloves garlic, minced
2 eggs
1 tablespoon olive oil
1 tablespoon fresh basil or 1 teaspoon dried
1 tablespoon fresh parsley or 1 teaspoon dried
1/4-1/2 teaspoon red pepper flake (adjust according to your preferences)
1 teaspoon dried oregano
DIRECTIONS
Pre-heat your oven to 375 degrees.
Cook lasagna noodles according to package directions and drain.
While the noodles are cooking, heat 1 tablespoon olive oil in a large skillet over medium heat. Cook the diced onions for a few minutes until they are translucent. Add in the minced garlic and cook for a minute or two longer.
To the pan, add 1 pound Italian Sausage. Use a large wooden spoon or other utensil to break up the sausage into small crumbles. Stir in basil, parsley, red pepper flake, and oregano.
When the Italian Sausage is cooked, drain any excess fat. Set aside 1 cup pasta sauce, and stir in the remaining sauce with the meat.
In a large bowl, combine cottage cheese, softened cream cheese, 1/4 cup parmesan cheese, 3 cups mozzarella cheese, and 2 eggs.
In a large 9 x 13 inch casserole dish, spread 1 cup reserved pasta sauce over the bottom. Layer 3-4 lasagna noodles across the bottom. Top with 1/3 of the meat sauce, and 1/2 of the cheese mixture. Add another layer of noodles, 1/3 of the meat sauce, and 1/2 of the cheese mixture. Repeat one more time with the remaining noodles, and meat sauce. Top with reserved 1 cup of mozzarella cheese, and 1/4 cup parmesan cheese.
Cover the lasagna with foil and bake for 30 minutes. Remove the foil and cook for 10-15 minutes longer, or until the cheese is bubbly and melted. Let stand 10 minutes before serving. Garnish with fresh parsley and basil if desired.