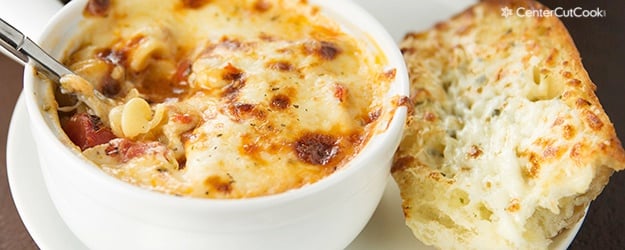 It may have been 60 degrees and beautiful in Chicago yesterday, which warranted grilling my favorite bbq chicken kabobs, but today it was back in the 40's which reminded me that it is still winter, and there is still plenty of time to make my favorite soups like this Lasagna Soup!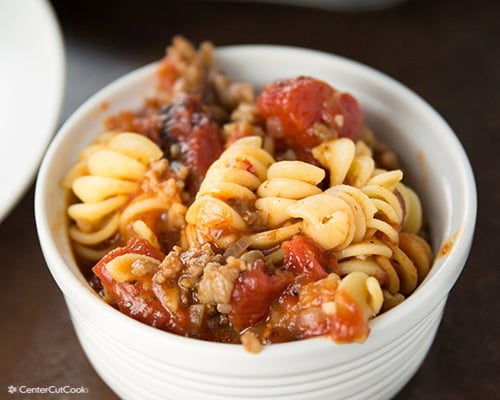 When I make soup around here, it's gotta be hearty, otherwise my soup-hating husband does not go for it. This is one of those soups that I can get away with making, and he actually enjoys it. Not only is it a hardy soup, it also has chunks of Italian Sausage which can definitely sway his decision on whether or not he likes something.
In short, all of your favorite flavors of lasagna come together in a pot instead of a pan. There's lots of oregano, some basil, and what would lasagna soup be without noodles and cheese? It comes together much quicker than making a pan of lasagna, which I love. I served it with our favorite garlic bread and dinner was a definite hit in this house.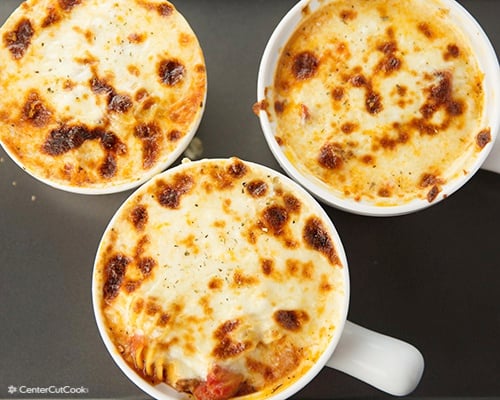 I used Italian Sausage, partially because I knew my husband would prefer that over any other meat, however, it also added great flavor to this soup. If you do not like Italian Sausage, feel fee to sub ground beef, or even ground turkey. Additionally, I used cottage cheese for the topping because I'm not a fan of ricotta, but feel free to use whichever one you like best. Lastly, I used fire roasted diced tomatoes because I just love the flavor. If you can't find them in your grocery store, go ahead and use regular diced tomatoes.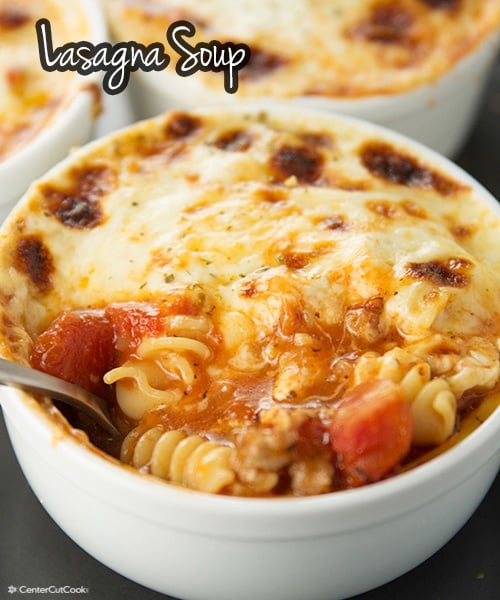 INGREDIENTS
1/2 pound of pasta (I used rotini)
1 tablespoon oil
12 ounces ground Italian Sausage (my grocery store sells it in packages, just like ground beef)
1 onion, diced
2 cloves garlic, minced
1/2 teaspoon red pepper flake (omit if you don't want the heat)
2 teaspoons oregano
1/2 teaspoon salt
1/2 teaspoon black pepper
1 teaspoon dried basil or 1/2 tablespoon fresh basil, chopped
4 cups chicken broth/stock
28 oz can fire roasted diced tomatoes
2 heaping tablespoons tomato paste
1/2 cup cottage or ricotta cheese
1/2 cup freshly shredded parmesan cheese
2 1/2 cups mozzarella cheese, shredded
DIRECTIONS
In a large stock pot, heat the oil on medium heat and cook the Italian Sausage, breaking it apart as it cooks with a wooden spoon). Remove sausage from pan and set aside, draining any excess fat.
Add the onion to the stockpot and sauté until translucent. Then add in the garlic, and stir for a minute or two.
Stir in the red pepper flake and allow to cook for a minute.
Stir in chicken broth, diced tomatoes, uncooked pasta, tomato paste, oregano, basil, salt, and black pepper. The pasta will cook as the soup simmers.
Bring the soup to a boil, then reduce the heat to medium-low. Add the Italian Sausage back in and allow the soup to simmer for about 30 minutes.
Pre-heat your broiler on high. Make the cheese topping by combining cottage or ricotta cheese, parmesan cheese, and mozzarella cheese.
To serve, spoon about 1-2 cups of soup in oven safe bowls. Spread some of the cheese mixture over the top and broil for a few minutes, or until the cheese is all melted and bubbly. Keep a close eye on the bowls of soup as the cheese melts so that it doesn't burn.
Serves about 6
Recipe adapted from
Closet Cooking