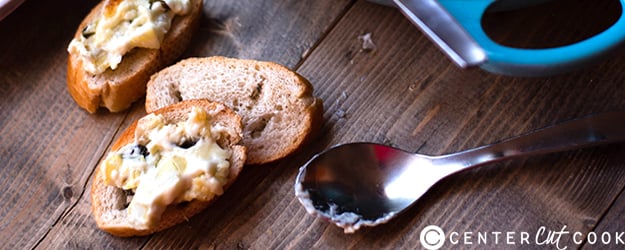 It's always so funny to me when I all of a sudden realize I should try to make something for myself at home. There are certain things I order at restaurants all the time…chicken tortilla soup, queso, sweet tea, cheesecake, and spinach and artichoke dip.
So, why on earth, don't I try making these for myself? I mean, hello, I'm a food blogger and it's like my job to do this kinda stuff. What is it about my favorite splurges at restaurants that keeps me from thinking I can make them at home?
Finally, one day, I realized I needed to make my own spinach and artichoke dip. But not just any ol' dip…THE spinach and artichoke dip. The one that would make me never want to order it out again. That I would sit back, enjoy, and secretly do a little happy dance that I nailed it.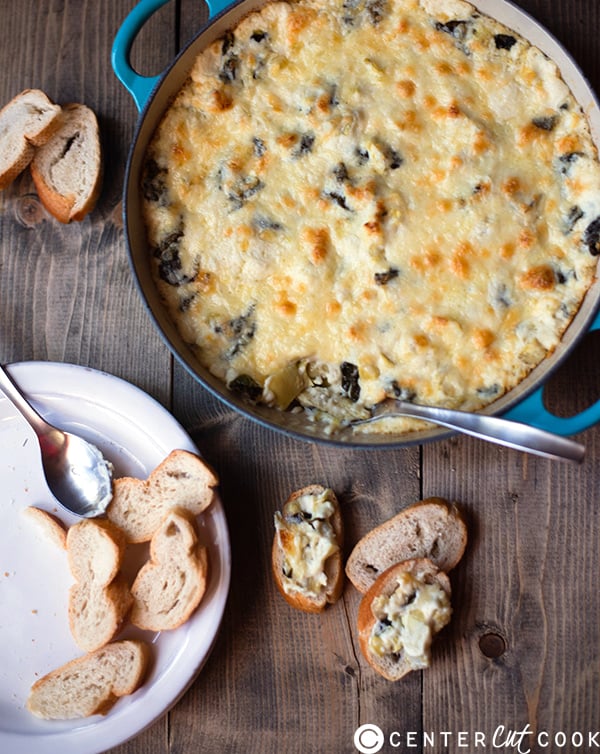 So, of course, my first step would be to add four cheeses. Because why the heck not, right? I mean we're talking about a dip that's sole purpose is to be creamy, flavorful, and heavy. Thus: four cheeses. Yum.
It's always crazy to me just how easy some things are to make that, at first glance, seemed difficult. Heck – even un-makeable! This four cheese spinach and artichoke dip is ridiculously delicious. It's everything you want in a spinach and artichoke dip and more. I serve it in a cast iron skillet since that allows it to stay hot for longer – if it lasts that long!
If you're looking for a great holiday appetizer, this serves a ton of people and is super yummy!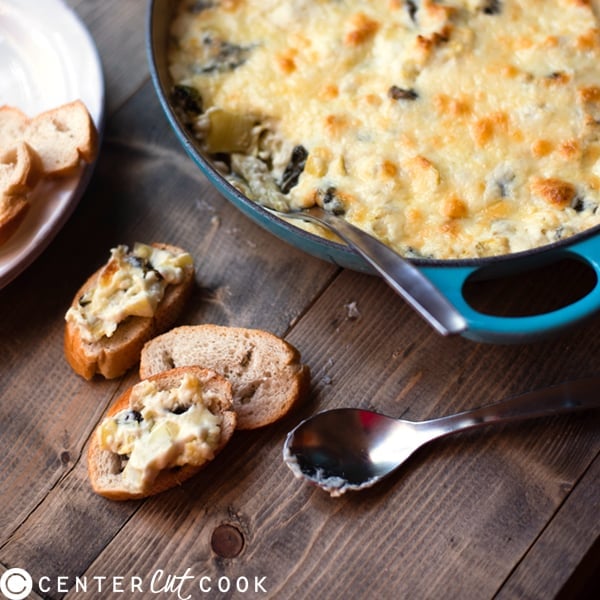 INGREDIENTS
3 tbsp. unsalted butter
3 tbsp. unsalted butter
4 cloves garlic, minced
5 ounces (about 2 cups) fresh baby spinach
17 ounce quartered artichoke hearts, rinsed and drained
3 tbsp. all-purpose flour
1 1/2 cups whole milk
1/2 tsp. kosher salt
1/4 tsp. ground black pepper
8 ounces cream cheese, softened and cut into cubes
1/3 cup crumbled goat cheese
1/2 cup grated parmesan
3/4 cup jack cheese, grated
1 cup jack cheese, grated
1/4 tsp. cayenne pepper
Optional: baguette for serving
DIRECTIONS
Preheat oven to 375 degrees.
Melt 3 tbsp. butter in a large skillet over medium-high heat. Add the garlic and cook for 1-2 minutes, until fragrant. Add the spinach and stir until it wilts. Remove the cooked garlic and spinach mixture from the pan and set aside.
In the same pan, add the quartered artichoke hearts and cook over medium-high heat until they lose their moisture and start to brown, about 8-10 minutes. Remove the artichokes and set aside with the spinach and garlic. Once cooled, roughly chop the spinach and artichokes and then set aside.
In the same pan, heat the remaining 3 tbsp. butter over medium-high heat until melted. Add the flour and stir to combine until flour is completely incorporated and makes a paste. Slowly add the milk, little bit by little bit, stirring frequently, until mixture is smooth. Cook until slightly thickened, about 4-6 minutes.
Add the salt, black pepper, cream cheese, goat cheese, parmesan, 1/2 cup of the jack cheese, and the cayenne pepper and cook until smooth and creamy and the cheeses are melted, about 3-6 minutes.
Add the chopped spinach, garlic and artichokes to the cheese mixture and stir to combine.
Pour the mixture into a baking dish (an 8×8-inch, 9×9-inch or similar will work). Sprinkle the remaining 1 cup of jack cheese evenly over the top and then place in the oven. Bake for 15-20 minutes, until the cheese is melted, bubbly, and beginning to turn golden-brown.
Servings: 6-8