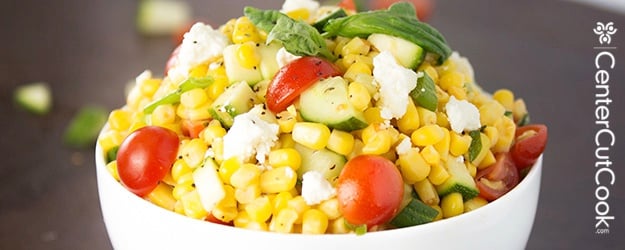 As much as I love the standard salad that I make week after week that mainly consists of romaine lettuce, tomatoes, and cucumbers, I am always open to change! Especially if it includes creamy feta cheese, garden fresh basil, and corn! Oh, and zucchini, and tomatoes, cucumbers, and green onion topped with a fabulous dressing!
I can't think of a salad that captures summer better than this Fresh Corn Salad! I grew up surrounded by corn fields, in fact, my high school was literally in the middle of acre upon acre of corn fields! People joked that we were the children of the corn, and it was not unusual to see little pop-up sweet corn stands alongside the road during late summer months. We had corn on the cob at least two nights per week! It's so hard not to like corn, ya know?
You'll need about 4 cups of cooked corn, chilled. To add to the corn, you'll need some chopped fresh cherry tomatoes, chopped cucumber, zucchini, green onion, fresh basil, and some feta cheese. Basically, all of the awesome things you have growing in your garden. Or all of the things you wish were growing in your garden! I had grand plans of having a huge garden this year, and it just did not happen! I'm settling with just a few fresh herbs.
The dressing comes together in a snap, consisting of olive oil, fresh lime juice, hot pepper sauce, and a little salt and pepper.
So easy, and so delicious, this concoction will be a nice change from the usual salad! Enjoy!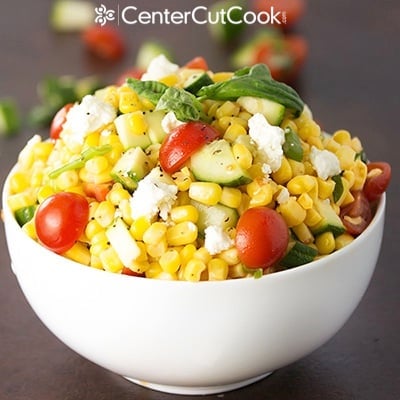 INGREDIENTS
4 cups corn, cooked and chilled
1 cup chopped cucumber
1 cup chopped zucchini
3 green onions chopped
8 ounces grape tomatoes, quartered
6 ounces feta cheese, crumbled
2 1/2 tablespoons olive oil
Juice from 1 lime
3/4 teaspoon table salt
3/4 teaspoon hot pepper sauce
1/2 teaspoon black pepper
3 tablespoons chopped fresh basil
DIRECTIONS
In a large bowl, toss together corn, cucumber, zucchini, green onions, grape tomatoes, and fresh basil.
In a small bowl combine olive oil, lime juice, hot sauce, salt and pepper.
Pour the dressing over the salad and toss to coat.
Serve immediately, or chill in the fridge until ready to serve. Toss in feta cheese right before serving.
Recipe adapted from
Barefoot Contessa