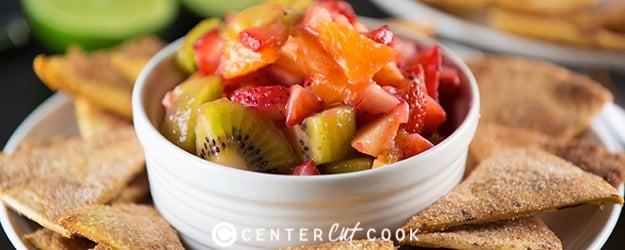 When I started thinking about this recipe for Fruit Salsa with Cinnamon Tortilla Chip Crisps, I had a hard time pinpointing what it actually was. Is it an after school snack that you could so easily serve to the kiddos when they get home from school? Is it something that would get devoured as an appetizer before a dinner party? Is it a lovely light dessert that you could eat without feeling *too* guilty? Ultimately, I decided that it's all of these things! Talk about versatile.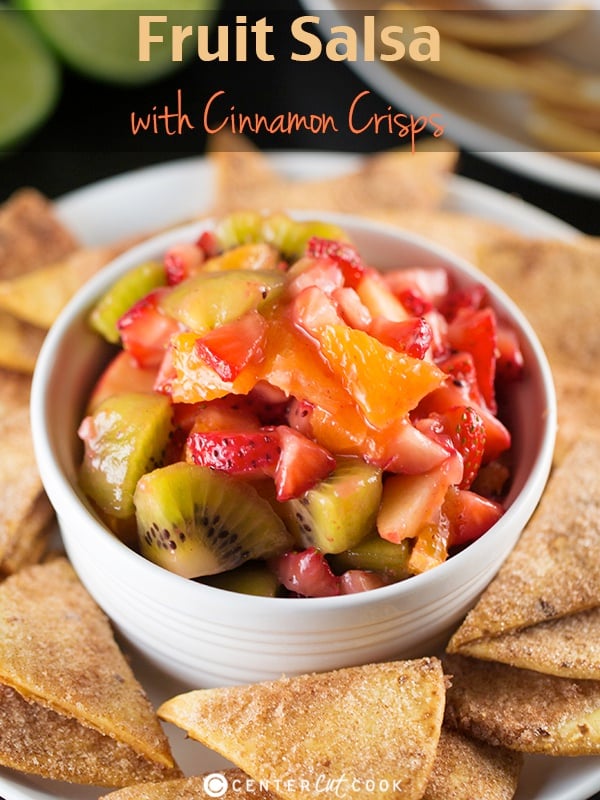 This fruit salsa with cinnamon tortilla chip crisps comes together quick, and it requires minimal effort to prepare. As long as you have a sharp knife, the process of chopping up the fruit will go quick, and before you know it, you'll have an appetizer/snack/dessert ready to go. Not only is it versatile in how you can use it, you can also use any fruits you'd like, or whatever is in season. I used apples, an orange, strawberries, and kiwi this time around and loved the combination but I'll likely change it up every time I make it.
The cinnamon tortilla chips turned out to be the perfect dipper for this salsa. You simply take tortillas and cut them into triangles. Each triangle gets sprayed with a little butter flavored cooking spray (used in place of butter to cut back on fat and calories), then sprinkled with a cinnamon sugar mixture and baked until crisp. Alternatively, you could use graham crackers for dippers if you wanted to eliminate using your oven.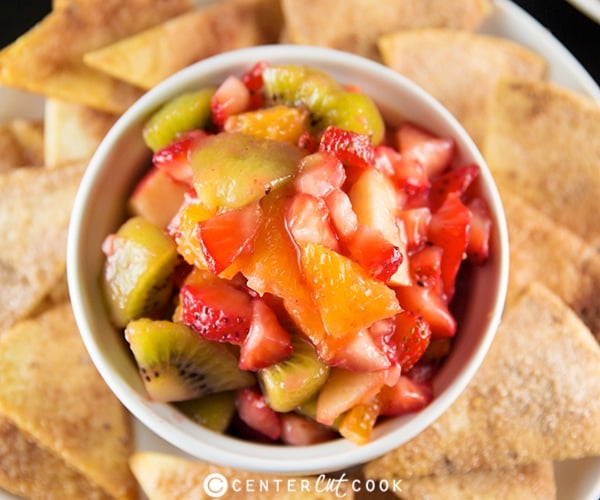 Whether you serve this as an appetizer, a snack, or a dessert, you really can't go wrong! It's a crowd pleaser for sure!
FRUIT SALSA INGREDIENTS
1 pint strawberries, stems removed, chopped – divided
2 kiwi, peeled and chopped
1 granny smith apple, chopped (peel if you'd like, I left it on)
1 orange, peeled and chopped
Juice from 1 lemon
Juice from 1 lime
2 teaspoons sugar – divided
CINNAMON CRISP INGREDIENTS
5 large flour tortillas, cut into triangles
Butter flavored cooking spray
4 tablespoons sugar
1/2 teaspoon ground cinnamon
DIRECTIONS
Pre-heat your oven to 350 degrees.
Spray both sides of the tortilla triangles with butter flavored cooking spray
In a small bowl combine cinnamon and sugar. Sprinkle the tortillas with the mixture.
Bake the Cinnamon Crisps until crunchy which will take about 20-23 minutes.
While the Cinnamon Crisps are baking chop the fruit, reserving 5 strawberries.
In a blender, combine 5 strawberries with the juice of 1 lemon, 1 lime, and 1 teaspoon sugar. Blend until liquified.
Pour the strawberry puree over the chopped fruit, and sprinkle the remaining 1 teaspoon sugar over the fruit.
Store in the refrigerator until you're ready to serve it. Enjoy!
Recipe adapted from
Cassie Craves