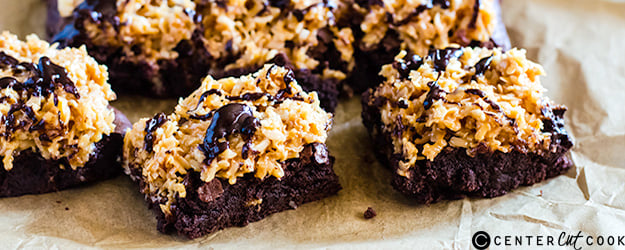 Girl Scout cookie time is here! This is yet another reason winter is one of my favorite seasons. I love pretty much all of the Girl Scout cookies and need to buy at least two boxes of each. I've even been considering enrolling my daughter to become a Brownie.
Speaking of brownies (like my segue?), let's take a moment to talk about these samoa brownies. Samoas happen to be one of my top favorite cookies and turning it into a brownie just seemed like the best idea ever. I am addicted to that coconut/caramel combination and these brownies are so rich and fudgy. I like to bake mine closer to 30 minutes so it has more of that fudgy consistency when you bite into it. Pure bliss!
I like to think of this recipe as being a nearly one-bowl recipe. In my house, I do use just one bowl to make the brownies, and here, I just did a quick rinse and reused the same bowl. If you have a good spatula, you should be able to get most of this thick brownie batter into the pan without too much trouble so it isn't that much of an issue to rinse. Then the caramel and coconut combine together very well so there isn't much of a clean up after that! It's such a great feeling to make a nice treat without having too much cleaning to do after!
I did a bit of research when trying to decide how to make the caramel coconut topping. A lot of recipes used either caramel sauce, which lead to a too soupy consistency for me, while others used a combination of soft caramels and heavy cream or water. I found heavy cream worked the best, but I needed a lot more of it to keep the topping soft enough to bite into after the brownie completely cooled down. No one wants to practically break their teeth when they are trying to get their dessert on, right? I found 1/4 cup of heavy cream did the trick for me while still leaving the caramel nice and sticky and a little chewy. Don't be afraid to experiment and try it with more or less heavy cream though!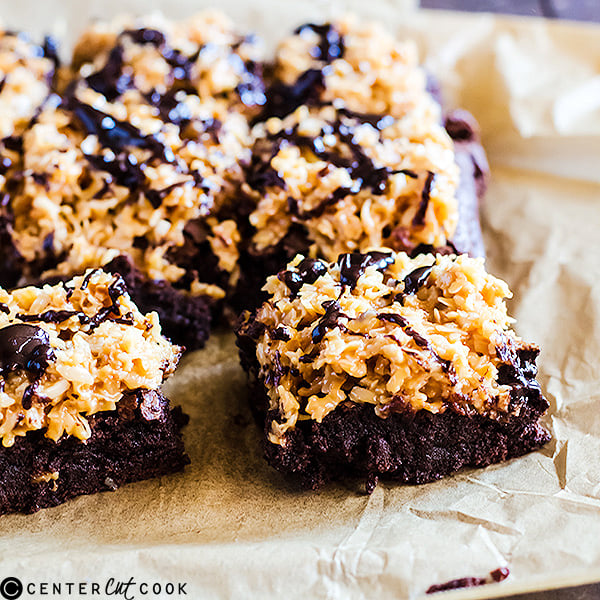 INGREDIENTS
4 oz semi sweet chocolate
4 oz milk chocolate
1/2 cup (8 tablespoons) unsalted butter
3/4 cup granulated sugar
3 large eggs, room temperature
1 cup flour
1/4 cup cocoa powder
1 teaspoon salt
1 teaspoon vanilla extract
1 1/2 cups shredded coconut
7 oz soft caramels
1/4 cup heavy cream
DIRECTIONS
Line an 8 x 8 inch baking pan with parchment paper, leaving some parchment hanging over the pan. Preheat the oven to 350 degrees F.
In a double boiler, melt both types of chocolate and the butter together, mixing as it melts to combine everything. Once the chocolate and butter is melted and mixed together, remove from the double boiler.
Stir in the sugar and mix to combine.
Beat in the eggs one at a time, mixing well between each addition.
Add in the flour, cocoa powder, and salt and mix well. Stir in the vanilla extract.
Pour the batter into the baking pan and bake for 30 – 35 minutes.
While the brownies are baking, place the shredded coconut on a baking sheet and toast for about 5 minutes in a rack under the brownies. Remove and allow to cool slightly.
In a saucepan, add the caramels and the heavy cream and heat on medium until the caramels melt. Stir well to combine the heavy cream.
Add the shredded coconut over the melted caramel and mix to combine. Pour the caramel mixture over the finished brownies while they are still warm and spread.
You may optionally add a chocolate drizzle over the coconut for a more authentic Samoa cookie look. (personally, I preferred the brownies without the drizzle!)