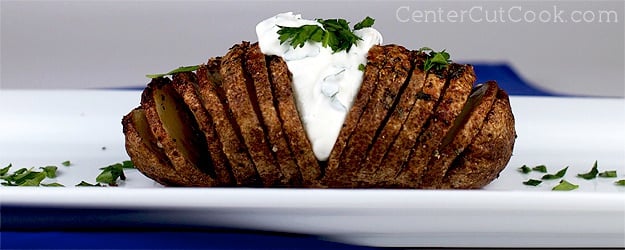 Originally from Sweeden, Hasselback potatoes are a fun alternative to the traditional baked potato. They look fancy and taste yummy. The outsides are crisp, and the middle portion is tender. And when you use a combo of fresh parsley, some garlic, and a little salt and pepper to season them, the result is fantastic!
Now it may look like quite a bit of extra work to prepare Hasselback potatoes compared to the standard baked potato, however, if you have a sharp knife, you'll only need about an extra five minutes. Not bad for something that looks so impressive, right? I made a garlic herb sour cream to go along with these potatoes which added a whole extra layer of flavor.
Make sure to use a rimmed baking sheet for baking these potatoes, as the butter/olive oil combination tends to run out of the potatoes as they are baking which would result in a huge mess if you used a standard rimless sheet. I may or may not be speaking from experience….and may or may not have had a smoky house as a result of such a silly mistake.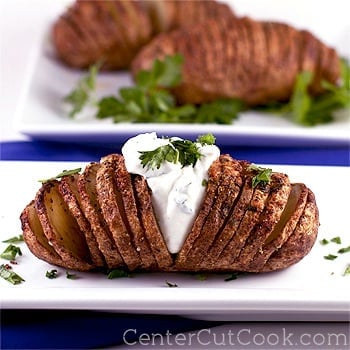 POTATO INGREDIENTS
4 medium russet potatoes
4 tablespoons butter, melted
1 tablespoon olive oil
1/2 teaspoon garlic powder
1/2 tablespoon fresh parsley, minced
1/2 teaspoon black pepper
1/2 teaspoon sea salt
SOUR CREAM INGREDIENTS
1 cup sour cream
1 teaspoon garlic powder
1/4 teaspoon salt
1/4 teaspoon black pepper
1/2 tablespoon fresh parsley, minced
DIRECTIONS
Pre-heat your oven to 425 degrees.
Wash and scrub your russet potatoes. Then, using a sharp knife, begin to make slits in each potato. Each cut should be about 1/8 inch apart. Make sure not to cut all the way through the potato.
In a bowl, combine melted butter, olive oil, garlic powder, parsley, salt, and pepper. Roll each potato around in the butter mixture to coat, and spoon some of the butter mixture on top of the potato.
Repeat until all 4 potatoes have been dipped in the garlic butter mixture. Spoon any remaining butter on top of the potatoes.
Place the potatoes on a rimmed baking sheet and cover with foil.
Bake for 15-20 minutes, then remove foil.
Continue baking uncovered for another 40 minutes, or until the edges are crisp and the middles are tender.
While the potatoes are baking, make the sour cream mixture by combining sour cream, garlic powder, salt, black pepper, and parsley. Store in the refrigerator until you are ready to use it.
When the potatoes are done baking, allow them to cool for a few minutes before topping each with a dollop of garlic herb sour cream.
Recipe adapted from
Sunny Anderson