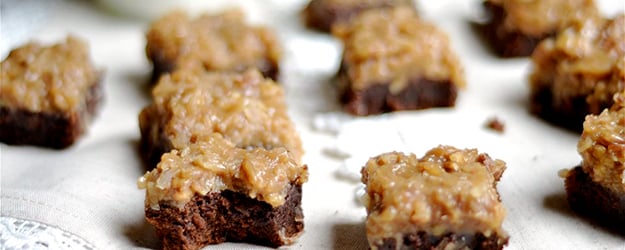 Your new favorite way to enjoy brownies has arrived! Anyone else a fan of German Chocolate Cake? It happens to be a favorite among two people in my family, so it's a dessert I make often for celebrations. But brownies, they will forever be my favorite. So why not combine the German Chocolate topping with these delectable perfectly moist brownies? It's just out of this world. It's like I died and went to chocolate heaven!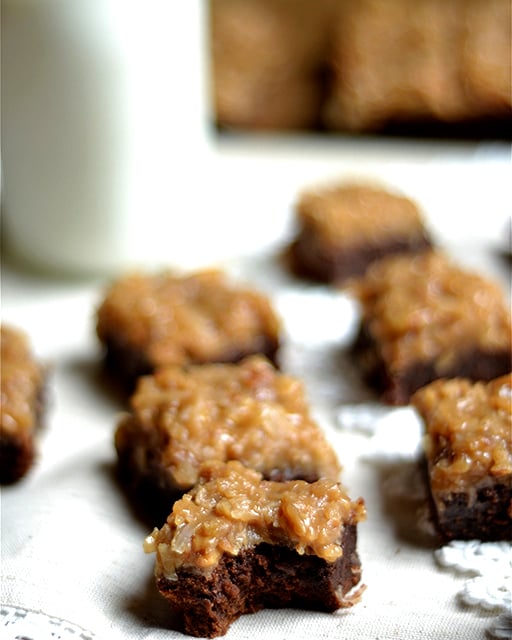 To get started on these brownies ASAP, you will want to make the brownie/fudgy layer first. It comes together with minimal ingredients and without a mixer. Once the brownies have cooled, you can make the glaze. The glaze requires a little attention to make sure the eggs don't cook in the mixture! After about 8 minutes, you'll have a thick sweetened mixture with pecans and coconuts. Spread on top of your brownies and cool for at least an hour. Overnight is also a good idea!
I recently brought these to a BBQ gathering with friends and everyone went absolutely nuts over them! I hope you enjoy, as I am sure they will be a crowd pleaser.
Just a fun little fact: German Chocolate Cake actually has nothing to do with the country of Germany or of anyone with a German heritage. I learned this after living in Germany when I realized coconut and pecans can be found NO WHERE in that country! It was actually named after a man with the last name German.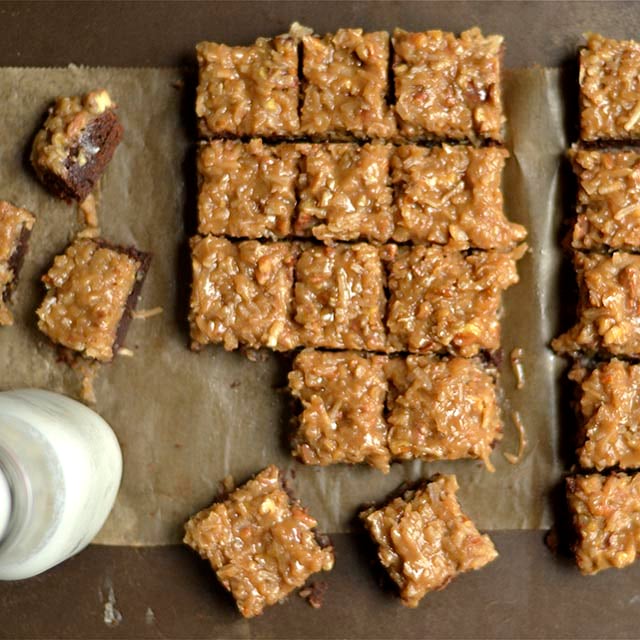 BROWNIE LAYER INGREDIENTS
PECAN AND COCONUT GLAZE INGREDIENTS
1/2 cup evaporated milk
4 tbsp butter, softened
2 large egg yolks (discard egg whites)
1/2 cup brown sugar
1 tsp vanilla extract
1/2 cup chopped pecans
3/4 cup shredded coconut
DIRECTIONS
Preheat your oven to 350 degrees. Grease and line a 8×8 inch pan with parchment paper, using a sling that goes over the edges. Set aside.
On the stovetop or in a microwave, heat the butter and chocolate until well combined and smooth. Add in sugar, coffee or espresso, and vanilla extract. Set aside to cool for a few minutes.
Add eggs one at a time, whisking into mixture until smooth. Fold in flour and make sure you mix well eliminating all flour pockets.
Pour in prepared pan. Bake for 22 minutes or until a toothpick inserted comes out clean.
Set aside to cool in pan.
Meanwhile make the glaze. Combine milk, egg yolks, brown sugar, and butter into a small saucepan. Cook over medium low heat for about 7 minutes, whisking constantly to ensure the eggs don't cook. The mixture will begin to bubble and thicken. Add in a tsp of vanilla extract. Fold in chopped pecans and coconut, and set aside to thicken and cool for 5-10 minutes.
Once glaze is thick, spread over top of brownie layer. Refrigerate for at least an hour (or overnight) and then cut into small squares.
Servings: 10