Ginger beef salad is a great way to enjoy a healthier version of steak. We are trying to serve paleo dishes for dinner, and this beef salad is on our table nearly once a week. It is addictively good. Even better, it's skinny and contains tons of nutrition. Sometimes we serve it with a glass of chilled white wine, sometimes with cold beer. It's such a refreshing meal during the summer!
We often use a thick cut of steak for cooking this dish, since it gives a more satisfying mouthfeel. Our favorite cut is marbled short ribs. It's about half the price of a fancy tenderloin, but has great texture and flavor. Of course, if you don't want to turn on the oven during the hot summer, choose a thin cut of steak instead and you can shorten the cooking time to 5 minutes.
If you're using a thick cut, be sure to follow the recipe below. We use this method to cook all our steaks and it results in a perfect texture every single time. When you're slicing the steak, you can feel how moist and tender it is.
You need just 5 minutes to mix this rich and refreshing sauce. It goes great with almost any type of green salad, but I've found it tastes particularly delicious on arugula. You could add any toppings you prefer. My favorites are tomato, onion, fresh fruits (apples, peaches, and grapes), dried fruits (cranberries and raisins), and nuts (pecans, almonds, and walnuts).
Hope you enjoy!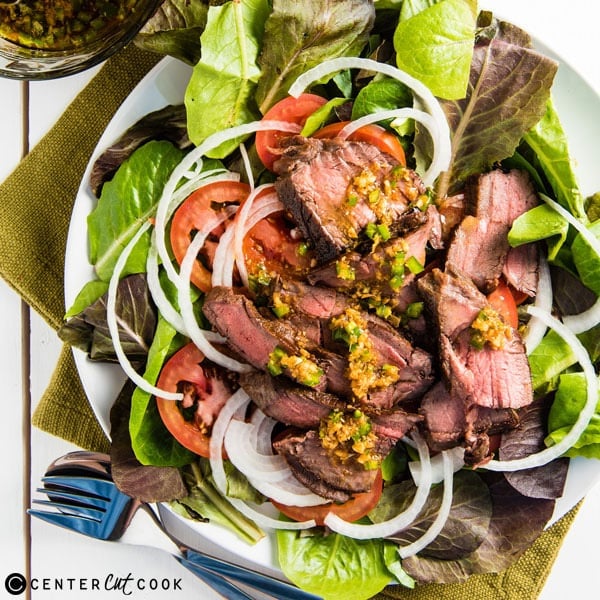 SAUCE INGREDIENTS
2 tablespoons olive oil
2 tablespoons soy sauce
1 tablespoon grated ginger
1 tablespoon lemon juice
1 tablespoon sugar
2 cloves garlic, grated
1/2 jalapeno, chopped with seeds removed
SALAD INGREDIENTS
1 (8-ounce) piece of beef short rib (or strip, or sirloin steak)
Salt
1 tomato, sliced
1/4 onion, sliced
4-6 ounces mixed green salad
1 tablespoon vegetable oil
DIRECTIONS
(Optional) If you're using a thick cut of steak (more than a half inch thick), preheat oven to 400 degrees F. Follow this step
Combine all the ingredients for the sauce in a small bowl. Mix well and set aside.
Season beef with salt on both sides, let it rest for 15 to 30 minutes.
Prepare and cut vegetables. Combine tomato, onion, and green salad in a large bowl.
Heat oil in an oven-safe skillet over medium high heat until hot.
Add steak. Cook each side for 2 minutes. Repeat and cook each side for another 1 minute, until the surface is nicely charred.
(Option 1) If using a thin cut of steak – Let steak cook on stove a bit longer, until it turns medium rare (or the thickest part reaches 135 F). Transfer to a plate, let rest for 5 minutes.
(Option 2) If using a thick cut of steak – Transfer skillet to oven and bake until medium rare (or the thickest part reaches 135 F), 5 to 7 minutes. Transfer to a plate, let rest for 5 minutes.
Slice the beef and top the salad with it. Drizzle with sauce and toss a few times.
Serve immediately.