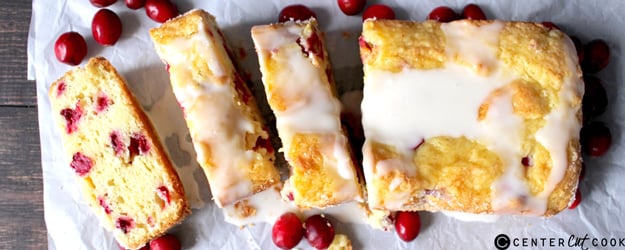 This bread is so simple that the hardest part is chopping the cranberries- those are slippery little suckers! So if you can handle an occasional cranberry across the room, you can make this bread. :) It is all mixed in one bowl with a spoon, no mixer necessary and it takes just a couple minutes. Quick breads are the best!
Cream cheese is mixed right in the batter which makes it super moist and down right irresistible. It is almost a cross between bread and pound cake. The cranberries are not overpowering and they pair perfectly with the sweet batter.I also have a super fun trick I want to share. See that sugary outside coating? Whenever I bake bread, instead of greasing and flouring the pan, I grease and sugar it. It's the same process- spray with spray (or rub with butter) then instead of dusting it with flour, put some granulated sugar in it and tip it around until it is fully coated. Then when the bread is done it removes easily from the pan and has the best, most addicting caramelized pieces on the outside. I learned this trick years ago with my bundt pan and have never had a loaf stick. I love it and so will you.
The bread is good on it's own, but I wanted to add a simple glaze to it so I made an easy 2-ingredient apple glaze. It is simply powdered sugar and juice mixed together- so easy and delicious Apple and cranberry go so well together and I know orange would be good too. Feel free to use your favorite one.
You will love how quick this bread comes together, how moist it is, and how delicious it is. It makes two loaves, so it is perfect for sharing or gift giving.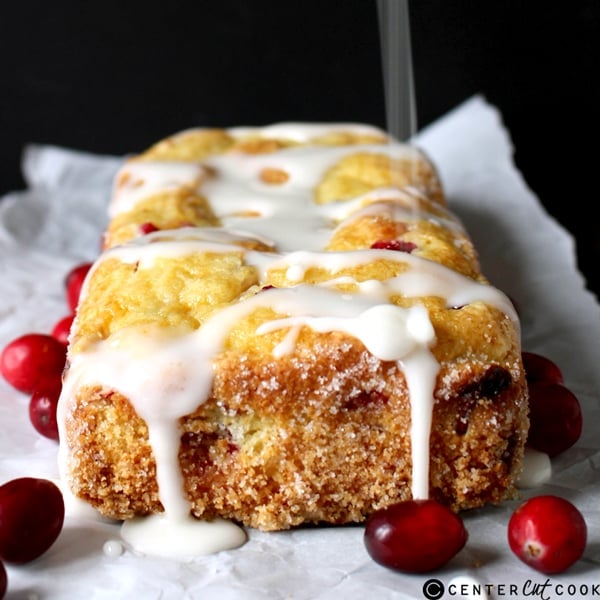 BREAD INGREDIENTS
8oz cream cheese, room temperature
1/2 cup butter, room temperature
1 1/2 cups granulated sugar
4 eggs
1 teaspoon vanilla
1 1/2 cups flour
1 1/2 teaspoons baking powder
1/2 teaspoons salt
2 cups cranberries, chopped
GLAZE INGREDIENTS
BREAD DIRECTIONS
Preheat the oven to 350° and spray two loaf pans with non-stick spray and coat them with sugar. Set aside.
In a large bowl, cream together cream cheese, butter, and sugar. Stir until well combined.
Add in the eggs and vanilla and mix until incorporated.
Add in the flour, baking powder, and salt. Stir until just combined and no pockets remain, but do not overmix.
Fold in chopped cranberries.
Pour half of batter into each pan and bake for 40-45 minutes or until toothpick inserted in the center comes out clean.
Once fully cooled top with glaze.
GLAZE DIRECTIONS
Mix powdered sugar and juice together until smooth. Pour over bread.