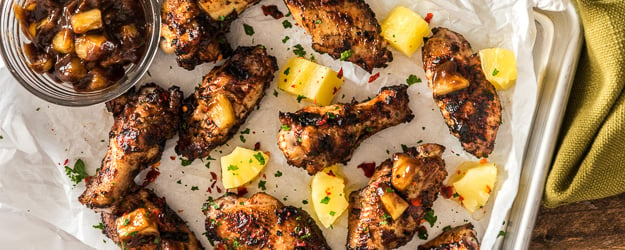 While the weather is getting hot, I'm so glad it's grilling season again. Nobody wants to cook in a hot kitchen. But firing up the grill and cooking food in your backyard is great fun! Today I'm going to introduce a super simple pineapple sauce that takes no time to make. It is a sweet and sour sauce that is sticky and smoky. The perfect sauce for chicken!
To make this amazing sauce, you need to get the NEW Masterpiece® BBQ Sauce Mix & Dry Rub (Original flavor) at Walmart. You can find it in the condiment aisle, near the other KC Masterpiece® BBQ sauces. The box contains two envelopes of dry rub. You can use this spice blend to make BBQ sauce, dry rub, or marinade. Next time you're at Walmart, don't forget to grab some chicken wings and canned pineapple, so you have everything you need for this recipe.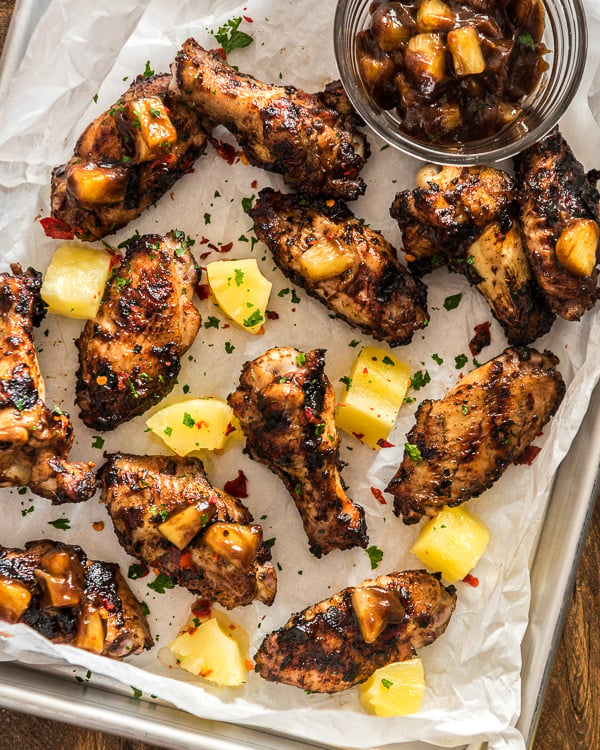 In this recipe, we use half of the rub to season the chicken, so it will crisp nicely on the grill with tons of flavor. We use the other half to make a scrumptious sauce, with the simple addition of pineapple juice, lemon juice, and sliced pineapple. Simply mix everything together, and you'll have a sweet, sour, sticky sauce in a minute. Yes, it's that easy!
If you like the simplicity and flavor of this spice blend, make sure you also check out their other delicious flavors: Sweet Honey and Spice Habanero. You can tweak the flavors and customize your sauce with water, juice, soda, beer, or even bourbon. So every meal will be different and delicious.
Don't want to grill the wings? You can cook them in the oven, too. Preheat your oven to 400 F. Season the wings by following the recipe and bake them for 45 minutes. You can toss the cooked wings in the sauce and serve them.
The recipe works with other cuts too, such as chicken thighs, breasts, and drumsticks. Follow the recipe and adjust the cooking time according to the cut you're using, and you'll have a delicious dinner in no time!
This is a sponsored conversation written by me on behalf of KC Masterpiece®. The opinions and text are all mine.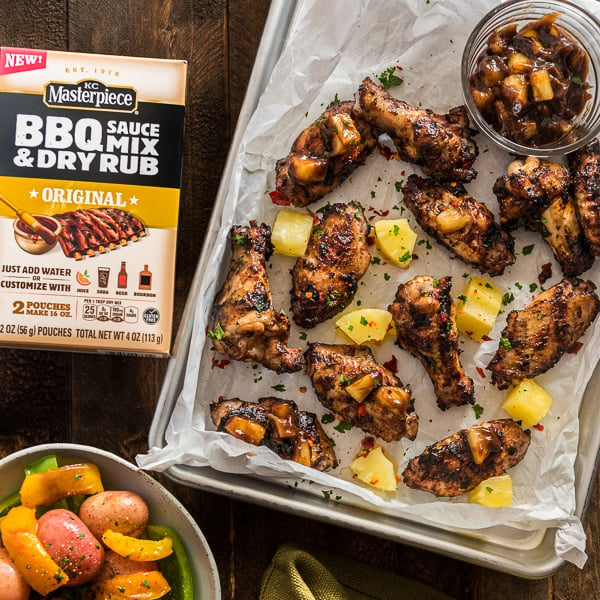 INGREDIENTS
15 chicken wings
1 envelope KC Masterpiece® BBQ Sauce Mix & Dry Rub, Original flavor
1/4 cup pineapple juice
1 tablespoon lemon juice
1/3 cup canned pineapple chunks
DIRECTIONS
Combine chicken wings and half of the KC Masterpiece® BBQ Sauce Mix & Dry Rub in a large bowl. Mix well.
Add the rest of the KC Masterpiece® BBQ Sauce Mix & Dry Rub, pineapple juice, and lemon juice in another bowl. Mix well and let sit for 15 minutes to thicken.
Heat grill with cover over high heat for 10 minutes. Turn the grill to medium heat. Cook wings with cover until the color is a spotty light brown and the skin has rendered some fat. Flip once during the cooking. It takes 12 to 14 minutes.
Turn all burners to high heat. Continue to cook, uncovered, until the wings are a spotty dark brown, 3 to 4 minutes. Brush the pineapple sauce onto both side of each wing. Transfer to a serving plate immediately.
Add the pineapple into the rest of the sauce and mix well. Serve sauce with wings while warm.