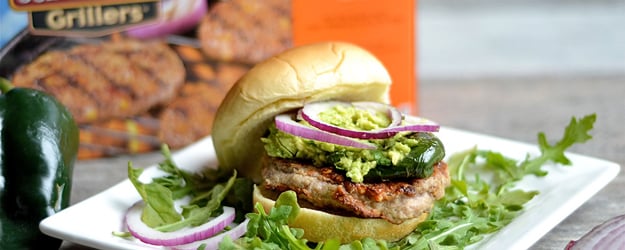 It's the unofficial start to the summer! With Memorial Day weekend coming up, it's time to kick off the official grilling season! I absolutely love to grill and get so excited this time of year when meals are more relaxed, and everyone can gather around in the backyard to enjoy each other. Memorial Day weekend is a time to bring together warm weather, good food, and great company.
Recently I came across Johnsonville grillers at my local grocery store, and grabbed a few boxes to grill for a backyard birthday party. I loved how easy they were to grill, and so much flavor is already packed in the sausage! Johnsonville grillers come in 3 different flavors: Cheddar Cheese & Bacon, Swiss Cheese and Mushroom, or Original Bratwurst. The sausage burgers make it easy to bring family and friends to the table without having a complicated meal. No prep time is required for the burgers, they come right out of the freezer and onto the grill. So convenient for your next gathering or weekend cookout!
For these burgers, I used the Cheddar Cheese and Bacon Flavor. Grilled poblano peppers complimented the sausage, cheese, and bacon taste perfectly! Another super simple addition was my 1 minute guacamole: tossing together avocados, salt, lemon, and cumin. My husband and I both the thought BBQ sauce and red onion completed the taste, but feel free to dress with your own favorite condiments.
Get outside, enjoy the beautiful weather, and relax knowing this meal will be a simple one that everyone will love!
This is a sponsored conversation written by me on behalf of Johnsonville. The opinions and text are all mine.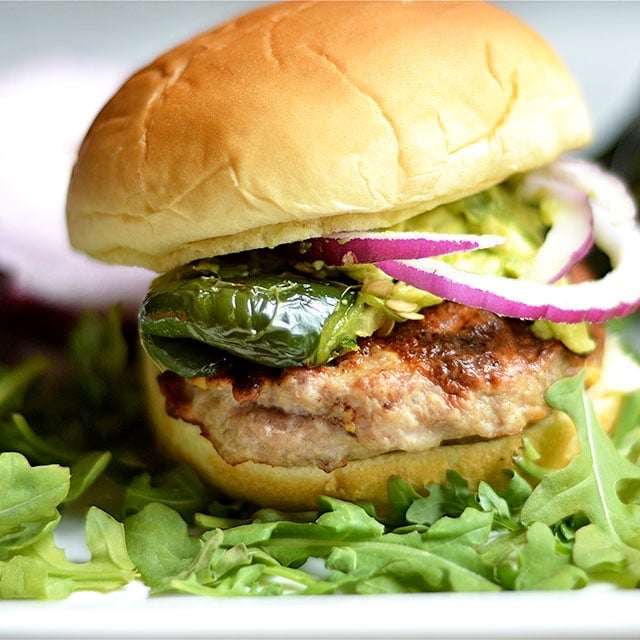 INGREDIENTS
1 package of Johnsonville grillers: Cheddar Cheese and Bacon
2 large poblano peppers
1 tbsp olive oil
2 avocados
Juice of 1 lemon
1 tsp cumin
1/2 tsp sea salt
6 hamburger buns
Sliced red onion (optional)
BBQ sauce (optional)
DIRECTIONS
Heat your grill to medium low heat. Brush poblano peppers with olive oil and set aside.
Once the grill is ready, place patties and peppers on the grill and close the lid. Cook for 6-7 minutes per side or until internal temperature for the burgers reaches 160.
While meat and peppers are cooking, make your 1 minute guacamole. Peel and de-seed your avocados, and mash with a fork. Add lemon, cumin, and salt. Continue to mash with a fork until well blended. Set aside.
Layer your burgers with grilled peppers, guacamole, red onion (if using), and BBQ sauce (is using).
Enjoy hot!
Servings: 6 burgers