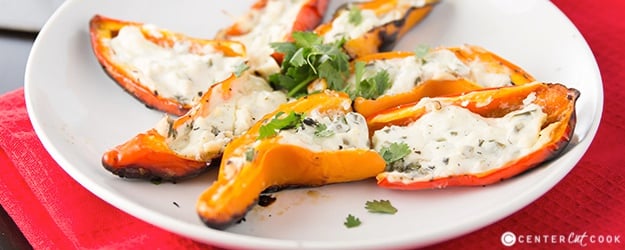 SO many things are much better in mini form. Take for example puppies, furry kittens, or babies. In the food department, how about those cute little key limes, little cuties, or mini bell peppers? Have you seen the mini bell peppers in the grocery store lately? They are some of the cutest little things I've set my eyes on. I've walked by them time after time, wanting a reason to buy them, and finally I found one!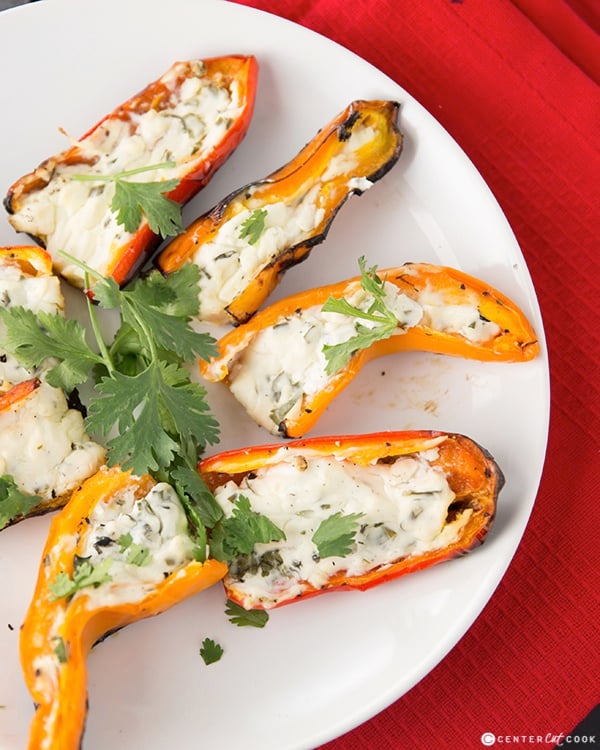 How do you spend a rainy Wednesday afternoon? If you're nerdy cool like me, you go to the library to stalk culinary magazines and piles of cookbooks, looking for inspiration. As I was flipping through the latest issue of Cooking Light I came across a recipe for grilled stuffed mini bell peppers and knew I had to try it. I promptly left the library (after putting stacks of magazines and books away, because I'm courteous like that), and headed to the grocery store to finally be able to put a bag of those cute little mini bell peppers in my cart, knowing I had a purpose for them.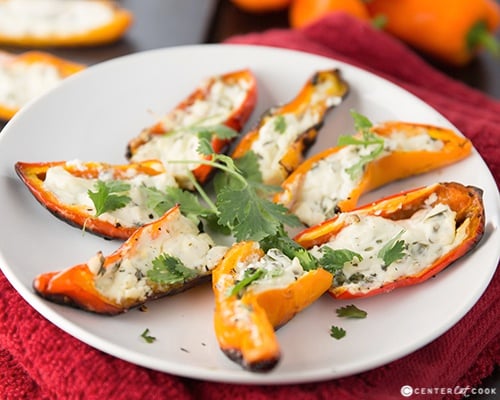 These little grilled stuffed mini bell peppers turned out to be such a perfect side dish for this recipe for BBQ Chicken Kabobs. They are low-carb and keto friendly if that's your thing? The filling is made with sour cream, and cream cheese along with green onion, cilantro, and a squeeze of fresh lime juice. Can we talk about the char that the peppers get when you grill them? That is the absolute best part about the whole darn thing! I love me some charred peppers.
Perfect as a side dish, or as an appetizer, these vegetarian grilled stuffed mini bell peppers are certain to bring a smile to your face, and your tummy. AND to boot, they are so colorful, and beautiful! It's definitely a great presentation.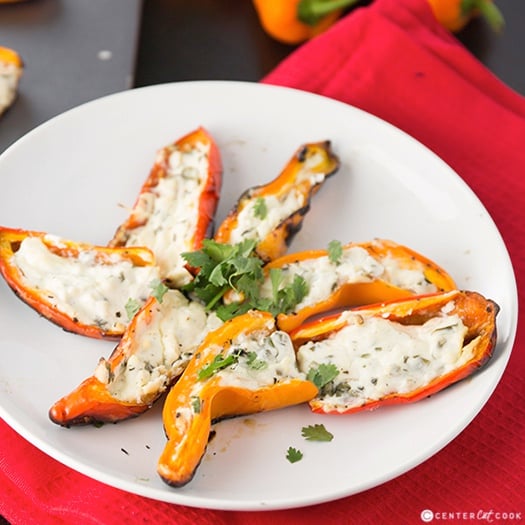 INGREDIENTS
8 mini bell peppers, rinsed and cut in half lengthwise (remove any seeds)
1 tablespoon lime juice
1 tablespoon chopped cilantro
1 green onion, chopped
3 ounces cream cheese, softened
3 tablespoons sour cream
Salt, pepper
Cooking spray
DIRECTIONS
Heat grill or grill pan to medium-high heat.
In a small bowl combine cream cheese,sour cream, lime juice, cilantro, and green onion.
Lightly salt and pepper each pepper, then scoop a small amount of filling in each.
Spray the grill pan or grill rack with non-stick cooking spray, then place the peppers on the grill and cook for about 7-8 minutes, or until the bottoms of the peppers have a nice char to them.
Recipe adapted from
Cooking Light May, 2012