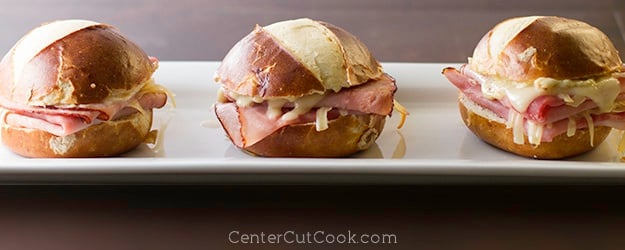 When there's leftover ham in the house, perhaps after Easter dinner, what are you to do? Some people make ham and bean soup, others make ham salad, I, on the other hand, use that delicious leftover ham for ham sandwiches! Over the years my ham sandwiches have evolved from throwing some ham and american cheese on a bun, to the fabulous sandwich I'm about to introduce you to today!
To make these ham sandwiches, you'll need sliced ham (deli ham, or leftover ham from Easter dinner is just fine), shredded gruyere, sliced swiss cheese, and some homemade sandwich spread that you'll make. Don't worry, the sandwich spread involves three simple ingredients, and it comes together fast! If you're wondering why I went with two cheeses, it's simply because I couldn't make up my mind as to which cheese I should pick, so I decided to go with both! It was a good choice, in case you'er wondering.… :)
For the sandwich spread you'll need mayo, dijon mustard, and a teeny bit of worcestershire sauce, all ingredients you likely have on hand. You'll also need some beautiful pretzel rolls, the slider size. Many grocery stores sell them these days, but I found these guys at Costco. If you can't find pretzel rolls, Hawaiian rolls would be a great substitute. You could also use leftover dinner rolls.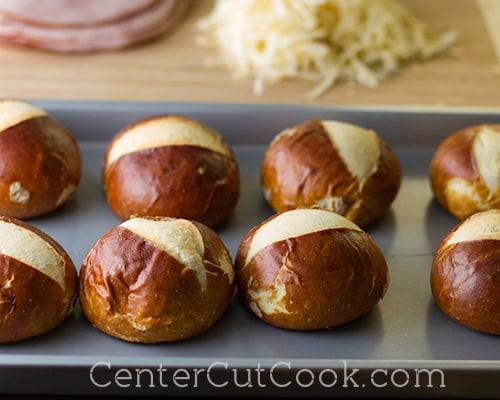 Once you've prepped all of the ingredients, you'll begin assembling these tasty little sandwiches! I spread about one tablespoon of the homemade sandwich spread on the top bun. Then I placed one piece of ham on the bottom, and topped it with a little shredded gruyere cheese. Next, I added another piece of ham, followed by a half slice of swiss cheese. All you're doing is alternating one layer of ham with one layer of cheese… twice! It'll go bottom bun, ham, gruyere cheese, ham, swiss cheese, sandwich spread, top bun. Done.
Now they're ready for the oven! I arranged these sandwiches on a large rimmed baking sheet, then I covered them with foil to bake for the first 5-7 minutes before removing the foil and allowing them to continue baking for about 8-10 minutes until the cheese was all gooey and yummy and melted! I covered them for the first part so that the buns wouldn't get rock hard.
If you've got leftover ham from Easter dinner, definitely give this recipe a try! The Hamd Sandwiches with Swiss and Gruyere Cheese come together so quickly, but pack a punch of flavor!
Another great idea if you've got lots and lots of leftover ham, are these Chicken Cordon Bleu Rollups, or these Ham and Cheese Pinwheels.
Enjoy!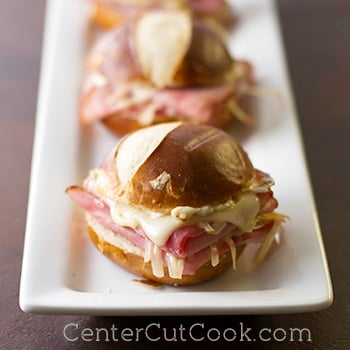 INGREDIENTS
1 pound ham -( deli slices or leftover ham from easter, use whatever you've got)
3/4 cup shredded gruyere cheese
4 slices swiss cheese, cut in half
1/2 cup mayo
1 tablespooon dijon mustard
1/2 teaspoon worcestershire sauce
8 pretzel rolls- slider size (sub Hawaiian rolls or dinner rolls if you can't find pretzel rolls)
DIRECTIONS
Pre-heat your oven to 350 degrees.
In a small bowl combine mayo, dijon mustard, and worcestershire sauce to create sandwich sauce.
Spread one tablespoon sandwich sauce on the top part of each bun.
Divide ham into 8 equal portions to create 8 sandwiches.
Place slice of ham on the bottom bun. Top with a bit of gruyere cheese. Add another piece of ham, then top with half a slice of swiss cheese. Place the top bun on the sandwich. Repeat until all 8 sandwiches are made.
Place the sandwiches on a rimmed baking sheet.
Cover with foil and bake for 5-7 minutes. Then remove the foil and continue baking for 8-10 minutes, or until the cheese is melted and gooey.
Recipe from
CenterCutCook