It's January and a new year.
And that means one very important thing…
It's time to eat healthy, follow those resolutions, and make 2016 the year we all get healthy.
One of the easiest and best ways I've found to get healthy is to replace less healthy foods with healthier alternatives. That way, you can still eat the foods you love and indulge in all that goodness, but without all the guilt. Because following a diet you hate that is based in restricting just isn't gonna cut it in my area of the world – food is just too important to sacrifice.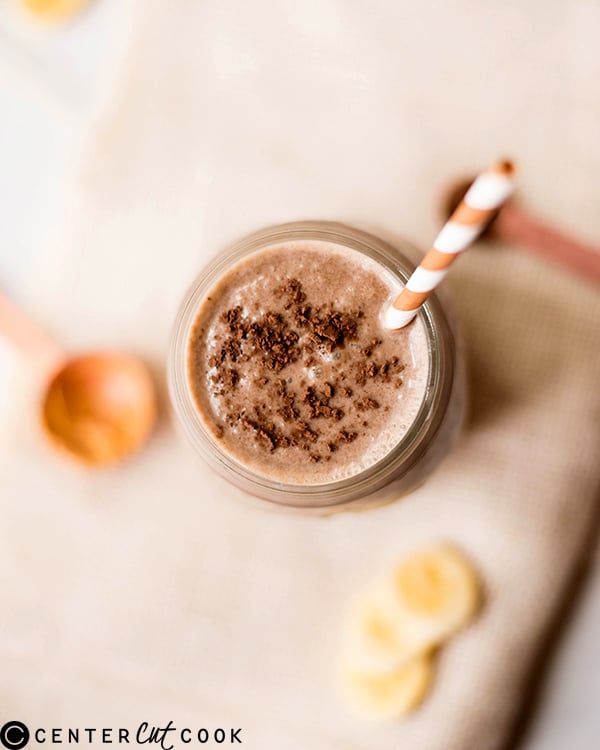 Smoothies like this healthy chocolate and peanut butter smoothie do just the trick. They allow you to get your sweet tooth what it needs – I mean who doesn't love delicious chocolate, banana, and peanut butter? This healthy smoothie is a great healthy replacement for a less healthy milkshake. It makes a great breakfast, dessert, or snack. You can even add protein powder for an even higher protein count.
So, next time you want to reach for that candy bar or a milkshake, try this super easy chocolate peanut butter smoothie and do your body, mind, and resolution a favor. You won't be disappointed.
Best of luck with all your healthy resolutions!!
INGREDIENTS
1 cup unsweetened almond milk
1 banana
2 tbsp. creamy peanut butter
1 1/2 tsp. dark cocoa powder
2 tsp. honey
1/8 tsp. ground cinnamon
1 cup ice
DIRECTIONS
Combine all ingredients into a blender, starting with the almond milk.
Blend until smooth.
If too runny, add more ice. If too thick, add more almond milk.
Servings: 1