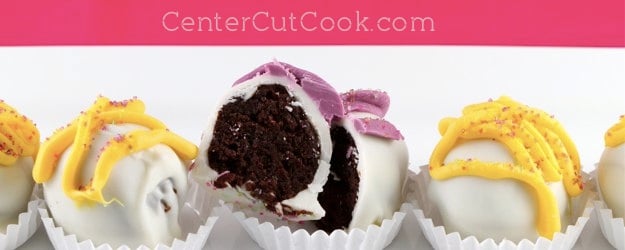 It seems like Cake Balls and Cake Pops are slowly replacing the cake and cupcake as the "must have" dessert at parties and showers. If you ask me, Starbucks is partly to thank for this. It seems each time I make these, someone always makes a comment like, "Did you know Starbucks sells cake pops now?" Even though these lovely treats have been around for quite some time, they've definitely gotten more attention lately.
I've been making cake balls for several years now and just love what you can do with them. You can make them with any cake and frosting combo you'd like, and you can decorate them plain and simple or get creative and make them all fancy! You can turn them into "pops" by placing a stick in them, or you can simply leave them as a ball. No matter how you choose to make them, they always turn out great.
At the most recent event I brought these to, I had several people ask me how I made them. I almost felt silly when I told people it was simply a box of Devil's Food Cake combined with a jar of frosting! I keep telling myself that I'm going to remake the recipe using homemade cake and frosting, but then I think about how delicious they are as-is and I find myself saying, "If it ain't broke, don't fix it." Someday I'll remake this recipe but for now, I'm going to show you the method behind cake balls and explain the entire process, step by step.
1. Bake 1 box of cake as directed. My favorite is Devil's Food cake.
2. When the cake has cooled, break it into chunks and place in your mixer bowl (I've been known to place the cake in the fridge or freezer to speed the cooling process along).
3. Add 3/4 jar of frosting to the mixer bowl and mix on low to incorporate frosting into the cake. Fudge frosting is my favorite to use in combination with the Devil's Food Cake.
4. Place the crumbled cake/frosting mixture in the freezer for about 20-30 minutes. This will allow the mixture to firm up and will make forming balls much easier.
5. While the mixture is firming up in the freezer, line a baking sheet with parchment paper or wax paper.
6. Begin forming 1 inch balls out of the cake/frosting mixture. Place each ball on the parchment paper. When all of the cake balls are formed, return them to the freezer and let them sit for 20-30 minutes. This will make the dipping process easier.
7. When cake balls are firm, melt the white chocolate according to the instructions on the package. I usually use white almond bark.
8. Remove a few cake balls from the freezer at a time to dip so that the others don't soften up. Dip each ball using two forks to help you. After you've dipped each ball, add sprinkles and any decorative frosting immediately. I usually put a colorful chocolate in a little ziplock bag and cut the tip off to easily decorate each cake ball.
9. Let the cake balls sit for 10-15 minutes so that the chocolate can set.
10. Enjoy! I made this batch to give as a thank-you. They're great for entertaining, party favors, or as a little thank-you gift.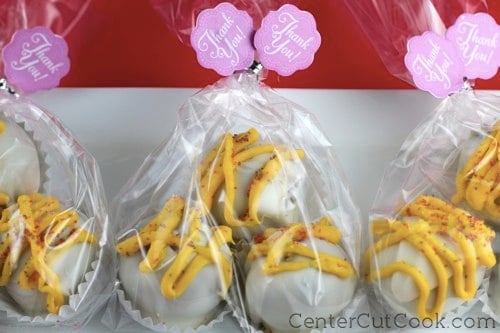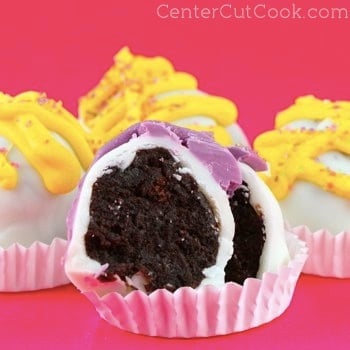 INGREDIENTS
1 box Devil's Food Cake baked according to directions on box.
1 jar fudge frosting
1 package vanilla/white almond bark or white chocolate chips for melting
1 bag Wilton candy melts – any color of your choice (optional)
Sprinkles (optional)
DIRECTIONS
Prepare cake as directed on the box. Bake in a 9×13 inch pan.
When cake is done baking, allow to cool completely.
Once the cake has cooled, cut it into chunks and place in your mixer bowl along with 3/4 of a jar of fudge frosting. Mix on low speed until the frosting has incorporated into the cake chunks.
Place the frosting/cake mixture in the freezer for 20-30 minutes so that forming balls will be easier.
Line a cookie sheet with parchment paper and begin forming one inch balls. I use a tablespoon to help me get the right size.
Once all of the balls have been formed, place them in the freezer to firm up for 20-30 minutes.
Melt the almond bark according to directions on package. Take a few cake balls out of the freezer at a time to dip in the white chocolate. I usually take about 5 out. If you take them all out, by the time you get to the last ones, they'll be more difficult to work with from sitting out.
Melt Wilton candy melts according to directions on package. Use a piping bag or ziplock bag to decorate each cake ball. Top with sprinkles immediately before the chocolate has time to set.
Enjoy!