Who knew that spaghetti can be this easy? I am one of these people who loves a classic spaghetti recipe, and so does the rest of my family. It is a staple in most households! I never use store bought spaghetti sauce because I love the flavor of my homemade sauce, and it really is not difficult to make with only just a few ingredients. My only issue with the homemade stuff, is that delicious spaghetti often needs to sit and cook for hours, or rest overnight. It usually tastes even better the next day. While that variation is delicious and all, I find that pressure cooking spaghetti sauce has the same effect. The good news: it only takes me 20 minutes!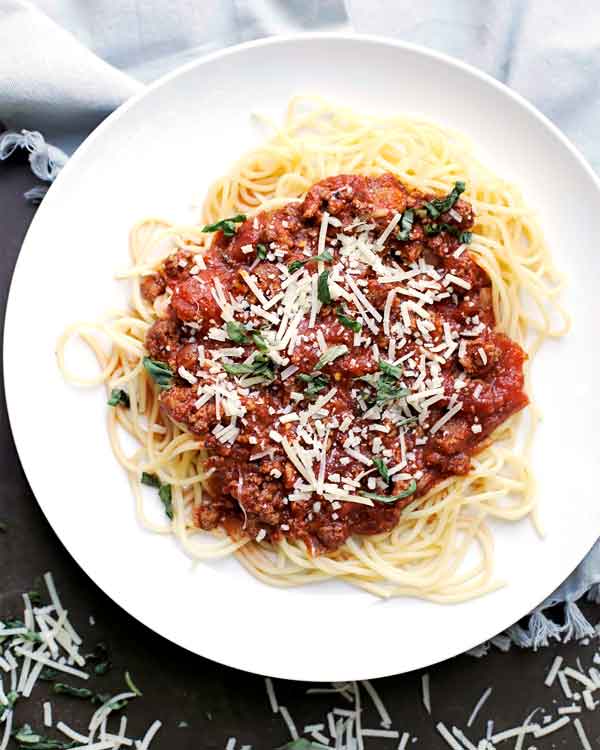 So I have included a few different ways to make this Instant Pot Spaghetti. I prefer the method of just pressure cooking the sauce, and separately cooking the noodles in a large pot on the stove. I find that step to be pretty easy. However, if you really want to make this dinner even more simple than it already is, you can add extra water to your sauce, and toss in dry pasta. Let the Instant Pot cook the noodles and sauce in one! The only change you will make is to use a different type of pasta. I find that penne pasta works best, in place of long spaghetti noodles.
Other few tidbits that make this spaghetti even tastier: I use a combination of sausage and beef. You can feel free to use ground turkey or sausage in its place. I also love the quality of San Marzano tomatoes; they are the best canned tomatoes on the market! I think it makes a huge difference on the taste. Finally, a little red wine and red wine vinegar add the perfect acidic balance to the sauce. Serve with fresh parmesan cheese and chopped basil. Note that this recipe makes a ton of sauce! You will have plenty of leftovers, and the tomato sauce can be easily stored in the freezer for weeks.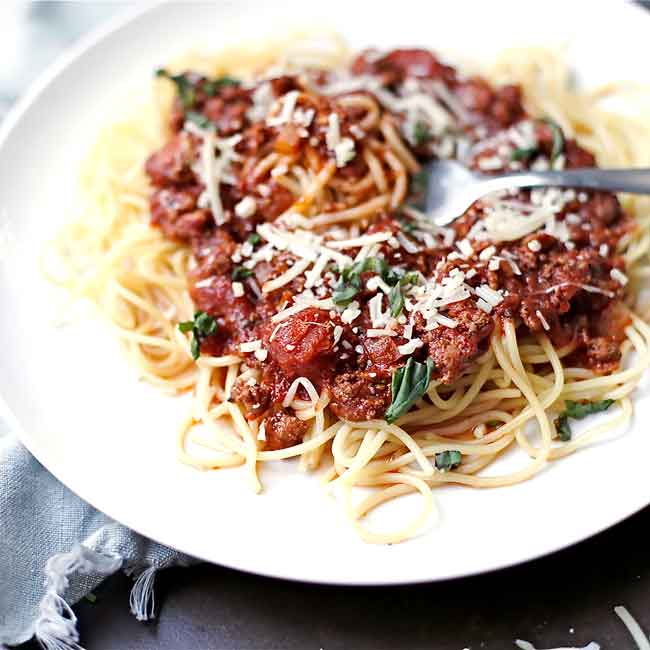 INGREDIENTS
2 tbsp cooking oil
1lb ground beef
1lb ground sausage
1 small white onion, diced
3 cloves garlic, minced
1/2 cup red wine
2 28 oz cans crushed tomatoes
2 tbsp red wine vinegar
1 tsp kosher salt or sea salt (+more to taste)
2 tsp dried basil
1 tsp dried oregano
3 tbsp tomato paste
Fresh parmesan to taste
1 lb spaghetti noodles or penne pasta
1 cup water (optional, read directions)
DIRECTIONS
Select the saute function on your instant pot. Once hot, add oil and both meats. Cook for 3 minutes until meat is slightly browned, add onion and garlic. Cook another 2-3 minutes, continuing to stir until meat is cooked all the way through. Add in wine.
Select the cancel function on your instant pot. Now add in canned tomatoes, vinegar, salt, basil, oregano, and tomato paste. If you are going to cook the pasta with the sauce, add in an additional 1 cup water. Now add in penne pasta. If cooking the pasta separately, boil water in a large pot and cook pasta according to package directions.
Now secure the lid. Select manual, and cook on high pressure for 6 minutes.
Once cooking is complete, use a quick release. Open the lid, and if pasta is not quite cooked all the way, saute and cook another 1-2 minutes.
Add fresh parmesan and season with salt.
Serve hot!
Servings: 8