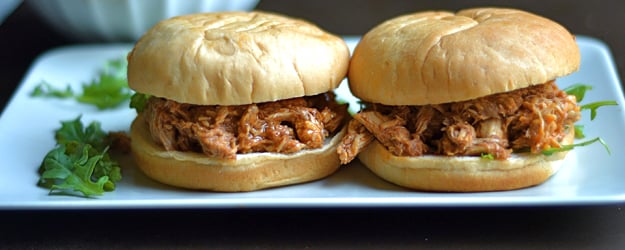 Pulled Pork is the ultimate tailgate or weekend comfort food. I love it for every season, but for some reason, I crave it in the fall!! Since the arrival of my Instant Pot, I've been testing many different ways to make some of my favorite dishes. I am absolutely thrilled with the way this pulled pork turned out! The easiest method of cooking, and the most tender and easy to pull apart pork I've ever tried.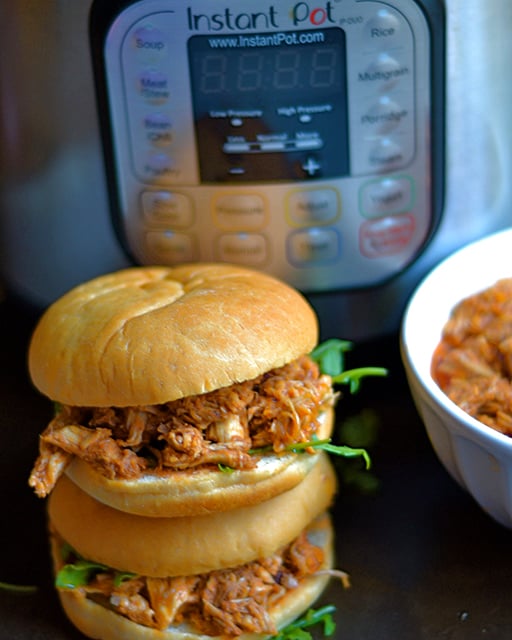 I put a few quirky things in this sauce. I did use my favorite version of BBQ sauce (Sweet Baby Ray's), but I also added in some Buffalo Sauce for extra tang, and a little apple cider for some more sweetness and to retain moisture in the meat. The pork was rubbed with a quick blend of spices that made their way into the sauce while cooking. The pork becomes very saucy, but I love my pulled pork with plenty of flavor. Everything about this pulled pork was incredible! From start to finish, it only took 1 hour. The Instant Pot truly is incredible and such a time saver!
This made such a large amount for my family of 4, that we were able to enjoy it for 2 dinners, and even extra on a third night for nachos (my new favorite way to eat nachos!). Nobody in the family complained because we all loved it! Pulled Pork can also be made into tacos or burritos, served with rice, on top of greens, or in sandwich buns. Enjoy!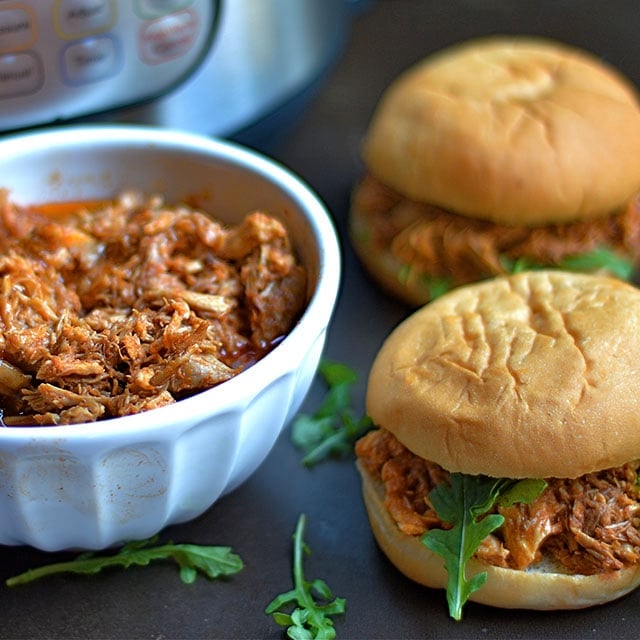 INGREDIENTS
2.5-3lb boneless pork roast or shoulder, trimmed of fat
3 tbsp brown sugar
2 tbsp chili powder
2 tbsp paprika
1 tsp cumin
1 tsp sea salt
1/2 tsp black pepper
3/4 cup apple cider
1/2 cup Barbecue sauce
1/4 cup Buffalo wing hot sauce
8 hamburger buns or sandwich rolls
DIRECTIONS
Cut the pork against the grain in half, set aside.
In a small bowl, combine brown sugar, chili powder, paprika, cumin, salt, and pepper. Rub the pork roast with the seasonings on all sides.
Add the barbecue sauce, apple cider, and buffalo sauce to the bottom of your instant pot and stir. Place the the pork on top and secure the lid.
Select manual and cook at high pressure for 45 minutes.
Once cooking is complete, select cancel and use a natural release.
Transfer the pork to a cutting board and shred with a fork, discard any excess fat.
Place the pulled pork back inside the pot with the sauce and mix well.
Serve on top of hamburger buns or sandwiches with your favorite toppings.
Servings: 8-10 servings