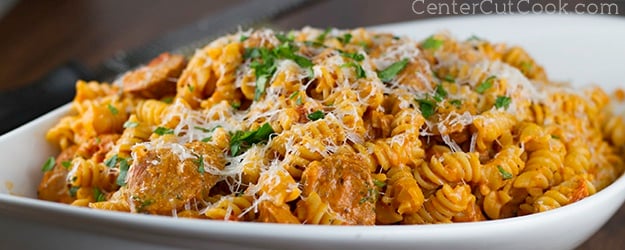 It's Monday, which in this house, means back to preparing easy recipes for quick weeknight suppers! On the weekends we usually eat out on Saturdays, and Sundays I typically make a meal that might take longer to prepare than something I'd make on hectic weeknight. The recipe I'm sharing with you today has been made two times in the last two weeks! It comes together quick, but it's packed with flavor. Whether you're cooking for two or a crowd, this Italian Chicken Sausage Pasta will be a hit!
This particular recipe for Italian Chicken Sausage Pasta came together after I had offered to host dinner for some friends at my house. I had plenty of food on hand, but nothing specific in mind to make. I always have a variety of pasta on hand, and had just bought a big pack of Italian Chicken Sausage from Costco. One thing led to another and I decided I'd try making Italian Chicken Sausage Pasta. Sidenote: Chicken Sausage seems to be a fairly new product that I've seen in the grocery stores lately. I think I first spotted it at Trader Joe's, and then saw it at Costco, and now I even see it at the regular grocery stores around my house. I like it because it's lower in fat and calories than traditional pork italian sausage but it's still super flavorful!
Once I had ironed out that I was going to make pasta, and Italian Chicken Sausage would be the protein of choice, I had to figure out what sauce to use. One of my favorite pasta dishes of all time is this recipe for Spicy Chicken Rigatoni. It uses a combo of marinara and alfredo sauce, which everybody typically seems to like, so that's what I did. I used my recipe for simple creamy alfredo sauce (it comes together in minutes!) along with some marinara I had from the store. If you don't want to make homemade alfredo, by all means, just buy it at the store. The great thing about making a pasta dish is that you can use whatever noodles you have on hand. I had Barilla's Plus Rotini in my pantry, but you could easily sub in rigatoni, penne, or any other pasta that you'd like!
I'm ALWAYS looking for easy pasta recipes to add to our dinner rotation list, and this one will definitely be on it. It's good enough to entertain with, and simple enough to make for a quick weeknight dinner. Enjoy!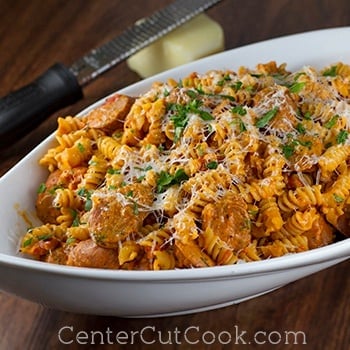 INGREDIENTS
1 lb pasta of choice (I used Rotini), cooked according to package directions
1 medium yellow onion, finely diced
4 cloves garlic, minced
2 tablespoons olive oil, divided
1/2 teaspoon red pepper flake
1 pound Italian Chicken Sausage, cut into 1/4 inch thick chunks (I cut them on a diagonal because it looks cool)
1 1/2 cups Simple Creamy Alfredo Sauce (or buy pre-made from the store…)
2 cups marinara sauce
1 teaspoon ground dried oregano
1 teaspoon dried ground basil
1 tablespoon chopped fresh parsley for garnish
Grated parmesan cheese for garnish
DIRECTIONS
Heat 1 tablespoon olive oil over medium heat in a large skillet. Add red pepper flake when hot and sauté for about one minute. Add in onions and cook until they are translucent. When the onions are almost done, add in garlic and cook for a minute or two.
Add an additional tablespoon of oil if needed, and add Italian Chicken Sausage chunks. Add in oregano and basil and cook the sausage for 3-4 minutes, or until it starts to brown.
Stir in alfredo and marinara sauce and cook over medium heat for a few minutes. Reduce the heat to low and simmer for 15 – 20 minutes over low heat.
Add in cooked pasta and stir to combine.
Garnish with fresh grated parmesan cheese and chopped fresh parsley.
Recipe from
CenterCutCook