I don't know what it is that is so comforting about rice bowls, but I am always experimenting with different recipes that follow the same pattern: rice on the bottom, then veggies and meat with some type of delicious sauce or glaze to top it off. Every rice bowl that I have ever made usually comes together in under 30 minutes, and this recipe is no exception. I started with one of my favorites, Italian chicken sausage, tossed in some mushrooms, carrots, red pepper and green onion and served it over rice with a delicious homemade balsamic glaze. This Italian Rice Bowl is bursting with flavor, and I just love that balsamic glaze on top. So yummy!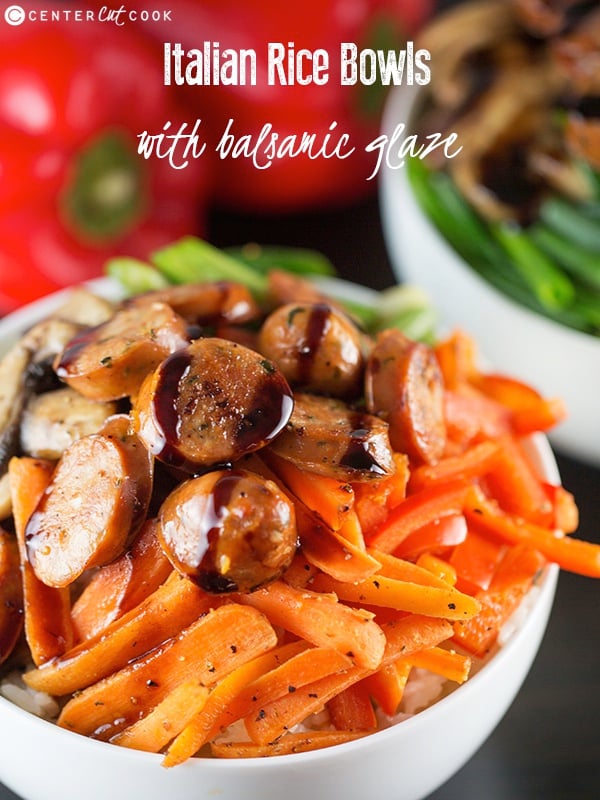 The Italian chicken sausage I buy usually comes from Costco. I'm not sure which brand they sell, but it's delicious! Another great brand that I've tried is Aidells. It's a pre-cooked sausage (think: kielbasa) where all you need to do is slice it and heat it through. You can certainly buy completely raw Italian chicken sausage, you'll just need to adjust the cooking time to ensure that it cooks through.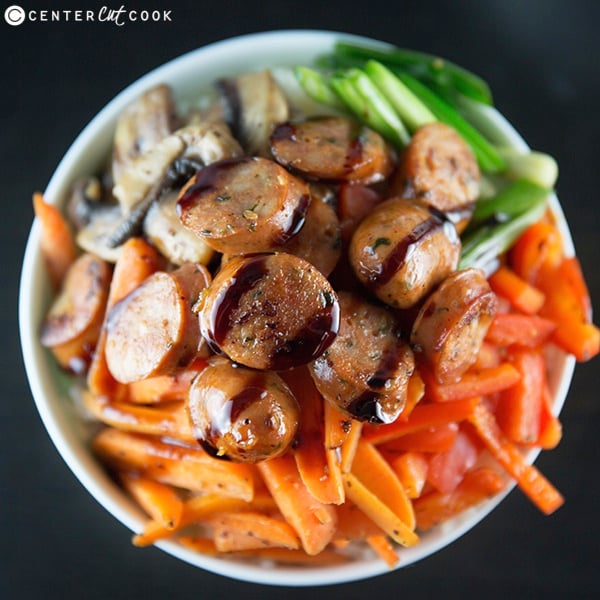 For the balsamic glaze, I made a homemade version, but feel free to use a store bought version if there's one you love. The key to making a stand-out balsamic glaze is really good balsamic vinegar. If you are just using an okay balsamic vinegar, the glaze isn't going to be quite as good, so make sure you choose a quality brand.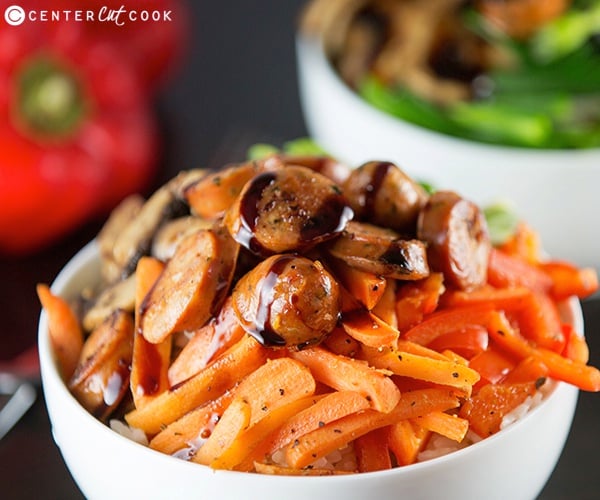 Feel free to mix up the veggies however you'd like. I sautéed all of my veggies separately, just for looks so that i could assemble these bowls with the veggies separated. You could also just sauté all of the veggies together and it would be equally as delicious. In fact, that's what I recommend doing unless you are entertaining with this recipe, and then it looks pretty nifty to have all of the veggies separated.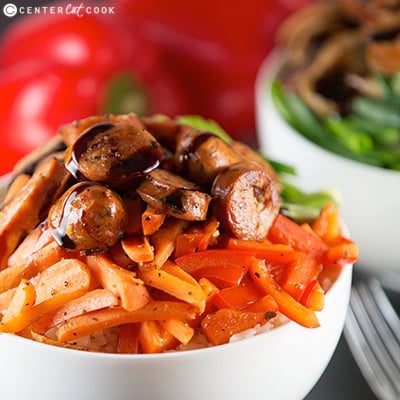 RICE BOWL INGREDIENTS
2-3 cups rice, cooked according to package directions
1 tablespoon extra virgin olive oil
1 pound Italian Chicken Sausage, sliced into bite sized pieces
1 teaspoon Italian seasoning
1/2 teaspoon salt
1/2 teaspoon black pepper
1 red bell pepper, cut into long thin strips (julienned)
4 green onions, sliced
2 carrots, cut into long thin strips (julienned)
8 ounces mushrooms, sliced
BALSAMIC GLAZE INGREDIENTS
DIRECTIONS
Cook rice according to package directions.
To make the balsamic glaze: combine the vinegar and brown sugar in a medium sized saucepan over medium heat. Stir until the sugar has dissolved, then bring to a boil the reduce heat and simmer on low until the glaze has reduce by half. This should take about 15-20 minutes. You should be left with syrup-like consistency.
In a large non-stick skillet, heat olive oil over medium-high heat.
Add the chicken sausage and sauté until it starts to brown. Remove the Italian chicken sausage from the pan cover with foil, and set aside.
Add a bit more oil if necessary, then add in red bell pepper strips, carrots, and mushrooms and sauté for about 6 minutes, then add in the green onions and cook for a few minutes longer. Return the sausage to the pan and season everything with 1/2 teaspoon salt, 1/2 teaspoon black pepper (more or less to taste) and about 1 teaspoon Italian Seasoning.
To serve:Place about 1/2 cup rice in the bottom of a bowl. Top with the meat and veggie mixture, then drizzle some of the balsamic glaze on top.
Serves 4-6. Enjoy!
Recipe from
CenterCutCook