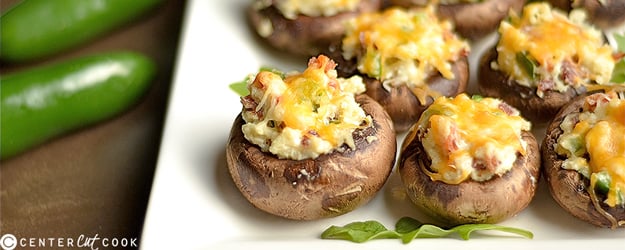 I am a HUGE fan of jalapeño poppers! If I had to pick two of my favorite indulgent appetizers it would definitely be stuffed mushrooms and jalapeño poppers. And maybe nachos too. Anyhow, recently I had the idea of combining the two. I mean, duh?? Why didn't I think of this before?
They turned out pretty perfect, and so easy to make. Both my husband and I enjoyed them while watching the season finale of the Bachelor (don't judge). We both couldn't get enough and were very happy we had leftovers. We also each decided this was officially our FAVORITE way to eat stuffed mushrooms! So now when it's appetizer time, I can combine two of my favorites. Totally winning!!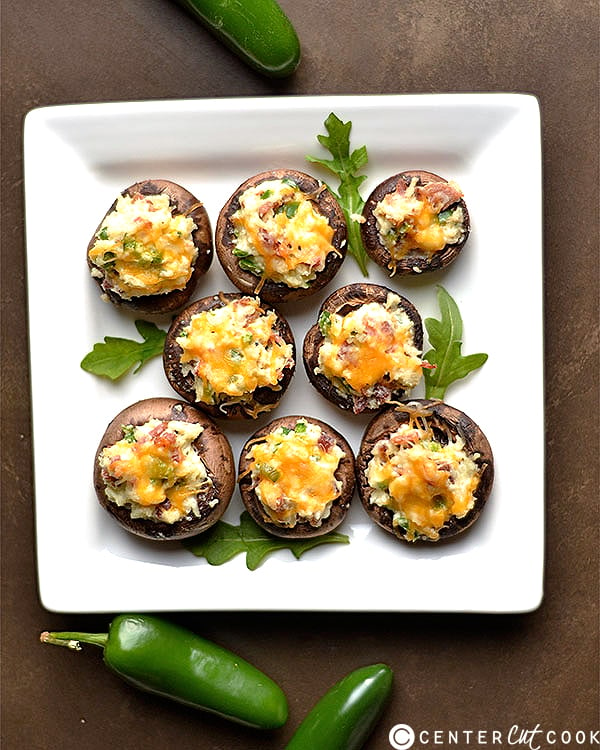 So these were very easy to assemble together. I started by making a simple jalapeño popper "dip" with bacon, jalapeños, cream cheese, ranch dressing, parmesan cheese, and panko bread crumbs. After hallowing out the mushrooms and brushing the caps with olive oil, I then stuffed about a 1-2 tbsp of the dip inside each mushrooms. Top with some extra cheddar cheese and bake for 25 minutes. DONE!!
Something else great about this recipe, is that they can be made and prepped ahead. So feel free to stuff those mushrooms early in the day or the night before, and bake when ready! These make a perfect appetizer for any occasion and are sure to please a crowd. You may want to double the recipe if serving to a large group!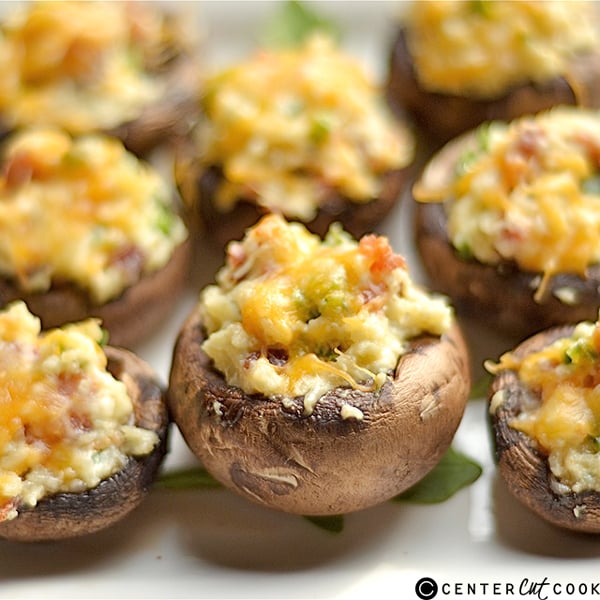 INGREDIENTS
20 large baby bella mushrooms
1 tbsp olive oil
4 slices of bacon
1-2 jalapeño peppers (about 1/4 cup chopped)
1/4 cup or 1/2 block cream cheese
2 tbsp ranch dressing
1/3 cup parmesan cheese
1/4 cup Panko breadcrumbs
1/3 cup shredded cheddar cheese
DIRECTIONS
Preheat your oven to 350 degrees.
Begin by preparing the mushrooms. Remove stem from each of the mushrooms, and brush each cap with olive oil. Grease a 9×13 casserole dish and place each of the mushrooms inside, stem side up.
Meanwhile, heat up a large skillet and cook bacon to your liking. For extra crispy bacon, it may take at least 5 minutes per side. Remove bacon from heat, drain the fat with a paper towel, and chop into small pieces. Set aside.
Chop and de-seed the jalapeño into small pieces. For a little extra heat use 2 jalapeños, for less heat use 1. You can also leave the seeds intact for a much spicier variation.
In a microwave sized bowl, heat up the cream cheese so that it is warm and slightly softened. Add ranch dressing, chopped jalapeño, parmesan cheese, bacon, and breadcrumbs. Mix until all ingredients are well incorporated.
Spoon approximately 1-2 tbsp of cream cheese mixture into the mushroom caps (depending on the size of your mushroom). Top with shredded cheese.
Bake for 22-25 minutes, or until cheese is bubbly and mushrooms have released their juices and are browned.
Serve hot!
Servings: 20 mushrooms