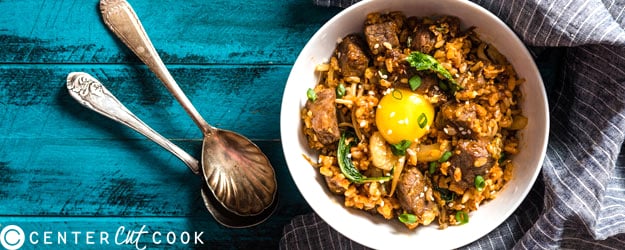 Fried rice is a must-have item on our lunch menu every week. It is so easy and quick to prepare, it helps you clean up whatever leftovers you may have in the fridge, and it tastes so delicious!
Today I want to share one of my to-go fried rices with you – Korean style beef fried rice. It uses Korean hot pepper paste to create a very flavorful and scrumptious one-dish meal in 20 minutes. The ingredients in this dish is slightly resemble bibimbap, but you won't need a stone bowl to create nicely charred and flavorful rice.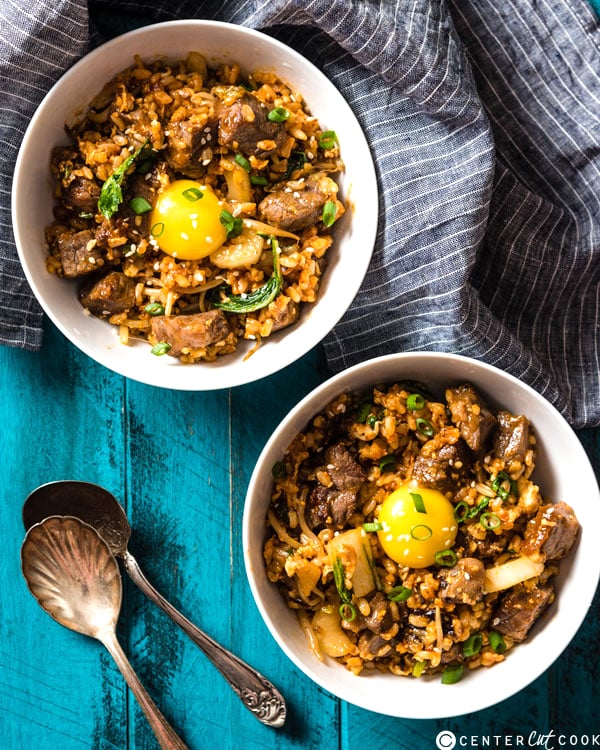 To cook this dish, you can throw in any type of meat you prefer, such as chicken breast, pork tenderloin, or ground turkey. I personally love the beef version the most. Here I recommend you use beef short ribs. They're generally cheaper than other cuts and have a well marbled texture. You can easily create tender, juicy beef with this cut.
There is one more step to creating perfect stir fried beef – marinate the beef in a mixture of soy sauce, rice wine, and cornstarch. The liquid content adds a great flavor to the beef, and the soy sauce will help brown the beef to a beautiful color. The cornstarch will form a thin layer of protection on the outside of the beef, to prevent it from overcooking.
One of the most important things for cooking perfect fried rice is not to overcrowd the skillet. It's just like with pizza toppings – less is more. I always use a large nonstick skillet, even if the skillet is only half full. And make sure you can hear a vibrant sizzling during the cooking. The rice will turn out great as long as you cook every ingredient thoroughly and there is no liquid left in the skillet.
That's it for today! Happy cooking!
MARINADE INGREDIENTS
1/2 pound piece beef short rib, cut to 1/2 inch cubes
1 tablespoon soy sauce (rice wine)
1 tablespoon Japanese sake
1 tablespoon potato starch (or cornstarch)
STIR-FRY INGREDIENTS
3 tablespoons oil
2 green onion, chopped
1 tablespoon gochujang (Korean hot pepper paste)
2 cups cooked rice (leftover rice works best)
2 eggs
1 cup bean sprouts
2 pieces bok choy leaves (or spinach, or mustard greens), chopped
2 teaspoons soy sauce
1 teaspoon sugar
Sea salt to taste
(Optional) Toasted sesame seeds for garnish
DIRECTIONS
Combine beef short rib, soy sauce, Japanese sake, and potato starch in a bowl. Mix well until the beef is evenly coated with starch. Let marinate for 10 minutes.
(Optional) If you want to top the raw egg yolks onto the rice, separate egg whites from yolks.
Heat 1 tablespoon oil in a large nonstick skillet over medium high heat until hot. Add beef short ribs. Let cook for 20 seconds without moving. Stir and cook until the beef is nicely browned on the surface. It's OK if the beef is still a bit raw inside. Transfer to a plate.
Add 1 tablespoon oil into the same skillet and turn to medium heat. Add green onion. Stir a few times until fragrant.
Add gochujang. Stir a few times. Add rice. Stir and chop with spatula, until the rice is separated and coated with the sauce.
Move rice to one side of the skillet. Add the remaining 1 tablespoon oil to the empty side of the skillet and add the egg whites (if you don't plan to top the rice with raw egg yolks, beat and add the entire eggs) into the oil. Let cook for a few seconds, until the bottom sets. Stir and cook to mix the rice with the egg.
Again move everything to one side of the skillet. Add bean sprouts and bok choy to the empty side. Stir and cook until the veggies turn soft.
Swirl in soy sauce and sugar. Return beef to the skillet. Stir and mix everything together.
Remove skillet from heat. Taste some rice and sprinkle a bit more salt, if necessary. Mix again. Transfer rice to serving bowls.
(Optional) Top egg yolks onto the rice. Garnish with green onion and sesame seeds.
Serve warm.