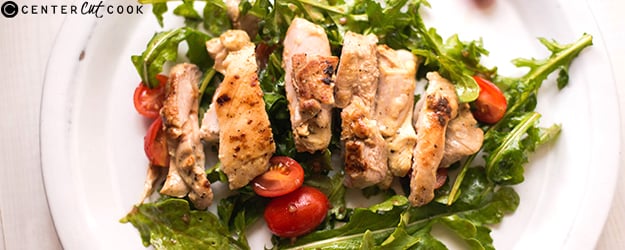 There are nights when I want a heavy, steaming hot stew for dinner.
There are nights when I feel like a thick pan-roasted steak and baked potato.
There are nights when I just feel like a protein shake.
Then, there are nights when I want something light, refreshing, yet satisfying. And that's when I turn to this delicious lemon dijon chicken and arugula salad. This salad is amazingly easy to make and is so full of vibrant flavor. Plus, it's ready in just 20 minutes.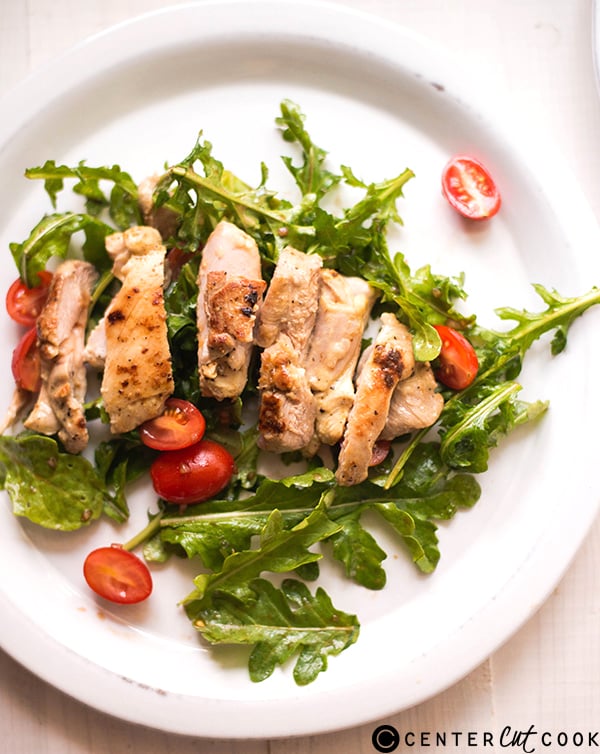 The lemon dijon sauce on the chicken pairs perfectly with the savory chicken and crisp, tart tomatoes, shallots, balsamic vinegar, and arugula. I prefer to use baby arugula because it's not quite as bitter, but either would work.
I also love how this salad is full of protein because the chicken is really the star. It's a great way to use chicken thighs, too, which are higher in fat than chicken breast, but paired with the healthy lettuce and tomatoes, it's a perfect combination for a well-balanced salad.
So, next time you're looking for a light dinner (or lunch!), but you still want protein and a flavorful bite, try this salad and enjoy!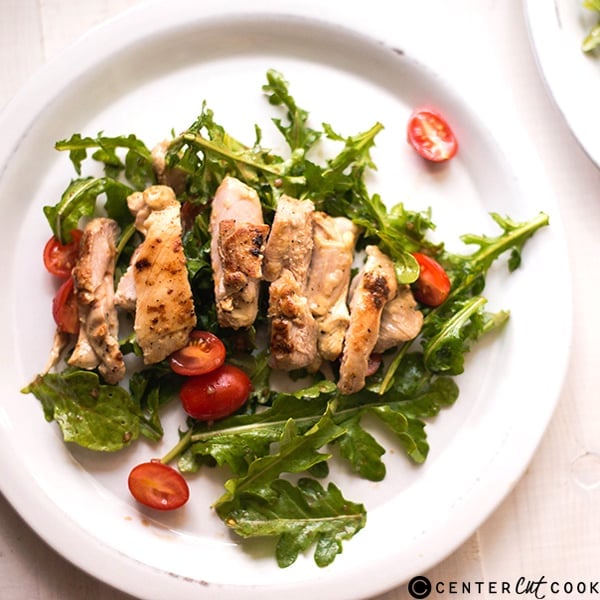 INGREDIENTS
DIRECTIONS
Combine the chicken, salt, pepper, 1 tbsp. olive oil, lemon juice, Dijon, and garlic in a bowl and toss to coat.
Heat a skillet over medium-high heat.
Add the chicken to pan and cook for 5-7 minutes on each side, or until cooked through.
Remove the chicken from the heat and place on a cutting board to rest while you prepare the dressing.
Combine the remaining oil, shallots, balsamic vinegar, and honey in a large bowl. Stir with a whisk to mix well.
Add the tomatoes and arugula to the dressing and toss to coat.
Slice the chicken into thick slices.
Divide the arugula mixture evenly onto the plates and then top evenly with sliced chicken.
Servings: 4