I make so many soups at home. I love that you can throw a pile of ingredients into a pan, pay it very little attention, and the result is a healthy, warming lunch.
Add a sandwich on the side and you can call it dinner!
This soup is made with lots of orange and red veg – carrots, sweet potato and red bell pepper. You could also add pumpkin, butternut squash, orange bell peppers, red chili peppers – anything you have in the refrigerator!
All of the soup ingredients are cooked together and then blended at the end. The lentils and sweet potato give the soup a lovely creamy, smooth consistency. If you didn't want to add the crispy garlic crumbs you could stop at this point and serve the soup as it is – or even stir in a cup of shredded strong cheddar cheese.
I'm a toppings kind of girl though, and this quick topping takes the soup to a whole new level. Panko breadcrumbs, fried in butter, garlic and chopped chiles. It's so delicious – like having garlic bread sprinkled on top.
Any leftover soup (without the crispy crumbs) can be cooled, covered and refrigerated or frozen for later.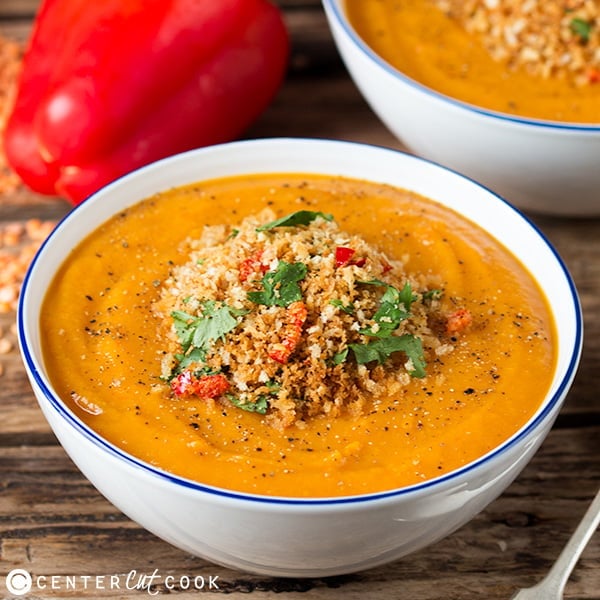 soup INGREDIENTS
1 tbsp olive oil
1 large brown onion, peeled and chopped
1 large red bell pepper, deseeded and chopped
1 large sweet potato, peeled and chopped
3 carrots, peeled and chopped
1/2 cup red lentils
5 cups vegetable stock
1/4 tsp salt
1/2 tsp ground black pepper
1/2 tsp salt
CRISPY GARLIC CRUMBS INGREDIENTS
2 tbsp. butter
2 red chili peppers, finely chopped
1/4 tsp Maldon salt (or just a good pinch of normal salt)
2 cloves garlic, peeled and crushed
1 cup panko breadcrumbs (1 cup grated slightly stale bread)
1tsp chopped parsley (you could also use cilantro)
DIRECTIONS
Heat the oil in a large saucepan and add the onions. Cook for 5-6 minutes until soft. Add in the red pepper, sweet potato and carrots and cook for another couple of minutes.
Add in the lentils and stir to coat in the oil. Add in the stock and bring to the boil. Turn down the heat and simmer for 20 minutes.
Next make your garlic chilli crumbs. Heat the butter in a small frying pan until it starts to foam slightly. Add the chopped chillies, salt and the garlic and stir for about 30 seconds. Add in the breadcrumbs and stir to ensure the butter covers all of the breadcrumbs. Allow to cook until the breadcrumbs start to brown a little, stirring often. Keep a close eye on them as they burn very easily. When ready, turn off the heat and add in the parsley.
After the soup has been cooking for 20 minutes, turn off the heat and carefully blend it using a hand blender. The soup should be thick, but you can add a little hot water if you want to thin it down a little.
Taste and add a little more salt and pepper if required.
Divide between four bowls and sprinkle on the garlic chili crumbs.
Servings: 4