Say hello to your new favorite weeknight meal! I actually timed myself making this dish so I could give you all an exact time from start to finish. 14 minutes. Seriously so easy, and can I just say that my kids each ate 2 plates full! I made this for lunch so I could optimize my lighting during the day for photographing, and they were so excited looking at this dish and couldn't wait to try. I am now officially adding this to our dinner menu on those busy weeknights because I know my kids will gobble it up, and I know I can have dinner on the table in less than 15 minutes. Winning!
I never knew I was such a fan of Carbonara pasta until now. I found myself sneaking many bites, because you know, I had to make sure it tasted delicious. Haha! I do this all for the sake of food blogging ;) I love the textures of the bacon and perfectly cooked al dente pasta. You may notice that I added peas, even though this isn't necessarily a regular ingredient in carbonara. I had some leftover from the weekend, and wanted to add in a little green to the dish. It also creates a nice texture with the bacon. I also added in a splash of heavy cream so that everything could blend nicely.
A few quick notes while make this dish. I reserved some extra bacon fat and cooked both the peas and garlic in the fat just to add a bit more flavor. Also, in order to stay in that 15 minute time frame, be sure to work fast. You will want your pasta water boiling while the bacon is cooking. And yes, you do use raw egg yolks mixed with the hot pasta. The pasta and bacon are hot when you mix it all together to give the recipe that creamy texture that is soooooooo good! But essentially, the eggs are cooked with the hot pasta. Also, as long as you are using high quality eggs (free range organic is what I use), it is fine to eat.
Hope you enjoy!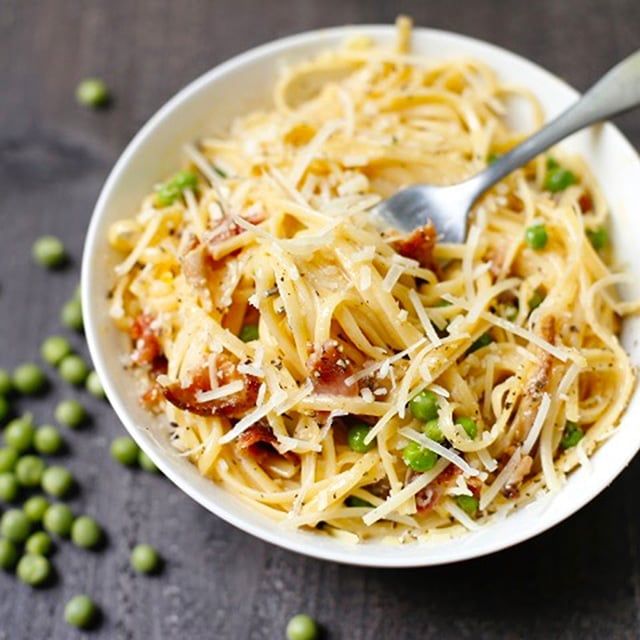 INGREDIENTS
8 oz linguini
4 thick slices of bacon
2 egg yolks
1/2 cup fresh shredded parmesan (+ more to taste)
4 cloves garlic, minced
1/2 cup peas (fresh or frozen)
1/3 cup heavy cream
Salt + pepper to taste
DIRECTIONS
Begin by heating a large pot to a boil, make linguini according to package directions.
At the same time, prepare your bacon. In a separate skillet, heat up your pan to medium high heat. Cook bacon according to preference on crispiness. Mine usually takes anywhere from 8-10 minutes.
While bacon and pasta are cooking, in a small separate bowl combine egg yolks and parmesan cheese.
Once bacon is done, reserve 1 tbsp of fat, add peas and garlic. Cook for about 2-3 minutes until fragrant. Chop bacon into small pieces.
Drain pasta, quickly toss in cheese and egg mixture to HOT pasta. Add in cream and the top with bacon, and pea/garlic mixture.
Add salt and pepper to taste. Serve with extra parmesan, and serve hot.
Servings: 3-4