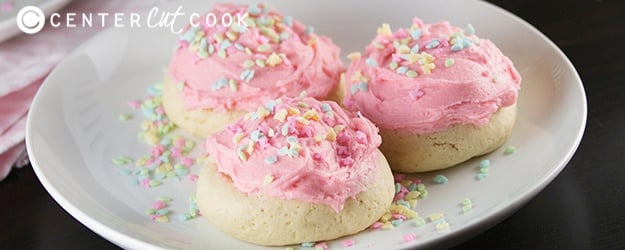 You know those super soft sugar cookies from the grocery store that are perfectly round with that delicious frosting? The sugar cookies with the sprinkles on top? I am unsure of the origin of these cookies, but apparently they are called Lofthouse Sugar Cookies and they are always a favorite and so irresistible. Today we'll be sharing a Lofthouse Cookie copycat recipe so that you can make these incredible cookies right at home.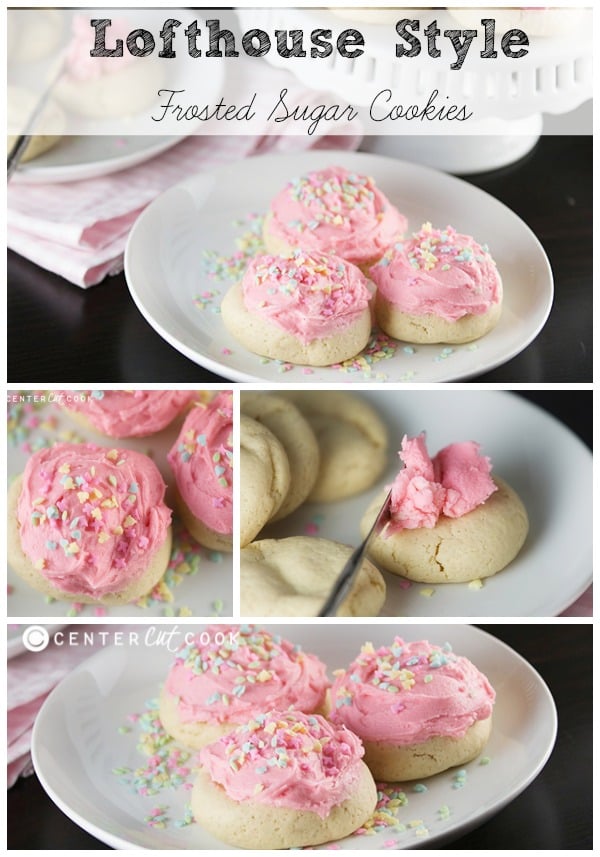 I'll be sharing both the Lofthouse copycat cookie recipe, and the frosting recipe because both are essential! Unlike typical sugar cookies, you don't have to chill the dough, and you don't have to cut out the cookies. These are super simple to make, and they really do taste similar to the Lofthouse version.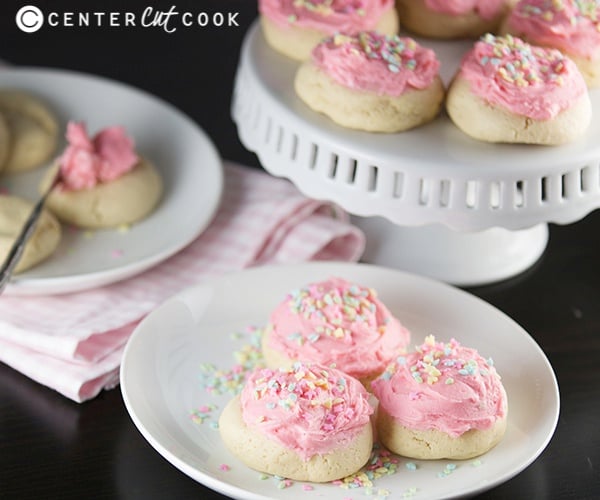 Is there anything better than a super soft sugar cookie with homemade frosting? The dough is pretty basic, and includes a little bit of sour cream which adds some moisture to the recipe.
These copycat Lofthouse sugar cookies are sure to be a hit with family and friends! And they are the best cookie for special occasions like Valentine's Day, Easter, Christmas, etc. Perfectly moist and light, you are going to find these cookies irresistible!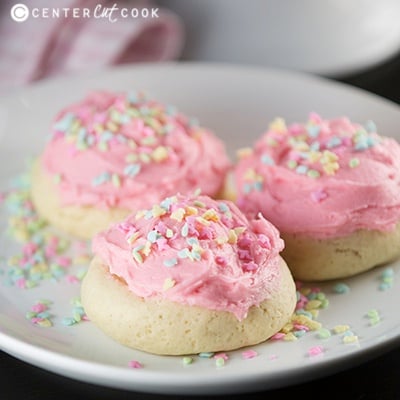 DOUGH INGREDIENTS
FROSTING INGREDIENTS
DIRECTIONS
Preheat your oven to 350 degrees.
With your mixer cream together 1/2 cup softened butter with 1 cup sugar and mix for a couple of minutes until smooth.
Add in sour cream, eggs, and vanilla and mix well.
In a large bowl sift together flour, baking powder, baking soda, and salt.
Slowly add the dry ingredients into the wet and mix well.
Measure three tablespoons of dough for each cookie. Use your hands to roll three tablespoons of cookie dough into a smooth ball.
Place on ungreased cookie sheets, making sure to leave about 1 inch between each cookie. Using your hand to lightly flatten the dough a bit.
Bake for 11-12 minutes, then immediately remove from the oven. The cookies will appear under-baked a bit but this is what you want. Carefully transfer the cookies to a cooling rack and repeat the process until all of the dough is gone.
To make the frosting, beat butter with a mixer for about 30 seconds, then add in powdered sugar, one cup at a time. Add in vanilla and 1-2 tablespoons of milk and mix until light and fluffy.
Use a knife to slather each cookie with frosting. Top with sprinkles.
*Notes – you can make these a bit smaller by using 2 tablespoons of dough and baking for 10 minutes.
Recipe slightly adapted from
Just a Pinch