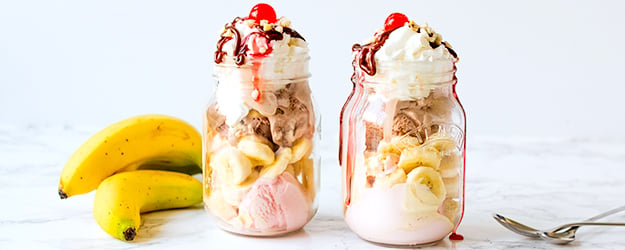 Banana split – we like to think of it as an 80's classic, but in fact it's been around since 1904!
Invented by David Strickler – a 23 year old apprentice pharmacist – he created various sundaes at the store soda fountain. The banana split was his most famous sundae-invention and sold for twice the price of the other sundaes!
For this recipe, we're moving away from the original presentation and bringing it into the 21st century by serving in a mason jar!
Pretty as it is, it can be a little difficult to serve up layered ice cream in a mason jar without it smearing down the sides and looking messy. Here are a few tips to ensure a neater look: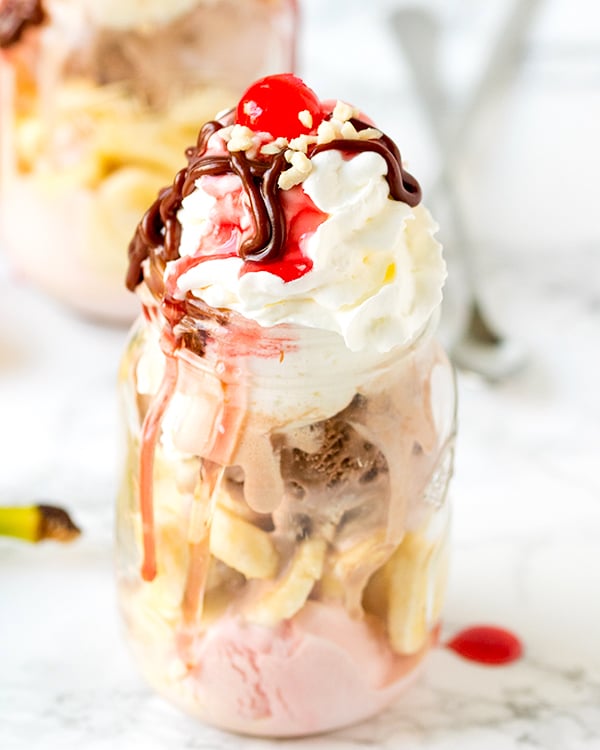 – Refrigerate the jars for 10 minutes or so before preparing. Ensuring the jars are cool will stop the ice cream melting too quickly.
– Make sure your ice cream isn't too soft and use a scoop to scoop it out. Then transfer to a spoon and lower the ice cream into the jar. Try to avoid touching the sides as you lower the ice cream in.
– If it's a particularly hot day, you can scoop the ice cream balls onto a plate and place back in the freezer for 15 minutes to make it more solid. Then spoon the ice cream into the chilled jars.
Serve these banana splits for dessert and you're guaranteed smiles all round at the dinner table!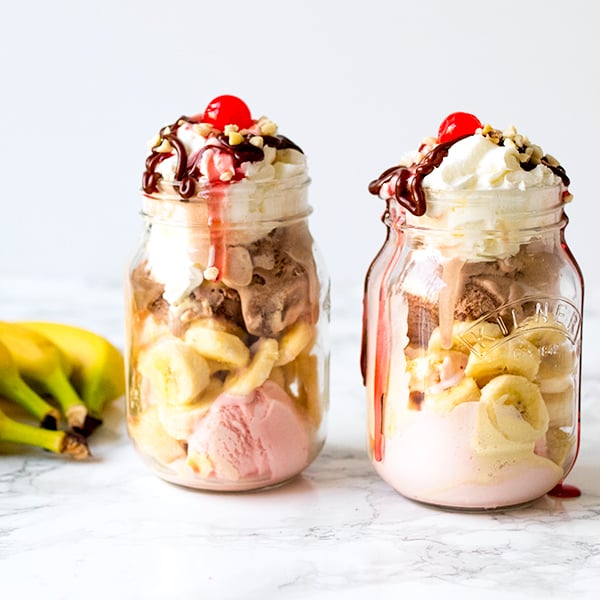 INGREDIENTS
2 medium bananas
4 scoops strawberry ice cream
4 scoops vanilla ice cream
4 scoops chocolate ice cream
Aerosol whipped cream – such as Reddi-Wip
2 tbsp strawberry syrup
2 tbsp chocolate syrup
2 tbsp chopped nuts
4 maraschino cherries
DIRECTIONS
Peel and slice the bananas into rounds.
Layer two scoops of strawberry ice cream into each mason jar, followed by two scoops of vanilla ice cream.
Top with half of the banana slices, followed by two scoops of chocolate ice cream in each jar. Add the remaining banana slices, then squirt on the whipped cream. Ensure the cream comes up quite high – to a peak that is higher than the top of the jar (it will sink a little when you add the syrup etc).
Drizzle on the strawberry and chocolate syrups, then sprinkle on the chopped nuts.
Top each sundae with one or two maraschino cherries before serving.
Serve immediately.
Servings: 2