In restaurants all across America, you can find mozzarella sticks listed as an appetizer offering…. it's a classic! Even when I waitressed at Red Lobster, (a seafood restaurant!!)in college, they had them on the menu. Who doesn't love crispy coated gooey mozzarella, dipped in marinara (or if you are like me, dipped in ranch dressing)?
On a normal day, I probably wouldn't have thought to take a stab at making this classic appetizer at home, even though it's a favorite. First of all, most recipes require frying, and I'm not a huge fan of frying at home (I don't own a deep fryer, and I'm not particularly fond of the smell frying leaves behind). Secondly, I usually only make appetizers when I'm entertaining, but there's no entertaining going on here. So what was different about today? Well, for starters, my grocery bill has been quite high (how about yours?) and I made the goal of trying to use up everything in my pantry/refrigerator before it goes bad. Sounds like a good goal, right?
So today when I starting making note of what needed to get used up, I saw a half used package of wonton wrappers sitting in my fridge. Why did I have wonton wrappers in my fridge, you ask? The answer? Shrimp rangoon dip (think crab rangoon, in dip form, but with shrimp). You serve it with wonton chips. The packages of wonton wrappers include so many, that I still had several left. One thing lead to another, and this recipe for mini mozzarella sticks, made from wonton wrappers, came to be.
Easy, and tasty, this recipe just may earn you the title of "Mom of the year" or "Wife of the year" or "filll-in-the-blank of the year!"
Wondering how to wrap each piece of cheese in a wonton wrapper? This diagram will help you visualize what you'll need to do. First, place a wonton wrapper so that one of the points is facing you. Using a pastry brush, or your finger, brush a very small amount of water along the top edges (this helps the wrapper stick together). Place a chunk of cheese towards the bottom of the wrapper. Fold the bottom point over the piece of cheese and roll until you get to the middle. Fold the left and right points in, then finish rolling.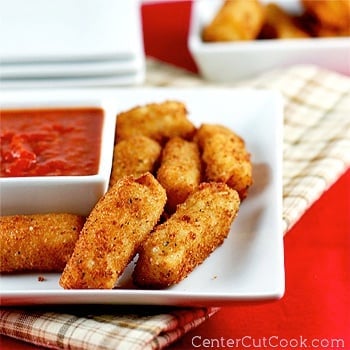 INGREDIENTS
20 wonton wrappers
1 cup milk
1 egg
1 cup Italian style bread crumbs (If you only have plain, just add a teaspoon or two of some Italian seasoning to the bread crumbs)
Water
Vegetable oil for frying
20 sticks/chunks of mozzarella cheese about 2 inches long and a half inch wide (you can cut string cheese to fit, or cut chunk cheese). Just eyeball the size of cheese you need, based upon the size of the wonton wrapper
Marinara sauce for dipping
DIRECTIONS
Wrap each piece of cheese in a wonton wrapper, using the instructions and image above as a guide.
In a shallow pan (I use cake pans), whisk milk and egg together. In another shallow pan, spread 1 cup bread crumbs (you may need more).
Dip each mozzarella stick covered with a wonton wrapper in the milk/egg mixture, then cover with bread crumbs. Repeat the process until all mozzarella sticks are coated.
In a deep skillet, or wok, heat around 3 inches of oil to 350 degrees. I never temp the oil for something like this, I just make sure it's nice and hot before I start by sticking a wooden spoon in the oil. If bubbles start to form around the base of the spoon, I know the oil is ready.
Place a few mozzarella sticks in the oil at a time and cook for about 1 minute, or until they are brown and crispy. Only cook a few mozzarella sticks at a time. They cook quick so keep a close eye on them!
Warm the marinara sauce, and serve immediately with mozzarella sticks. These are best enjoyed fresh!