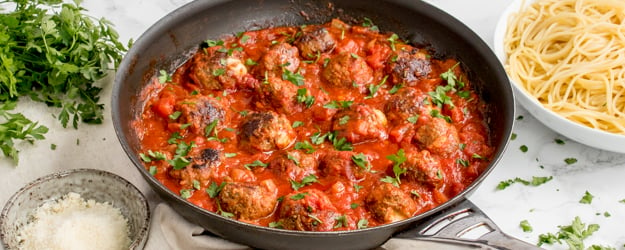 Spaghetti and meatballs – one of those meals that everybody enjoys.
Family comfort food at it's best!
I used to prepare the meatballs, then cook them separately in the oven while I made the sauce in a pan, but I've found it's simpler to cook the meatballs and sauce in the same pan.
Less washing up too!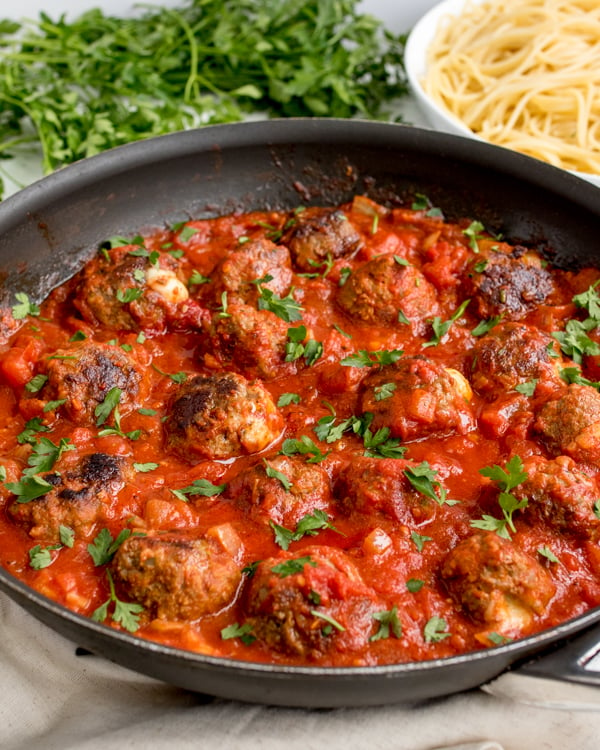 So long as you brown the meatballs in the pan first, the rest of the sauce ingredients can be added in whilst the meatballs continue cooking.
These meatballs contain breadcrumbs to help make them more tender. I also use egg to help bind the meatballs together, plus parmesan and herbs for added flavour.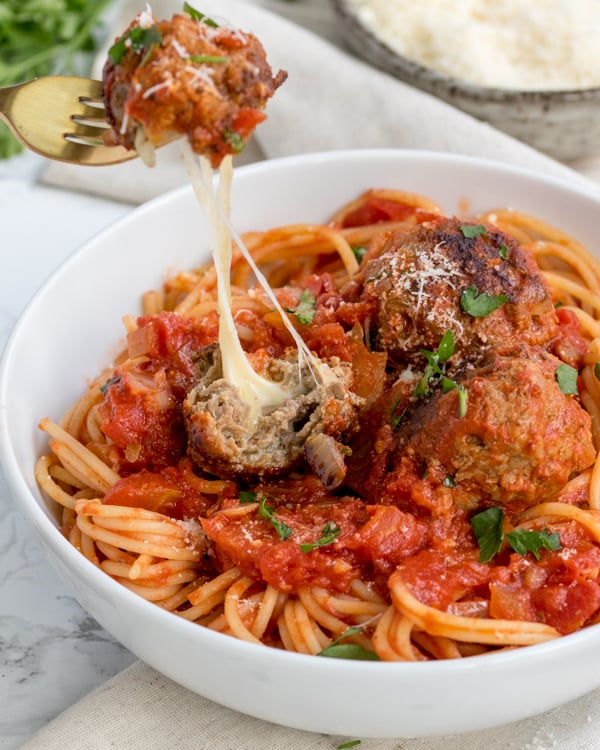 Stuff each meatball with a chunk of mozzarella for a melty-cheesy surprise that the kids love!
You know the meatballs are cooked when the mozzarella just starts to ooze out (yum!).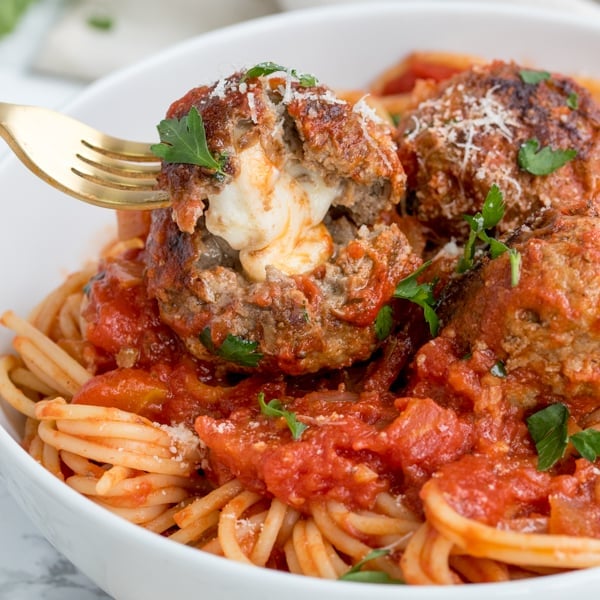 MEATBALL INGREDIENTS
1 lb ground beef beef
1/2 cup fresh breadcrumbs
4 tbsp grated parmesan
1 small onion, finely chopped
1 tsp dried oregano
1 egg
Pinch of salt and pepper
7oz pack mozzarella, chopped into 20 chunks
2 tbsp olive oil
SAUCE INGREDIENTS
1 large onion, finely chopped
3 cloves of garlic, crushed
2x 14oz cans of chopped tomatoes
1 heaped tbsp of tomato paste
1 tbsp sugar
1 tsp dried oregano
Pinch of salt and pepper
TO SERVE INGREDIENTS
Spaghetti
Shredded Parmesan
Freshly chopped parsley
DIRECTIONS
Mix all of the meatball ingredients except the mozzarella and the oil in a bowl with your hands. Squash it all together but don't over-mix as this will make the meatballs tough.
Take a heaped tablespoon of the mixture in your hands, roll it into a ball, then flatten into a pattie.
Place a chunk of mozzarella in the middle and wrap the meat around. Roll into a ball and place on a tray, then repeat with the rest of the mix.
Heat the oil in a large skillet, and add the meatballs. Fry, on a high heat, turning a few times during cooking until browned all over.
Now we can start to add the sauce ingredients to the same pan. Add the onions, turn down the heat and cook for a further 5 minutes. Add the garlic and cook for a further minute, then add the cans of tomatoes, tomato paste, sugar, oregano and salt and pepper. Let it bubble until for 10 minutes then turn off the heat.
Serve on top of spaghetti, topped with parmesan and parsley.
Servings: 5-6 servings (18-20 meatballs)