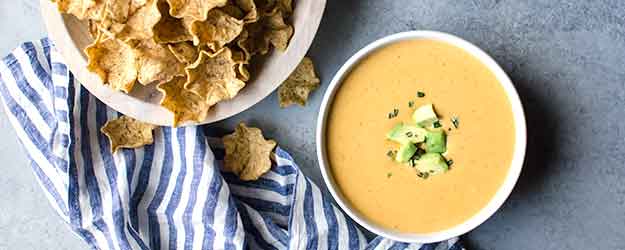 I think most people would agree that cheese should be its own special food group. At the heart of it, all versions of melty cheese would reign supreme and we would be required to have at least two servings a day. Homemade nacho cheese would probably be my main source of melty cheese.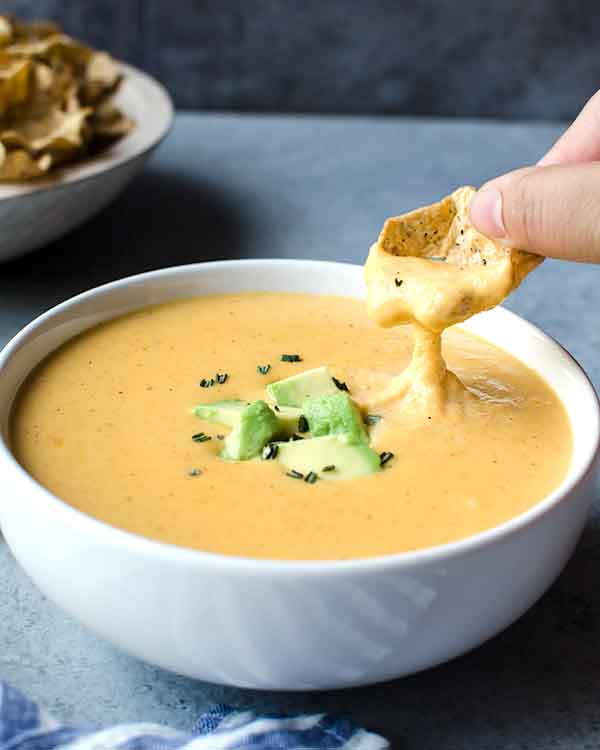 Nacho cheese at the store or even at most restaurants is totally different from the nacho cheese you make at home. Homemade nacho cheese is whatever you want it to be. It can be more spicy, more garlicky, more or less salty. Whatever you gets you going. This recipe for nacho cheese is a nice balance of everything, with only a slight touch of spice to keep it kid-friendly, but feel free to add in chopped jalapeno, or increase the amount of cayenne.
Some people have issues with making a cheese dip at home. There are a few tips that will ensure you are successful each time.
First, make sure you are using cold milk when you add it to the flour mixture. It helps it incorporate better. Once it is incorporated, turn off the heat on the burner and remove the saucepan before adding the cheese. If the pot is getting too much heat, the cheese will become grainy and won't incorporate well. You can use the residual heat from the burner later to make sure the nacho cheese is hot enough if needed.
The nacho cheese is best served right away, but you can keep it in a low slow cooker for about two hours before you need to turn off the heat in the cooker to prevent the cheese from becoming grainy. You can store leftover cheese in an airtight container in the refrigerator and reheat in a saucepan set to low. Just add a few tablespoons of water or milk to get the mixture creamy and smooth again.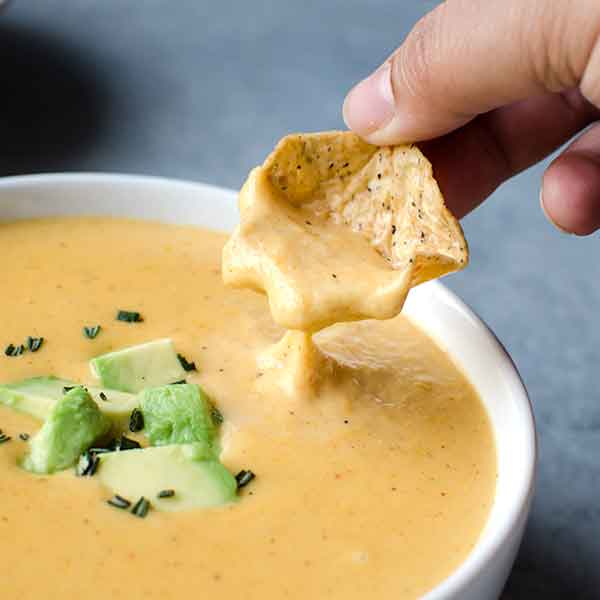 INGREDIENTS
2 tablespoons unsalted butter
2 tablespoons all-purpose flour
1 cup whole milk
1 cup heavy cream or half and half
2 cups cheddar cheese
3/4 cup Colby jack cheese
3/4 cup Monterrey jack
3/4 teaspoon kosher salt (plus more to taste)
1/4 teaspoon black pepper
1/2 teaspoon garlic powder
1/2 teaspoon onion powder
1/4 teaspoon cayenne pepper
1/2 teaspoon paprika
3/4 teaspoon chili powder
DIRECTIONS
Add the butter to a large saucepan and heat on medium until melted. Add the flour and cook for about 1 – 2 minutes, or just until the mixture starts to darken.
Slowly add the milk and cream to the flour mixture and stir well to combine, making sure there are no lumps. Heat for about 3 – 5 minutes, or until the mixture is at a simmer and begins to thicken slightly.
Remove the saucepan from heat and add the cheese and spices. Stir well to combine and melt the cheese. Add the pan to the burner to let the residual heat from the burner warm the nacho cheese more if desired (do not allow it to get too hot as that will make the cheese grainy and separate)
Taste and add more salt as needed. If the mixture seems a little thick, you can add more milk as needed.
Serve immediately.
Servings: 10 – 12