I mentioned in my recent recipe for Candy Cane Truffles that I use the truffle mixture as a basis for lots of different flavor truffles. Whilst I was writing that, it occurred to me that the lovely biscuit truffle mixture doesn't just have to be limited to truffles! From there I came up with this easy, no-bake Christmas truffle tart!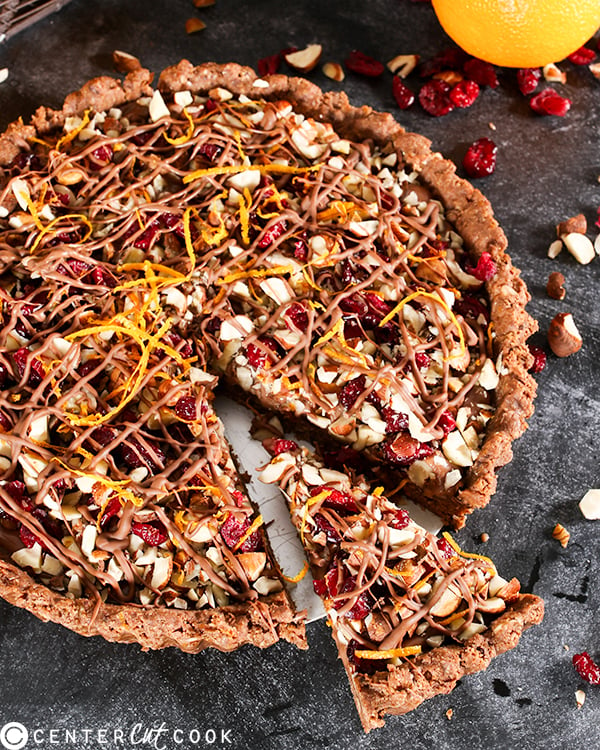 Chocolate, cranberries, hazelnuts, orange zest…..
…gorgeous festive flavors that work perfectly with your afternoon cup of coffee.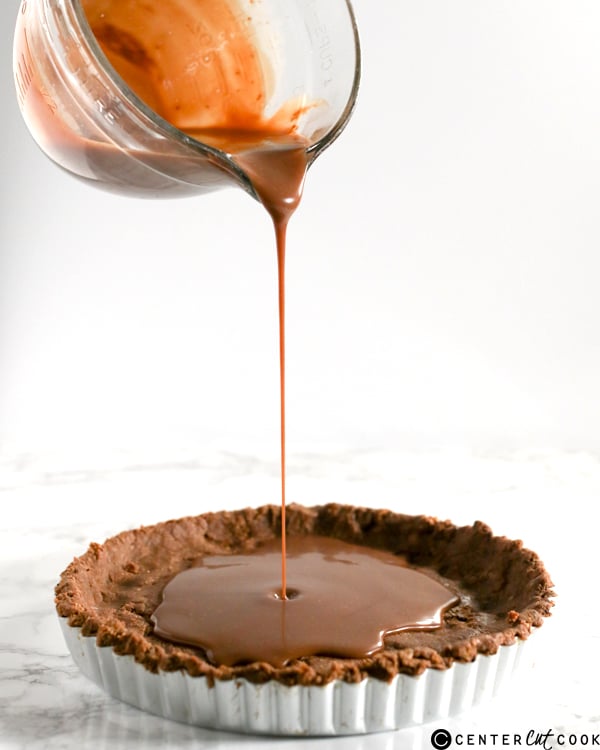 This dessert can be made ahead and stored in the refrigerator for when those unexpected guests arrive. It will happily last 3 or 4 days so long as it's in a sealed container or wrapped in plastic wrap. If you do make it ahead, then leave off the orange zest that's sprinkled on top until the last minute (otherwise it will dry out).
It's decadently rich, so a small piece goes a long way – meaning this tart can serve 16-20 people.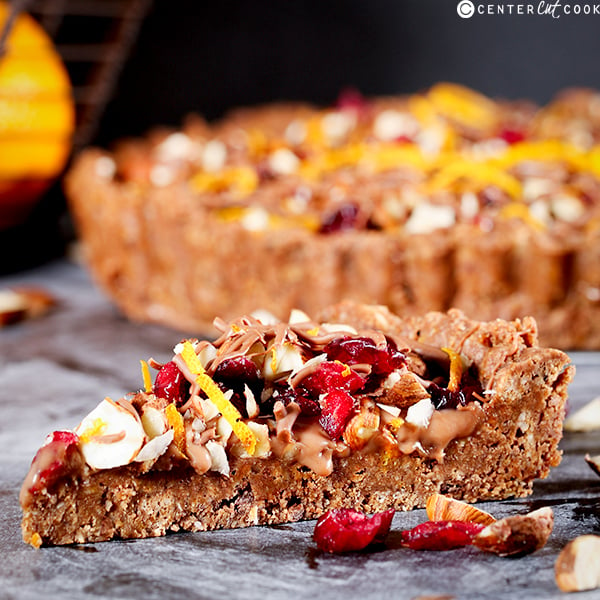 INGREDIENTS
4 oz full-fat cream cheese, room temperature
4 Tablespoons confectioners' sugar
10 1/2 oz double chocolate chip cookies, finely crumbled (I place mine in a bag and crush them with a rolling pin)
5oz semi-sweet chocolate, melted (I chop my chocolate into chunks and melt in the microwave in 30 second bursts – stirring in between each burst).
Zest of two oranges
CHOCOLATE GANACHE
1/2 cup + 2 tbsp heavy cream
7oz semi-sweet chocolate, chopped
TOPPING
3/4 cup hazelnuts, roughly chopped
1/2 cup dried cranberries
Zest of two oranges
1 1/2 oz semi-sweet chocolate, melted
DIRECTIONS
Place the cream cheese and confectioners' sugar in a bowl and mix together until combined. Stir in the crumbled cookies, and then mix in the melted chocolate and orange zest.
Spray a 9 inch diameter flan tin very lightly with oil and spoon the mixture into the tin. Press the mixture into the base and sides using your hands or the back of a spoon. Place in the refrigerator to chill whilst you make the ganache.
For the ganache, heat the cream in a small pan until just barely boiling, then turn off the heat and stir in the chocolate. Place a lid on the pan and leave for 5 minutes whilst the chocolate melts, then remove the lid and stir again. It should come together into a thick sauce. Take the truffle base out of the fridge and pour the ganache into the base. Place back into the fridge to chill for 2 hours.
After 2 hours, take the tart of the fridge and sprinkle on the chopped hazelnuts, cranberries and orange zest. Drizzle with melted chocolate. Let the chocolate drizzle set for a few minutes, then remove the tart from the flan tin. Cut into slices and serve.
Note – If you're making this ahead, then leave the orange zest off the top. Cover the tart and place in the fridge, then sprinkle on the orange zest right before serving.
Servings: 16-20