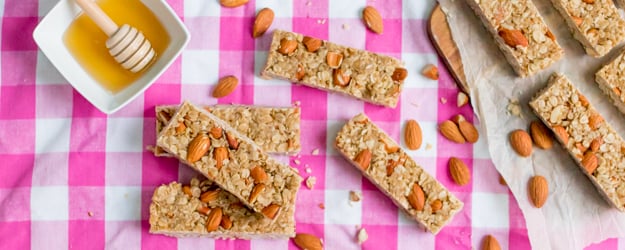 No-Bake Honey and Almond Granola Bars – a simple recipe for breakfast on the go!
Homemade granola bars feel so much more satisfying to eat than buying them from the shops.
Plus they're cheaper, and you can modify them any way you feel like:
Cherries
Chocolate chips
Raisins
Seeds
Puffed rice
The possibilities are endless!
You don't even need to bake these granola bars, so they're extra easy!
Simply mix all of the ingredients together, then squish really well into a baking tin. My secret for ensuring the mix is well-swished together is to spoon the mixture into a tin, top with non-stick baking parchment, then place a same-sized tin on top. Place a cloth on top, then stand on it!
Once refrigerated, the honey and coconut oil should bind everything together so you can you can cut the bars without them crumbling.
If it looks like they are going to crumble (sometimes this can happen depending on the type of oats you use), place in the freezer for 30-60 minutes before cutting.
INGREDIENTS
3 cups quick cook oats (use gluten-free if desired)
1 cup almonds, roughly chopped
Pinch of salt
1/3 cup coconut oil, melted
1/3 cup honey
1/4 cup soft light-brown sugar
1/4 tsp almond extract
DIRECTIONS
Line an 8×8 inch baking tin with non-stick baking parchment, so the paper overhangs.
Mix all of the ingredients together in a large bowl until well combined.
Spoon into the prepared baking tin. Flatten out and squash the mixture as much as you can – this will help to prevent it from crumbling when you cut it. I find the best method to squash it down is to top the mixture in the tin with some non-stick baking parchment, then place a same-sized tin on top. Place a cloth on top, then stand on it. Sounds strange but it works!
Place in the refrigerator to set for 2 hours.
Remove from the refrigerator and take out of the tin, using the overhanging parchment as handles. Remove the paper and place the granola bar slab on a board. Cut into 10-12 slices and serve.
Any leftover granola bars and be covered and stored at room temperature or in the refrigerator.
Servings: 10-12