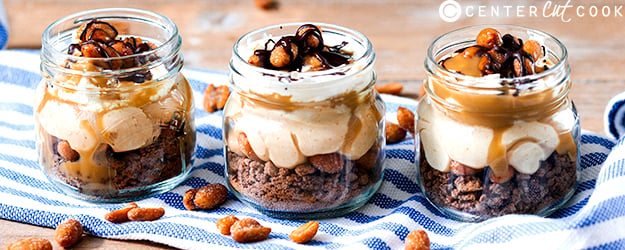 A crunchy, creamy make-ahead dessert with lashings of peanut butter cheesecake.
This dessert is super-simple to make, and it's a great one to make-ahead and stash in the refrigerator for later. It's made in individual mason jars, so there's no need to reserve a big spot in the fridge for them, just place the lids on and they'll sit happily for a day or two in any bit of space you can find.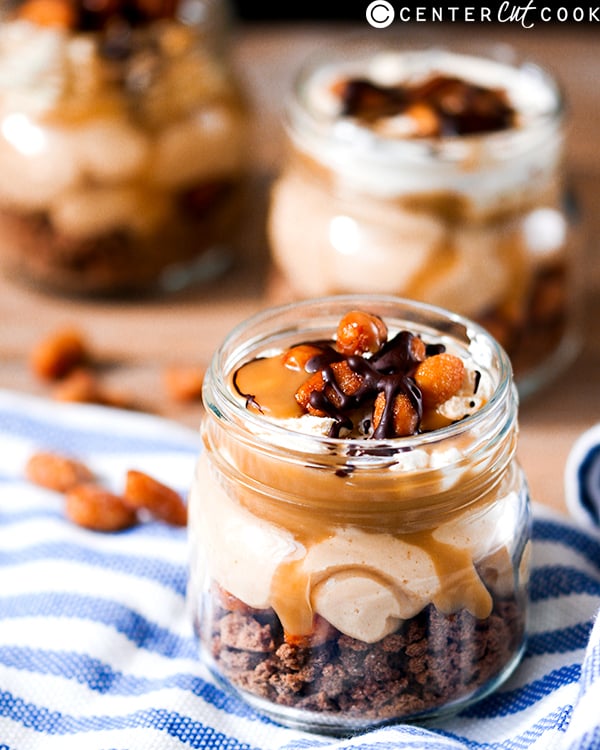 The creamy peanut butter cheesecake that really makes this dessert is a simple mix of peanut butter, cream cheese, vanilla and confectioners' sugar. There's also a little whipped cream in there to make the cheesecake light and fluffy. Despite the fact that I'm not a peanut butter lover, I can't get enough of this stuff, and licking the spoon is the cooks treat I really look forward to!!
I use carnation caramel in this dessert, but any homemade or store-bought caramel sauce is fine. You could also add a pinch of salt to the caramel if you love that salted caramel taste.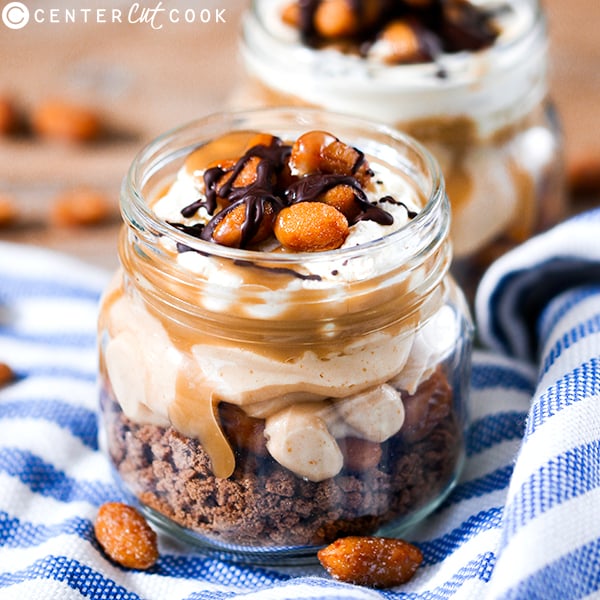 INGREDIENTS
2/3 cup heavy cream
1/2 cup full-fat cream cheese
5 tbsp peanut butter
1/2 cup confectioners' sugar
1 tsp vanilla extract
6oz oreos – including the centers, finely crumbled (I place mine in a bag and crush them with a rolling pin)
1/2 cup honey roast peanuts
8 tbsp dulce de leche (or other caramel sauce)
2 oz semi-sweet chocolate, melted
DIRECTIONS
Whisk the heavy cream in a large bowl until soft peaks form, then spoon half of the cream out into another bowl.
Add the cream cheese and peanut butter to one of the bowls of whipped cream and whisk again for a few seconds until combined. Add in the confectioners' sugar and vanilla extract and whisk again until everything is smooth and incorporated.
Divide the crumbled oreo cookies between 4 x 9fl oz mason jars. Divide half of the peanuts between the jars and place on top of the crumbled oreos. Spoon or pipe two heaped tbsp of the peanut butter mixture to each jar, then top with 1 tbsp of dulce de leche. Top with the whipped cream and another tbsp of dulce de leche. Sprinkle on the rest of the peanuts and drizzle with melted chocolate.
Note – if making ahead, leave the top layer of peanuts off until right before serving.
Servings: 4