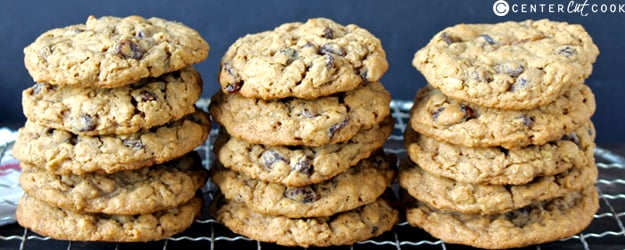 I have always favored oatmeal raisin cookies. Given a choice, I will pick them over chocolate chip, peanut butter, or sugar cookies. Crazy- I know! I just love the sweet chewiness from the raisins, the heartiness of the oatmeal, and the slight spice from the cinnamon. But making the perfect oatmeal raisin cookie isn't as easy as you would think. I have made many batches that come out flat as a pancake and greasy or dry and flavorless. After much experimenting, I came up with the perfect recipe. They are soft, chewy, not greasy, full of flavor, and so easy! No more searching for the ultimate recipe- this is it!!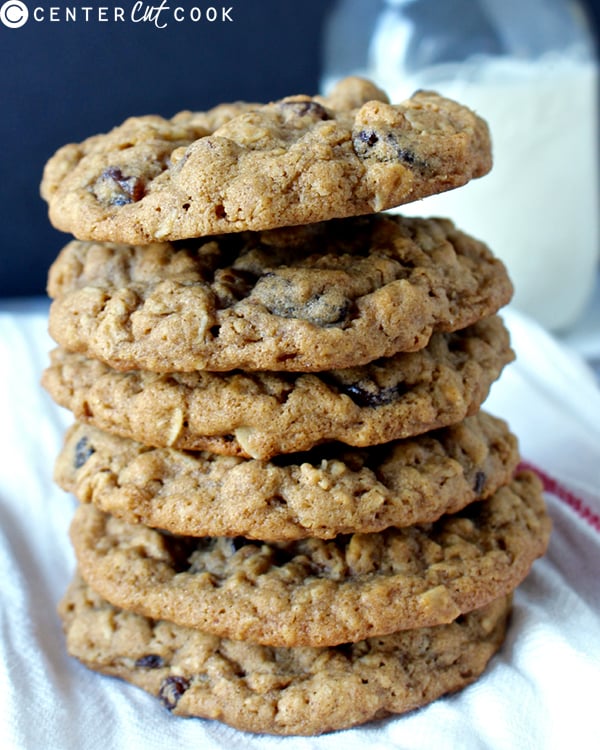 There is nothing fancy or complicated about this recipe- just the right amount of everything to create the perfect mixture. They are made in one bowl, no mixer needed, and a warm batch will be coming out of the oven in less than 15 minutes! You can't beat that!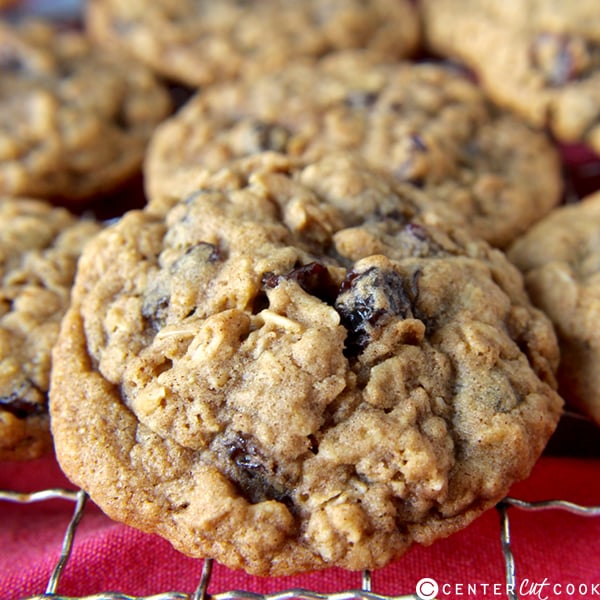 I love the addition of cornstarch- it keeps the cookies soft and thick. Because of that addiction the dough does not need to be chilled for the cookies to retain their shape. The brown sugar and molasses both add depth of flavor that makes them stand out and the cinnamon rounds them out for a cookie that is full of flavor! These flavors compliment the raisins without being overpowering. After all, the raisins are the key player here. If your raisins are old and a little dry, I recommend soaking them in some hot water. Just place them in a bowl, pour hot water on them and let them absorb it while you're making the dough. Once it's time to add them, drain and pat dry, then fold them in. What that does is plump them up and make them moist and chewy again. No one wants a rock hard raisin in the middle of a soft cookie. Ok, I guess if you're a huge raisin hater, you could swap them out for chocolate chips- that would be delicious as well. I will always be a raisin lover though!!
You will love these cookies because they turn out every time, are so easy, and are perfectly soft and chewy!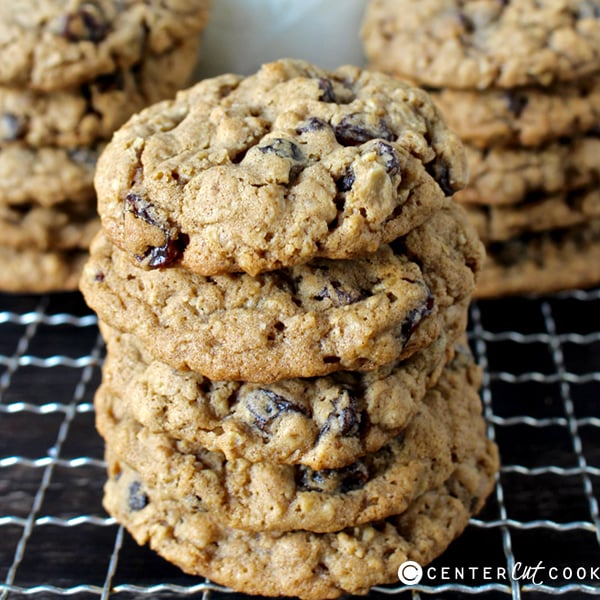 INGREDIENTS
1/2 cup butter, room temperature
1/2 cup brown sugar
1/4 cup granulated sugar
1 egg
1 teaspoon vanilla
1 tablespoon molasses
1 cup flour
1 1/2 cups rolled oats
1 teaspoon cinnamon
1/2 teaspoon salt
2 teaspoons cornstarch
3/4 cup raisins
DIRECTIONS
Preheat oven to 350° and line a sheet tray with parchment paper. I like to use two sheet trays so I always have one in the oven, and one ready to go in.
In a large bowl, combine butter, brown sugar, and granulated sugar until smooth.
Add in the egg, vanilla, and molasses and stir well.
Add the flour, oats, cinnamon, sat, and cornstarch. Stir until fully combined and no dry spots remain.
Fold in the raisins.
Scoop dough into 18 balls. I like to do this all at once to make sure they are the same size. A cookie scoop works best to make sure they are all even in size.
Place 6 cookies on the sheet tray and bake for 9-10 minutes.
Let cool for 5-10 minutes on the tray, then transfer to a cooling rack.
Servings: 18